Property Details


Rent a confortable quiet spacious villa with private swimming pool on the beach in Mauritius on the western coast of the island. The villa has 3 en-suite bedrooms as well as a separate study


Area Details


Quiet seaside holiday villa with own private swimming pool. suitable for 6 to 7 persons. The villa is situated at 2km from restaurants, shopping and supermarket. activities like fishing,boating,snorkling,canoeing,hiking,golf,tennis,swimming close by.
New ADSL internet included


Travel Details


A car is a must.
Gallery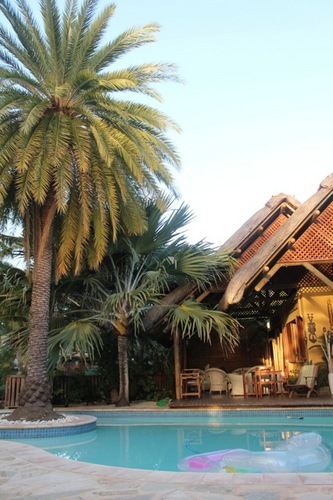 Location
The marker is an accurate indicator of the property location.
| | |
| --- | --- |
| Powered by google maps. Google maps of rental properties needs Javascript enabled | Overview google map. |
Click on the map below for a larger map of the area


Black River,Mauritius,0000,Mauritius

Pricing details



The following rates are per Day
The rates are per Price per night for the entire Villa Caz
From
Upto
&nbsp
Charging Rate
&nbsp
Euros
US Dollars
British Pounds
10 Sep 2013
30 Sep 2013
240
309
203
01 Oct 2013
15 Dec 2013
270
348
229
16 Dec 2013
10 Jan 2014
420
541
356
11 Jan 2014
30 Apr 2014
270
348
229
01 May 2014
30 Jun 2014
240
309
203
01 Jul 2014
15 Jul 2014
270
348
229



Price Includes:-

The price for the entire villa is for 1 - 8persons.
Price includes 3 hours daily maid service except on sundays and public holidays.
Extra helper for more than 5 persons.





Price Excludes:-

Airport Transfers
Extra Services such as cooking and babysitting.availiable.



Other Information:-

A minimun of three nights is required
15% to be paid on confirmation of your reservation.
the balance to be paid 45days prior to arrival.



Availability Details

<-- For Full Detailed Calendar with Larger Text click the image
Last Updated on 2013-May-20
May, 2013
Su
Mo
Tu
We
Th
Fr
Sa
1
2
3
4
5
6
7
8
9
10
11
12
13
14
15
16
17
18
19
20
21
22
23
24
25
26
27
28
29
30
31

June, 2013
Su
Mo
Tu
We
Th
Fr
Sa
1
2
3
4
5
6
7
8
9
10
11
12
13
14
15
16
17
18
19
20
21
22
23
24
25
26
27
28
29
30

July, 2013
Su
Mo
Tu
We
Th
Fr
Sa
1
2
3
4
5
6
7
8
9
10
11
12
13
14
15
16
17
18
19
20
21
22
23
24
25
26
27
28
29
30
31

August, 2013
Su
Mo
Tu
We
Th
Fr
Sa
1
2
3
4
5
6
7
8
9
10
11
12
13
14
15
16
17
18
19
20
21
22
23
24
25
26
27
28
29
30
31
September, 2013
Su
Mo
Tu
We
Th
Fr
Sa
1
2
3
4
5
6
7
8
9
10
11
12
13
14
15
16
17
18
19
20
21
22
23
24
25
26
27
28
29
30

October, 2013
Su
Mo
Tu
We
Th
Fr
Sa
1
2
3
4
5
6
7
8
9
10
11
12
13
14
15
16
17
18
19
20
21
22
23
24
25
26
27
28
29
30
31

November, 2013
Su
Mo
Tu
We
Th
Fr
Sa
1
2
3
4
5
6
7
8
9
10
11
12
13
14
15
16
17
18
19
20
21
22
23
24
25
26
27
28
29
30

December, 2013
Su
Mo
Tu
We
Th
Fr
Sa
1
2
3
4
5
6
7
8
9
10
11
12
13
14
15
16
17
18
19
20
21
22
23
24
25
26
27
28
29
30
31
Contact Details - Preferred option listed first



Note: Disclaimer
For Rental Enquiries - Email the owner.. Click here. (NB. You need to have popups enabled to use this)
Tel No. VillaCazalines at +(230)9098602 in Mauritius - Please Quote Reference:Villa Vacations -12679
Languages spoken: English French
Between 8 and 22 in Mauritius time
Alternate Tel No. VillaCazalines at +(230)4836235
Features


Air Conditioning
Dishwasher
DVD Player
Private Swimming Pool
Satellite or Cable Television
Television
Washing Machine



Activities


Activity - Tennis, Golf, Pools
Night Life, Theatres, Restaurants
Outdoor Activities - Walks, Lakes, Woods
Seaside - Close to beaches
Wilderness - Mountains, River Gorges



Restrictions


No Pets



Owner's Links



adventure park,falls and coloured earth
Big Game fishing
restaurants,bars,dis...
End of Links
---