Property Details


Seafront villa on Greek Island of Ithaca. Two bedrooms with en-suite bathrooms, one double and one twin. A large loft bedroom with three singe beds and separate bathroom. Electronic safety deposit box. Large living area with satelite TV and fully equipped kitchen. Beautiful patio with magnificent sea view. Located on coastal road, 700 meters from delightful fishing village of Frikes which has numerous restaurants and a mini market. Beautiful pebble beaches less than 200 meters from the villa in both directions. Free Wi-Fi.


Area Details


An idylic setting for a romantic island getaway or a relaxing family holiday. Unwind on this charming unspoilt island. A luxury holiday experience on one of the most unspoilt and beautiful of Greek islands.
Free Wi-Fi.


Travel Details


Bus stops outside house 4 times a day.
Taxis pass regularly.
Gallery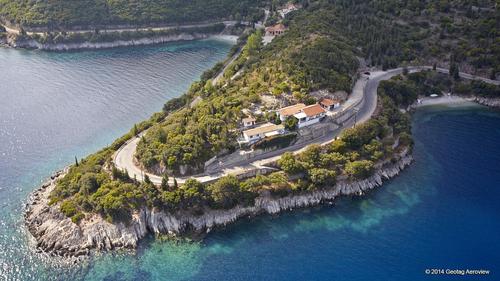 Location
The marker is an accurate indicator of the property location.
| | |
| --- | --- |
| Powered by google maps. Google maps of rental properties needs Javascript enabled | Overview google map. |
Click on the map below for a larger map of the area


Frikes,Ithaca,28301,Greece

Pricing details



The following rates are per Week
The rates are per villa
From
Upto
&nbsp
Charging Rate
&nbsp
Euros
US Dollars
British Pounds
31 Mar 2018
18 May 2018
1100
1363
973
26 May 2018
15 Jun 2018
1300
1611
1150
16 Jun 2018
13 Jul 2018
1500
1858
1327
14 Jul 2018
24 Aug 2018
1800
2230
1593
25 Aug 2018
21 Sep 2018
1500
1858
1327
22 Sep 2018
19 Oct 2018
1300
1611
1150
20 Oct 2018
30 Nov 2018
1100
1363
973



Price Includes:-

Linen, water, electricity, gas.



Price Excludes:-

Beach towels, shampoo, hand soap, car hire, boat hire.
Availability Details

<-- For Full Detailed Calendar with Larger Text click the image
Last Updated on 2018-Jan-29
February, 2018
Su
Mo
Tu
We
Th
Fr
Sa
1
2
3
4
5
6
7
8
9
10
11
12
13
14
15
16
17
18
19
20
21
22
23
24
25
26
27
28

March, 2018
Su
Mo
Tu
We
Th
Fr
Sa
1
2
3
4
5
6
7
8
9
10
11
12
13
14
15
16
17
18
19
20
21
22
23
24
25
26
27
28
29
30
31

April, 2018
Su
Mo
Tu
We
Th
Fr
Sa
1
2
3
4
5
6
7
8
9
10
11
12
13
14
15
16
17
18
19
20
21
22
23
24
25
26
27
28
29
30

May, 2018
Su
Mo
Tu
We
Th
Fr
Sa
1
2
3
4
5
6
7
8
9
10
11
12
13
14
15
16
17
18
19
20
21
22
23
24
25
26
27
28
29
30
31
June, 2018
Su
Mo
Tu
We
Th
Fr
Sa
1
2
3
4
5
6
7
8
9
10
11
12
13
14
15
16
17
18
19
20
21
22
23
24
25
26
27
28
29
30

July, 2018
Su
Mo
Tu
We
Th
Fr
Sa
1
2
3
4
5
6
7
8
9
10
11
12
13
14
15
16
17
18
19
20
21
22
23
24
25
26
27
28
29
30
31

August, 2018
Su
Mo
Tu
We
Th
Fr
Sa
1
2
3
4
5
6
7
8
9
10
11
12
13
14
15
16
17
18
19
20
21
22
23
24
25
26
27
28
29
30
31

September, 2018
Su
Mo
Tu
We
Th
Fr
Sa
1
2
3
4
5
6
7
8
9
10
11
12
13
14
15
16
17
18
19
20
21
22
23
24
25
26
27
28
29
30
Contact Details - Preferred option listed first



Note: Disclaimer
For Rental Enquiries - Email the owner.. Click here. (NB. You need to have popups enabled to use this)
Tel No. pat Fitzgerald at +27118497665 in South Africa - Please Quote Reference:Villa Vacations -3899
Languages spoken: Greek , English and Italian
Alternate Tel No. pat Fitzgerald at +27828511522
Features


Satellite or Cable Television
Television



Activities


Night Life, Theatres, Restaurants
Outdoor Activities - Walks, Lakes, Woods
Seaside - Close to beaches
Wilderness - Mountains, River Gorges



Restrictions


No Pets



Owner's Links



Ithaca Greece - all about Ithaca
Ionian Island Holidays
End of Links
---