Property Details


Two bedrooms overlooking Poli Bay each have en-suite bathrooms. The Villa has just been completed and will be available for the first time in June 2013. Located within 100 metres from the Poli Beach and about 1,5 Km from Stavro town which has numerous restaurants. Each bedroom sleeps two (one with a double bed, the other with two single beds).The four seater couch transforms into a full size double bed if required. The fully equiped kitchen also has a dishwasher.


Area Details


An idyllic setting for a romantic island getaway or a relaxing family holiday. Unwind on this charming unspoilt island. A luxury holiday experience on one of the most unspoilt and beautiful Greek islands.
Gallery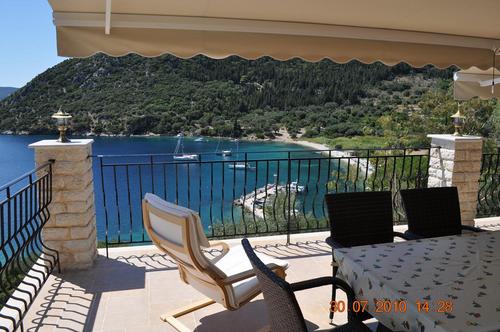 Location
The marker is an accurate indicator of the property location.
| | |
| --- | --- |
| Powered by google maps. Google maps of rental properties needs Javascript enabled | Overview google map. |
Click on the map below for a larger map of the area


Vathy,Ithaca,0000,Greece

Pricing details



The following rates are per Week
The rates are per Villa
From
Upto
&nbsp
Charging Rate
&nbsp
Euros
US Dollars
British Pounds
04 Apr 2019
08 May 2019
1200
1370
1062
09 May 2019
03 Jun 2019
1300
1484
1150
04 Jun 2019
02 Jul 2019
1600
1827
1416
03 Jul 2019
28 Aug 2019
1800
2055
1593
29 Aug 2019
25 Sep 2019
1600
1827
1416



Price Includes:-

Cleaning Service 3 days per week.
Linen and towels.
Air Conditioners in each room.
Satellite Television.



Price Excludes:-

Shampoo and soap.
Car.
Boat.
Availability Details

<-- For Full Detailed Calendar with Larger Text click the image
Last Updated on 2018-Dec-16
January, 2019
Su
Mo
Tu
We
Th
Fr
Sa
1
2
3
4
5
6
7
8
9
10
11
12
13
14
15
16
17
18
19
20
21
22
23
24
25
26
27
28
29
30
31

February, 2019
Su
Mo
Tu
We
Th
Fr
Sa
1
2
3
4
5
6
7
8
9
10
11
12
13
14
15
16
17
18
19
20
21
22
23
24
25
26
27
28

March, 2019
Su
Mo
Tu
We
Th
Fr
Sa
1
2
3
4
5
6
7
8
9
10
11
12
13
14
15
16
17
18
19
20
21
22
23
24
25
26
27
28
29
30
31

April, 2019
Su
Mo
Tu
We
Th
Fr
Sa
1
2
3
4
5
6
7
8
9
10
11
12
13
14
15
16
17
18
19
20
21
22
23
24
25
26
27
28
29
30
May, 2019
Su
Mo
Tu
We
Th
Fr
Sa
1
2
3
4
5
6
7
8
9
10
11
12
13
14
15
16
17
18
19
20
21
22
23
24
25
26
27
28
29
30
31

June, 2019
Su
Mo
Tu
We
Th
Fr
Sa
1
2
3
4
5
6
7
8
9
10
11
12
13
14
15
16
17
18
19
20
21
22
23
24
25
26
27
28
29
30

July, 2019
Su
Mo
Tu
We
Th
Fr
Sa
1
2
3
4
5
6
7
8
9
10
11
12
13
14
15
16
17
18
19
20
21
22
23
24
25
26
27
28
29
30
31

August, 2019
Su
Mo
Tu
We
Th
Fr
Sa
1
2
3
4
5
6
7
8
9
10
11
12
13
14
15
16
17
18
19
20
21
22
23
24
25
26
27
28
29
30
31
Contact Details - Preferred option listed first



Note: Disclaimer
For Rental Enquiries - Email the owner.. Click here. (NB. You need to have popups enabled to use this)
Tel No. George Mavrikis at +27825519361 in South Africa - Please Quote Reference:Villa Vacations -13174
Languages spoken: Greek , English and Afrikaans
Between 7 and 20 in South Africa time
Features


Air Conditioning
Dishwasher
Satellite or Cable Television
Television



Activities


Culture - Museums, Historic Sites
Night Life, Theatres, Restaurants
Outdoor Activities - Walks, Lakes, Woods
Seaside - Close to beaches
Wilderness - Mountains, River Gorges



Restrictions


No Pets



Owner's Links



End of Links
---