Property Details


Luxury 4-bedroomed villa with private pool and garden. 4 bedrooms, 3 bathrooms, sleeps 8 plus cot. Large, fully equipped kitchen, BBQ area, sun terraces with lovely views, terrace furniture, pool loungers, large garage, washing machine. Satellite TV, computer with internet, and telephone all included, and table tennis table, garden, garage, terraces. Private estate on hill overlooking the Aro valley. 4km from beaches and nearby towns.


Area Details


Something for everybody. 25 minutes from Gerona airport, 75 minutes from Barcelona. 10 minutes drive from lively towns, golf courses and beautiful beaches. Local sporting facilities ranging from water sports, water parks, quads, golf, tennis, horse riding, cycling tracks, walking facilities, sailing and riding. Nightlife in Playa d'Aro. Good shopping (local markets, pottery, leather goods, etc.). Wide choice of restaurants at reasonable prices. Major tourist attractions nearby (Barcelona, historic towns, Dali museum).


Travel Details


Car essential.

Gallery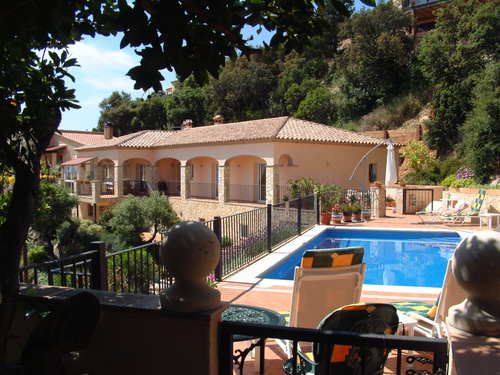 Location
The marker is an accurate indicator of the property location.
| | |
| --- | --- |
| Powered by google maps. Google maps of rental properties needs Javascript enabled | Overview google map. |
Click on the map below for a larger map of the area


Sta. Cristina de Aro,Catalunya,17246,Spain

Pricing details



The following rates are per Week
The rates are per Villa for 8 persons plus cot
From
Upto
&nbsp
Charging Rate
&nbsp
Euros
US Dollars
British Pounds
30 Jan 2009
01 May 2009
750
840
641
01 May 2009
05 Jun 2009
1350
1512
1154
05 Jun 2009
03 Jul 2009
1500
1679
1282
03 Jul 2009
28 Aug 2009
2250
2519
1923
28 Aug 2009
25 Sep 2009
1500
1679
1282
25 Sep 2009
31 Dec 2009
750
840
641



Price Includes:-

Full clean before and after your stay. All linen and towels provided on arrival. Computer with internet connection, telephone, cable TV, washing machine provided without extra charge as long as no abnormal usage.Full pool and garden maintenance included. No extra charges for heating and water.



Price Excludes:-

Change of linen and towels
Availability Details

<-- For Full Detailed Calendar with Larger Text click the image
Last Updated on 2009-Jan-17
January, 2021
Su
Mo
Tu
We
Th
Fr
Sa
1
2
3
4
5
6
7
8
9
10
11
12
13
14
15
16
17
18
19
20
21
22
23
24
25
26
27
28
29
30
31

February, 2021
Su
Mo
Tu
We
Th
Fr
Sa
1
2
3
4
5
6
7
8
9
10
11
12
13
14
15
16
17
18
19
20
21
22
23
24
25
26
27
28

March, 2021
Su
Mo
Tu
We
Th
Fr
Sa
1
2
3
4
5
6
7
8
9
10
11
12
13
14
15
16
17
18
19
20
21
22
23
24
25
26
27
28
29
30
31

April, 2021
Su
Mo
Tu
We
Th
Fr
Sa
1
2
3
4
5
6
7
8
9
10
11
12
13
14
15
16
17
18
19
20
21
22
23
24
25
26
27
28
29
30
May, 2021
Su
Mo
Tu
We
Th
Fr
Sa
1
2
3
4
5
6
7
8
9
10
11
12
13
14
15
16
17
18
19
20
21
22
23
24
25
26
27
28
29
30
31

June, 2021
Su
Mo
Tu
We
Th
Fr
Sa
1
2
3
4
5
6
7
8
9
10
11
12
13
14
15
16
17
18
19
20
21
22
23
24
25
26
27
28
29
30

July, 2021
Su
Mo
Tu
We
Th
Fr
Sa
1
2
3
4
5
6
7
8
9
10
11
12
13
14
15
16
17
18
19
20
21
22
23
24
25
26
27
28
29
30
31

August, 2021
Su
Mo
Tu
We
Th
Fr
Sa
1
2
3
4
5
6
7
8
9
10
11
12
13
14
15
16
17
18
19
20
21
22
23
24
25
26
27
28
29
30
31
Contact Details - Preferred option listed first



Note: Disclaimer
For Rental Enquiries - Email the owner.. Click here. (NB. You need to have popups enabled to use this)
Tel No. Richard and Linda Nobbs at 00 441227 760419 in United Kingdom - Please Quote Reference:Villa Vacations -10063
Languages spoken: English, French, Spanish, some Italian, German,
Alternate Tel No. Richard and Linda Nobbs at mobile 07894428559
Fax No. 00 44 1227 760419 in United Kingdom
Features


Dishwasher
DVD Player
Private Swimming Pool
Satellite or Cable Television
Stereo System
Television
Video Cassette Recorder
Washing Machine



Activities


Activity - Tennis, Golf, Pools
Culture - Museums, Historic Sites
Night Life, Theatres, Restaurants
Outdoor Activities - Walks, Lakes, Woods
Seaside - Close to beaches
Wilderness - Mountains, River Gorges



Restrictions






Owner's Links


Click Here for more information about this property
End of Links
---