Property Details


Sleep next to the sea, 100m! 2 bedroomed gorgeous beachside Villa in orchard, tavernas shops 3 mins walk. Car not essential. Own large private pool. Lower 2 person rates Polis, Paphos, CYPRUS


The villa is quietly situated next to the sea, in Polis itself, within a lovely gated garden enclosed by shrubs, in a private rural lane leading to the undeveloped beach. You can hear the sea when you are in bed, which is a treat for most of us. There are lovely views in every direction, and they are even better from the first floor.


At the rear is an almond grove, with a backdrop of mountains, and there is an olive grove at the front and orchards all around this area.

The villa is one of 4, all identical, each with a private pool. Each villa has a secluded feel as it is set within a large 1000 sq m garden and separated from the next villa by a small field. Accommodation

Ground floor: Comfortable lounge with French doors to terrace. Well equipped kitchen. Open plan dining area with ceiling fan. Guest w.c. with shower.

First floor: 2 x twin bedrooms with balconies, one with adjoining shower + w.c. and the other with bath, shower attachment and w.c. Beds are wide and make a queen size when together. Safety box in all villas.

Outside: Pool with Roman steps and hand rail. Sun terrace. Built in BBQ and shaded dining terrace with sea views. Shower. Gated large front garden with lawn and flower beds. Poolside overlooks almond and olive groves and the sea. Private parking.


Other information

Air conditioning is available at €6 per wall unit per day, payable there, in advance. 3 units. Villa has radiators.

Cot, highchair, dartboard, soccer table & toybox on request. Books available.

Booking information

You may occupy the villa from 3pm.
Vacate by 11am.

Car Hire not essential. 4 seater taxi from Paphos airport €55 approx. (One way 2009.)
TESTIMONIALS FROM GUESTS

Dear Irene

Just a short note to thank you for our recent holiday at Orchard Villas. We enjoyed our visit and everything was as good as we expected. The information pack proved very useful. The position of the villa was ideal, allowing us to walk or drive to all the places we wanted to go. We'll be back!

Regards
Thomas and Susan Kelso, Penrith. May 2009

-Testimonials for Sundance Villas-

Dear Irene

Just wanted to write and let you know that we had the most fabulous time whilst in the Orchard Villas in Polis. Thank you so much for changing the villa at the last moment. Having driven into Latchi we decided that Polis was a much nicer place to be. We loved the fact that it was only a 10 minute walk into town.

The villa was great with all that we needed and the weather was beautiful that it was a perfect holiday.

I think that the whole area surrounding Polis is beautiful and would recommend it to all. People were friendly and the food fantastic.

Thanks again,

Fiona Brianese, Ruislip


-Testimonials for Sundance Villas-



Hi Irene

Just to thank you for your good advice in helping us choose the villa Orchard Beach. You were right that the location was just perfect for what we needed (particularly as neither house on either side of us was occupied!). Waking up to the sound of the sea and birdsong was wonderfully peaceful and we thoroughly enjoyed just lazing around the pool. Luckily the sun shone after the first couple of days and stayed really hot until we left..

Best wishes

Helen Whitten, London

-Testimonials for Sundance Villas-

Hello Irene,

It has been nearly three weeks since Jen and I were on Cyprus. We had a wonderful time, in fact the best holiday we have had together for many years. We just crashed at the villa and walked everywhere which was so beautiful with the orange blossom and jasmine blossom just about making us drunk with its scent, the welcoming friendly folk at Moustakallis took us under their wing and fed us well.
There is much more to tell obviously but you get the idea! Thanks for your indispensible advice in choosing such a lovely place as Polis away from the throngs of Paphos and for the great villa. Our pool boy Anura was great, very helpful and delight to chat with.
All in all a perfect time....I am still cooking up Greek food here in the UK and Jen is back in the USA doing the same thing! Thanks again Irene and we will be back for another holiday with you some time in the not too distant future.
Warmest Wishes,

Neil Harley, Vermont, USA

-Testimonials for Sundance Villas-

Hi Irene,


Just dropping you a line after returning from Orchard Beach Villas in Polis to let you know what a wonderfully relaxing holiday we experienced. From the moment we landed at the airport to be greeted by the taxi driver from cy-breeze, to our return journey, we were overwhelmed by the friendliness of everyone we met. The villa itself was excellent with a well appointed kitchen, comfy sofas and beds, excellent swimming pool and garden area, and Oh did we utilise the water cooler! Both Sanjay and his brother were excellent caretakers of the property, and Dimitris proved to be helpful and efficient.

We enjoyed some lovely evening moonlight strolls into Polis centre, but would advise anyone to take a torch with them, as the lanes are very dark without the moonlight. The restaurants we sampled in Polis were all very good and we particularly enjoyed visits to Moustakallis, Finikas, Chix Chox and the excellent home cooking at nearby Karouzis. A perfect end to our day was to walk up the road into Polis at around 07:30 and stop off at Elenas Snack bar (first on the left) to have an aperitif, and watch the sunset. Again, Elena was an excellent hostess, trying to teach us a little more of the Greek language with every visit.

During our stay, we hired a car for 3 days and visited Latchi, Aphrodite's Baths, Pomos, Coral Bay and had an exhilarating drive up into the mountains, where we enjoyed stunning views and a visit to the monastery.

This was our fourth visit to Cyprus, and second to the Pomos/Polis area, and we will certainly be returning again. Thanks for all of your help and advice, we will be recommending you to all of our friends and family and look forward to booking with you again in the future.

Best Regards,

Mike & Jenny Kimmings Acklam, Middlesbrough

-Testimonials for Sundance Villas-

Hi Irene,
Just thought I would send a quick email to say thank you.
The villa was beautiful, and the holiday was perfect. The most relaxing
holiday we have ever had! Lovely food in Polis as well.
I would thoroughly recommend both the villa and yourself to anyone looking
for this type of holiday.
We would love to come back sometime.
Thank you for your excellent organisation and clear correspondance.
Regards,
Ian & Anne Whyte

-Testimonials for Sundance Villas-

Hi Irene

We had a great time at Orchard Beach. It is a great location and we found Sanjay and then his brother very helpful (and always smiling – in fact we saw the brother before he was introduced to us as we saw a man driving a car who looked very like Sanjay but with no hair!) Loved the walk up to the town in the cooler part of the day – all restaurants lovely and we tried Latchi and Aphrodite's Bay a few times too. Also enjoyed Paphos Waterpark & the harbour at Paphos & the Troodos mountains – all lovely and exceeding our expectations of Cyprus – we will definitely be back!

Many thanks

Anne Alridge,
Cambridge

-Testimonials for Sundance Villas-



Hello Irene

Just to let you know that we had a wonderful holiday at Orchard Villas, Polis over the past two weeks. The villa is in a lovely spot, secluded yet close enough to the Town. Thank you also for the information you provided before we went - it came in very useful.

A few other recommendations of restaurants for your lists:

Karouzis - the first one on the road into Polis has a lovely moussaka

Liza's Place, Agarka and Vomos Restaurant (just around the corner from the villa) - meze in both places are very good value.

Thanks again

Fred

-Testimonials for Sundance Villas-

Irene

Just a quick email to let you know we thoroughly enjoyed our holiday.

The Villa was superb & we received excellent service from Sanjay, (the pool boy & general odd job man) on various minor issues.

It felt like home from home with the resident cat, Tiger (our name) who must have put on a stone in weight while we were there, along with Sanjay's dog, Bruno who helped us cope with missing our own dog, Henry.....Polis & Latchi were delightful & more like the Cyprus we remember.

Many Thanks,

Brent



To: Irene Hare
Subject: Hols in Cyprus report
Hello Irene. Just giving you a short feedback on the Orchard Villa, Polis.
Villa was superb, having own pool a real luxury ,nothing like getting up and straight into the morning exercises ready for the rest of the day when we took in a taverna or two or three!
Situation lovely and quiet with fields around , which was ok for us but I think without a car , not for anyone who has young children or find walking a problem . It was a good 10min. walk through an unmade, unlit road and then onto an uphill road to get into the town. The village of Polis was small and friendly , we even found the local supermarket delivered, as we had no car for most of the time a bonus which saved us from becoming burdened with bags in the hot sun.
We all enjoyed it very much and did what we wanted to do and that was to chill out! Thanks for your help and we will be going again for sure!
Regards
Vivienne and Ron Hunter
Irene,
we returned from Cyprus last weekend and I just have not had time to email you since!

The villa was excellent and the situation in Polis was beautiful, we really enjoyed our time there and we didn't want to come home! It was a delight to have the a/c having been in the sun all day, and the short walk into Polis was extremely pleasant in the evening.

There are numerous restaurants that were all excellent value, Moustakalis and Finikas were our preferred places, There was a pizzeria ( La Piazetta I think) that was good, and also a little Italian in the square that was good!

CY-Breeze were at the airport waiting as you arranged, and we took the Mitsubishi Pajero . They could not have been more helpful, and I would recommend them to anybody!
We would all like to thank you for your efforts, and can't wait to go back when we can!

Thanks again

Mike Hunter
Dear Irene,

Had a problem with the internet so couldn't reply sooner, but wanted to let you know how much we enjoyed our stay at Orchard Shore (no 2) The weather was kind to us, and the villa was so quiet and peaceful just how we like it. So many great areas for sitting outside. The kitchen was very well equipped and thank you so much for the hamper it was much appreciated. Lovely sight to be met with a bottle of wine!! Sanjay was lovely, and of course Bruno (he does love that dog!) We tended to eat our in Polis each night, and had some really nice meals; Finikas, Chix Chox and our favourite cant remember the name but it's the one with the man with the moustache. We really like this area, travelled to Paphos and coral bay but they are too busy for us, had lunch at Latchi which is very pretty too. Thank you again Irene for all your input, I will be in touch again as we are planning to go back next year and around the same time.

Regards Margaret and Keith Ramsbottom
*
Orchard Shore

Dear Irene

We had a lovely holiday and I am over the moon as I have been trying to swim for many years.
I did it and I can now swim! I received a lovely necklace for my achievement from the Bits & pieces store in Polis……


Kind regards
Anita Ingerfield
Wadhurst, East Sussex

*
Hi Irene,

Jon and I stayed in Orchard Coast from 3rd to 10th October this year. We had a fantastic holiday and the villa more than exceed our expectations.


Thanks again for a great place.

best regards,

Annie
*
-----Original Message-----
From: Judy Gowthorpe
To: irene@sundancevillas.co.uk
Subject: Holiday in Cyprus

Dear Irene

Just a few lines to let you know we enjoyed out time in Cyprus. The villa, Orchard Beach, was just right for us but unfortunately we were unlucky with the weather, it was cloudy and quite a bit of rain. We hired a car for three days from Fontana in Polis (Judith was very helpful) and we went to Latchi, Baths of Aphrodite, Lara Bay, Pomos, Pachyammos and some of the inland villages. We enjoyed some very nice meals and lovely Cypriot wine!! The fish restaurants in Latchi by the harbour were our favourites.

Thank you for your help and information, we will certainly go again. What is the weather like in late Oct and early Nov? Also Paphos airport was a bit of a nightmare on departure is it always frantic or is Wednesday the worst day?

Many thanks
Judy Gowthorpe.


Area Details


The villa is one of 4, all identical, all with private pool, and is situated in a wonderful beachside position just 7 minutes walk from Polis Town, with its interesting shops, banks, wide variety of restaurants, bars etc. The nearest taverna and bar are just 5 mins walk. This property is IN Polis itself.
A unique beachside location where car hire is not essential as the shops and restaurants of Polis Town are walking distance starting with an unlit track, with the first bar and Karouzis Taverna just 300m. There is a regular air conditioned bus going from Polis to Paphos, via Coral Bay, approx £1.90.

100m from the sea, 500m from the local bar/restaurant and minimarket.
Although Polis is classed as a town, it has a "village" feel to it and has many attractive renovated buildings.

To give you an idea of its size, you could walk through Polis in 15 minutes. It is still extremely "Cypriot", with most restaurants and shops being run by the family. Cheaper to eat out here than in Paphos, and the restaurants are all in hot competition to serve you the best food and give the friendliest service. Many, like Mosfilo Taverna serve the traditional specialities, like delicious kollo kassi, afelia, stifado etc. (Cooked by the owner's mother and relations). Even simple food like stuffed tomatoes tastes wonderful due to home grown local produce being used. Clients are assured a warm welcome at the local Elena's Bar and Karaouzis Taverna opposite, both recommended and just 5 mins walk. (See Google Earth image below.) For guests without car hire the local minimarket Androulla's can deliver free of charge in the afternoons.

Sandy beach is 3 minutes walk. Latchi harbour and beach 5 min drive. Beach/sea: 150m, Polis Camping sandy beach: 300m, Minimarket: 500m, Restaurant: 300m, Water Park: 30km, Latchi: 3km, Baths of Aphrodite: 7km, Paphos/Kato Paphos: 28km, Polis village square: 700m, Bus stop: 500m.


Travel Details


A car is not needed. There is a bus service to Paphos.
Paphos Airport transfer 45 minutes.

Gallery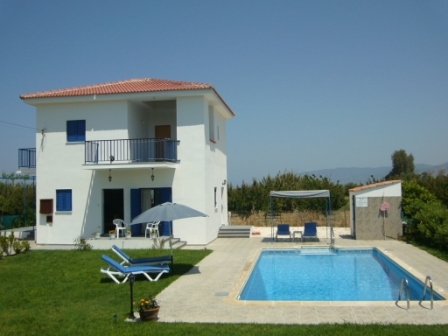 Location
The marker is only a general indicator of the property location. Confirm with owner for more details.