Property Details


Dreamer's House (Villa Sognatore) is a true lakefront property located 10km north of Menaggio outside of a small hamlet called San Vito on the northwest shore of Lake Como. The property includes well-manicured gardens, stone patios, and terraces, all affording breathtaking views of Lake Como and the surrounding pre-Alps. The house uniquely positions its guests directly on the lake in a natural setting and provides private access to the water, which is the best place to acquaint oneself with the beauty and tranquility that makes Lake Como so unforgettable.

A new scenic walkway on the lake passes near the property, giving the guest access to restaurants and the lakeside village of San Vito.

Inside the house, the top floor consists of a large room combining the living and dining rooms and a large eat-in kitchen with island, plus a new full bath. The wall facing the lake is only windows, with double doors opening to a large terrace from the living room, providing breathtaking views of the lake and pre-Alps. There is both satellite TV (including English channels) and terrestrial TV with mostly Italian channels. The middle floor is composed of a master and guest bedrooms, both with two single beds that can be combined to form a double bed. There is a small single room with a small bed and/or baby crib. The full bath includes shower, bidet/toilet, and double vanity. Both bedrooms open onto a large middle terrace, also with the same stunning views, where stairs lead down to the lawn and lakefront. Here there is a detached minicasa or guest house with two single beds and half bath. The minicasa opens onto a large stone patio 2 meters/8 feet from the lake. Access to the lake is now temporarily via a ladder, until the stairs into the lake are restored. A buoy for boats has been added in front of the house and can be rented for an additional charge.

The property is entered by an electronic gate that leads down into a covered car port with one space reserved for the house (additional parking available on street above). From there stairs lead through gardens to a stone patio with table and benches suitable for BBQing with a magnificent view of lake, mountains and surrounding specimen plants and rock garden (parts of garden are owned by neighbors).
The properties on the left and right of the house are vacation houses NOT rented by their owners. Therefore, the owner kindly requests that common courtesy is observed when these neighbors are present. In addition, this is a no pet and no smoking (inside) environment. The house is baby-equipped with high chair, crib, tub and linens.


Area Details


Cremia is located 10km north of Menaggio, a fashionable resort in the Central Lake, minutes from Varenna (Villa Cipressi), Bellagio (Villa Melzi and gardens) and Villa Carlotta in Tremezzo. The Central Lake area of Como is the most interesting and the most famous part of the lake, which has attracted dignitaries, artists, tourists and invading armies for hundreds of years.
300 meters south of the house is San Vito, a small hamlet which has excellent windsurfing conditions and facilities. On warm days there are many sailing boats and windsufers about 300 meters off the shore from the house.
There are two restaurants within walking distance of the house: Ristorante La Baia (casual) and Pizzeria/Ristorante Lumin / a brief 10 minute walk, both located on the water's edge in San Vito. Pizzeria Lumin offers fresh baked goods in the morning.


Travel Details


Bus Stop 300 meters south on main road to Menaggio. In Menaggio there are bus, tourist, ferry and speed boat connections to the Central Lake Area, Como and Lugano.

Gallery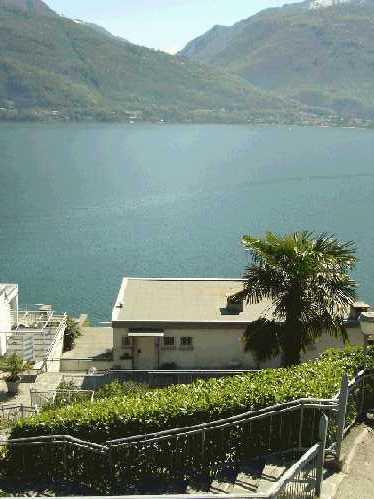 Location
The marker is an accurate indicator of the property location.
| | |
| --- | --- |
| Powered by google maps. Google maps of rental properties needs Javascript enabled | Overview google map. |
Click on the map below for a larger map of the area


Cremia,Lombardy,22010,Italy

Pricing details



The following rates are per Day
The rates are per 4 person occupancy
From
Upto
&nbsp
Charging Rate
&nbsp
Euros
US Dollars
British Pounds
02 Jan 2011
11 Mar 2011
125
140
107
11 Mar 2011
14 Apr 2011
175
196
150
14 Apr 2011
28 Apr 2011
179
200
153
28 Apr 2011
26 May 2011
186
208
159
26 May 2011
24 Jun 2011
214
240
183
24 Jun 2011
02 Sep 2011
271
303
232
02 Sep 2011
06 Oct 2011
200
224
171
06 Oct 2011
04 Nov 2011
170
190
145
04 Nov 2011
16 Dec 2011
114
128
97



Price Includes:-

Please add 80 Euros for final cleaning. Prices include all utilities, linens, starter kit, as well as:
MiniCasa Guest House, Fully equipped kitchen with all utensils, dishes, appliances, 1 covered parking space with automatic gate, Useful Information Document from owner (written document on restaurants, grocery stores, internet sites, shops, boat rental, favorite hiking routes & sites etc., compiled from 7 years knowledge of living on the lake, i.e. local knowledge & contacts). We also send our new Dining Guide to the Como Region.



Price Excludes:-

Please add:
Charge for Extra Persons above 4 persons std. occupancy 20 Euros per Night
Optional: Buoy for boats 100 Euros per Week, directly in front of house in the lake. 4% Surcharge for payment with Paypal



Other Information:-

Please ask for weekly rates which are lower than nightly rates in low seasons.
Weekly rental rates given for May - Sept. for 1 week minimum rental period.
2 Night Min. Stay: All other dates. For stays of 2 nights only, please add 80 Euros to total amount for key pick-up, escort & orientation to house.

Availability Details

<-- For Full Detailed Calendar with Larger Text click the image
Last Updated on 2010-Oct-03
May, 2021
Su
Mo
Tu
We
Th
Fr
Sa
1
2
3
4
5
6
7
8
9
10
11
12
13
14
15
16
17
18
19
20
21
22
23
24
25
26
27
28
29
30
31

June, 2021
Su
Mo
Tu
We
Th
Fr
Sa
1
2
3
4
5
6
7
8
9
10
11
12
13
14
15
16
17
18
19
20
21
22
23
24
25
26
27
28
29
30

July, 2021
Su
Mo
Tu
We
Th
Fr
Sa
1
2
3
4
5
6
7
8
9
10
11
12
13
14
15
16
17
18
19
20
21
22
23
24
25
26
27
28
29
30
31

August, 2021
Su
Mo
Tu
We
Th
Fr
Sa
1
2
3
4
5
6
7
8
9
10
11
12
13
14
15
16
17
18
19
20
21
22
23
24
25
26
27
28
29
30
31
September, 2021
Su
Mo
Tu
We
Th
Fr
Sa
1
2
3
4
5
6
7
8
9
10
11
12
13
14
15
16
17
18
19
20
21
22
23
24
25
26
27
28
29
30

October, 2021
Su
Mo
Tu
We
Th
Fr
Sa
1
2
3
4
5
6
7
8
9
10
11
12
13
14
15
16
17
18
19
20
21
22
23
24
25
26
27
28
29
30
31

November, 2021
Su
Mo
Tu
We
Th
Fr
Sa
1
2
3
4
5
6
7
8
9
10
11
12
13
14
15
16
17
18
19
20
21
22
23
24
25
26
27
28
29
30

December, 2021
Su
Mo
Tu
We
Th
Fr
Sa
1
2
3
4
5
6
7
8
9
10
11
12
13
14
15
16
17
18
19
20
21
22
23
24
25
26
27
28
29
30
31
Contact Details - Preferred option listed first



Note: Disclaimer
For Rental Enquiries - Email the owner.. Click here. (NB. You need to have popups enabled to use this)
Tel No. Corina Becker at 436764622065 in Austria - Please Quote Reference:Villa Vacations -10425
Languages spoken: English, Italian, Some German
Features


Dishwasher
DVD Player
Satellite or Cable Television
Television
Washing Machine



Activities


Activity - Tennis, Golf, Pools
Culture - Museums, Historic Sites
Night Life, Theatres, Restaurants
Outdoor Activities - Walks, Lakes, Woods
Wilderness - Mountains, River Gorges
Winter Sports



Restrictions


No Pets
No Smokers



Owner's Links


Click Here for more information about this property
Web-Cam 300 meters south of Property, Local Weather, Wind
End of Links
---