Property Details


4 one bedroom apartments sharing a pool surrounded by colourful flowers.

Each apartment has its own balcony with panoramic view of LATSI HARBOUR and AKAMAS FOREST.

Our properties-cleaness, tranquibillity, friendly service, low prices, family type atmosphere.


Area Details


Polis is located North West of the region of Paphos at a 30 minute distance from the town of Paphos airport and less than 2 hours away from Larnaca airport, near
the Akamas peninsula with its renowned Baths of Aphrodite. The whole Polis area has been bountifully blessed by nature and combines the beauties of the mountains, the sea and the valley.
Its seas are clean and warm with extensive sandy beaches.
Hikers and nature lovers will enjoy unique experiences as they walk along the local nature trails. the area is also very good for cycling and horse riding. Lovers of water sports are able to indulge in deep sea diving, as the Akamas coastal area is known for the exceptional depth of its seas. Visitors are able to hire speed boats, surfboards, sea kayaks, and to swim in the warm waters of the bay. Golfers can enjoy a game at a distance of only 25 minutes from the town. Furthermore, due to the richly varied landscape it is very suitable for photography., particularly in Spring and Autumn when the atmosphere is especially clear. The spectacular sunsets are a true challenge for photographers. Polis offers visitors all facilities designed to make their stay a pleasant and comfortable one.

The town
Neo Chorio is both a traditional village with coffee-shops and tavernas as s well as a tourist one.While in the village you must not miss out on visiting the following attractions...

The Triskelion Pottery where Ara and his wife Nancy painstakingly reproduce exact replicas of ancient pottery found in the Cyprus museums.

Permanent display of original paintings, drawings, prints and stone carvings by HARRY HAWKINS.
Books and talking books by SHEILA HAWKINS.
You can meet the artist and the author and get pictures and books personally signed.

In the hills just outside the village is the entrance to an intricate cave system with beautiful subterranean caverns filled with stalagmites and stalactites.

For those wishing to visit our beautiful Village during Easter(April) it is recommended that you join in on the Festival which is held in Neon Chorion.


Travel Details


Taxi.
Special package including car Hire/free delivery at Paphos airport.

Gallery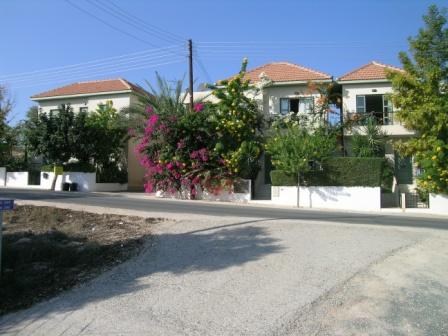 Location
The marker is an accurate indicator of the property location.