Property Details


This apartment enjoys the total first floor of the farmhouse, running out onto a beautiful covered terrace and also a large uncovered terrace. The gardens have large mature trees allowing plenty of shade in the summer. The lovely swimming pool has steps going in allowing easy access. The farmhouse is set in 2 acres of land, including orchards, with no near overlooking neighbours. There are three large bedrooms and one smaller one.
A beautiful bathroom and well equipped kitchen. A very large dining room and lovely sunlounge. The grounds are totally fenced in to allow complete privacy and secure parking.


Area Details


The local area consists firstly to the east the hills and mountains of the Garraff, which seperates Barcelona from the Costa Garraff. The first resort is the beautiful historic town of Sitges. The next town being Vila Nova a great place for shopping with a lovely promanade and beaches. Then next the local town of Cubelles a typical spanish town with beautiful beaches. Many more small resort towns to the south as the Costa Dorada continues down to Tarragona and Salou. Inland there is Monserrat and its famous monastery set into the mountains. All in all our location is perfect for a sightseeing holiday or even a beach holiday.


Travel Details


Our nearest railway station is only two miles away giving very easy access to Barcelona. The trains run through Cubelles every half an hour, either running down the coast to Tarragona/Salou or to Barcelona/ Costa Brava.

Gallery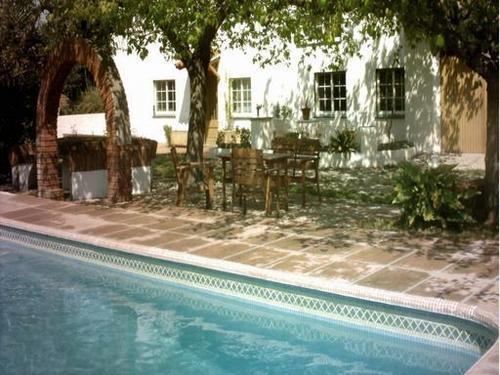 Location
The marker is an accurate indicator of the property location.
| | |
| --- | --- |
| Powered by google maps. Google maps of rental properties needs Javascript enabled | Overview google map. |
Click on the map below for a larger map of the area


Cubelles,Catalunya,08880,Spain

Pricing details



The following rates are per Week
The rates are per apartment
From
Upto
&nbsp
Charging Rate
&nbsp
British Pounds
US Dollars
Euros
01 Jan 2005
17 Mar 2005
350.00
459
410
17 Mar 2005
29 Mar 2005
700.00
917
819
29 Mar 2005
27 May 2005
500.00
655
585
27 May 2005
30 Jun 2005
800.00
1048
936
30 Jun 2005
31 Aug 2005
900.00
1179
1053
31 Aug 2005
31 Oct 2005
800.00
1048
936
31 Oct 2005
18 Dec 2005
350.00
459
410
18 Dec 2005
04 Jan 2006
700.00
917
819
Availability Details

<-- For Full Detailed Calendar with Larger Text click the image
Last Updated on 2005-Sep-09
January, 2021
Su
Mo
Tu
We
Th
Fr
Sa
1
2
3
4
5
6
7
8
9
10
11
12
13
14
15
16
17
18
19
20
21
22
23
24
25
26
27
28
29
30
31

February, 2021
Su
Mo
Tu
We
Th
Fr
Sa
1
2
3
4
5
6
7
8
9
10
11
12
13
14
15
16
17
18
19
20
21
22
23
24
25
26
27
28

March, 2021
Su
Mo
Tu
We
Th
Fr
Sa
1
2
3
4
5
6
7
8
9
10
11
12
13
14
15
16
17
18
19
20
21
22
23
24
25
26
27
28
29
30
31

April, 2021
Su
Mo
Tu
We
Th
Fr
Sa
1
2
3
4
5
6
7
8
9
10
11
12
13
14
15
16
17
18
19
20
21
22
23
24
25
26
27
28
29
30
May, 2021
Su
Mo
Tu
We
Th
Fr
Sa
1
2
3
4
5
6
7
8
9
10
11
12
13
14
15
16
17
18
19
20
21
22
23
24
25
26
27
28
29
30
31

June, 2021
Su
Mo
Tu
We
Th
Fr
Sa
1
2
3
4
5
6
7
8
9
10
11
12
13
14
15
16
17
18
19
20
21
22
23
24
25
26
27
28
29
30

July, 2021
Su
Mo
Tu
We
Th
Fr
Sa
1
2
3
4
5
6
7
8
9
10
11
12
13
14
15
16
17
18
19
20
21
22
23
24
25
26
27
28
29
30
31

August, 2021
Su
Mo
Tu
We
Th
Fr
Sa
1
2
3
4
5
6
7
8
9
10
11
12
13
14
15
16
17
18
19
20
21
22
23
24
25
26
27
28
29
30
31
Contact Details - Preferred option listed first



Note: Disclaimer
For Rental Enquiries - Email the owner.. Click here. (NB. You need to have popups enabled to use this)
Tel No. jill coote at 0034 93 895 0056 in Spain - Please Quote Reference:Villa Vacations -10687
Languages spoken: English
Features


DVD Player
Private Swimming Pool



Activities


Activity - Tennis, Golf, Pools
Outdoor Activities - Walks, Lakes, Woods
Seaside - Close to beaches
Wilderness - Mountains, River Gorges



Restrictions






Owner's Links


Click Here for more information about this property
End of Links
---