Property Details


The property is situated inside a spectacular park of 2ha with breathtaking perspectives . The distance from Rome - only 50 min, made it an ideal base for romantic city break for couples or families. The property is suitable for 2 - 4 or 10 persons and have a panoramic view on the lake from private garden . The panoramic garden is provided by big table for al fresco dining under a pergola. Available BBQ area. A kitchen corner is furnished for prepare some delights in house (frigo, 5 fires,oven, toaster). The flower's edges assured privacy of each bedroom in Villa.The height of Villa (670m asl) and very particular exposure on the hillside of Vico Lake (400m asl),assure a natural ventilation anf fresh air also during summer.Owners and housekeeper, living here,are at your disposal to guarantee a relaxing and pleasant holiday in contact with the nature, in full respect for privacy.
Children's area is on the near beach of lake with fun toys especially for them.Entrance to water is from pebbles or sandy beach,possibility to hire ombrella and sun lounges directly on the lake,as bikes.Lake is not deep & perfect for kids.The swimming pool at 10min from Villa, on the lake.The place allows a nice mix between sports (canoe, sailing, windsurfing, biking) on the lake with organized club. The Golf Club "Le Querce" at 15km with 18 holes.Horse riding on the valley. Tennis & Surf club: on the lake at 5min by car.Proximity to the port of Civitavecchia,the stop for cruise ships, invites romantic couples before starting the cruise in the Mediterranean See, to spend a pleasure time in the land of Tuscia, rich of history and culture, to enjoy the well-being in the midst of breathtaking landscape.


Area Details


Villa La Paiola is perfect spot to explore the most interesting part of Lazio with archeology, nature, a lake.Etruscan necropolis with underground tumbs are at fiew minutes from Villa: Tuscania, Tarquinia, Cerveteri,Vulci.More of beautiful renaissance Villas with ornamental gardens are situated in Northern Lazio, nearby Villa La Paiola: Palazzo Farnese from XV Century, Villa Lante in Bagnaia with ornamental labyrinth, Park of Monsters with Spectacular Sculptures from XV Century,Villa Savorelli at Sutri, Palazzo Ruspoli at Vignanello.Pitoresque medieval villages nearby: Caprarola, Ronciglione, Sutri, Orte,. Viterbo At least , for complete cultural holiday with the sightseeing, Rome with its ancient architecture and arts.Very fast & simply connection by privat car or public bus. Villa La Paiola is 50 min by fast way Cassia Veientana from the GRA - Ring of Rome & Sattelyte parking Saxa Rubra . The cost euro 1,50/car /day. From there you can reach center- Piazza Paopolo in 10 min.

Cottage Rosa - 2 persons: 40mq, one double bedroom, bathroom with shower, living with kitchinet (2 fires) entrance to the privat garden with the lateral view of the Lake. On the garden: table, chairs, sun lounges, ombrella.
Cottage Magnolia- 4 persons: 70mq, two double bedrooms with panoramic windows, bathroom with shower,living with kitchinet ,panoramic window door with entrance to the privat garden. 180° view on the Lake.
Cedro (adjacent to Magnolia) : 4-6 persons: 90m, one double bedroom with bathroom,hudge living with sofà bed 2 persons,kitchen corner, table for 10 ,wooden garret with 2 single beds, small room for wardrobe, 2nd bathroom.Large privat garden with view, pergola , table for 10, sun lounges.
Magnolia+ Cedro - unit for 2 families, up to 8 persons.

Italy Visit in March 2008
Tim and Kim Frederick, Maryland, USA.
Date Submitted: April 02, 2008 Date of Stay: March 2008
We just returned from a wonderful stay at Villa la Paiola. The hosts were very friendly and most helpful. They gave us lots of local information and maps to the surrounding area. The apartment was beautifully decorated and very clean. The view is priceless. Our weather did not permit much use of the outside area but it is very nice. We would highly recommend this property to anyone wishing to stay around Rome.
Recommended for: Adventure Seekers, Age 55+, Families with Young Children, Romantic Getaway, and Sightseeing


Travel Details


The bus stop to Roma(Saxa Rubra satellite parking) and Viterbo, is at 100m from Villa La Paiola.
The main bus station, metro station with the car parking is in Roma - Saxa Rubra, about 50min by car or by bus from Villa La Paiola .
From Saxa Rubra to the center of Roma-Flaminio( Piazza Popolo) metro takes 10min.
From the Highway A1-30km: exit Orte,direction Viterbo - Lago di Vico.
From the airport in Rome-80km: exit from GRA- Viterbo, Via Cassia Veientana.Fastway Cassia BIS till Monterosi, then in direction Ronciglione-Lago di Vico.

Gallery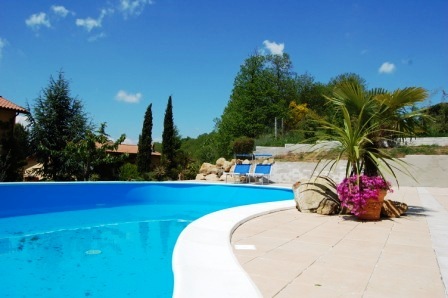 Panorama


Click on any image below to open a full panorama in a new window.


Location
The marker is only a general indicator of the property location. Confirm with owner for more details.