Property Details


Apartment / Gite complex comprising 2 houses around a courtyard, each with 3 letting units ranging from Studio to 1 and 2 Bedrooms. each property has its own outside sitting area within the grounds which are 1.3 acres. There is a swimming pool and facilities for BBQ's, Badminton/ Volleyball, Boules and a covered games area. There is also a separate "den" where you can safely let the kids loose to do what they want in their own space.
Near national park and Futuroscope


Area Details


La Roche Posay is famous as as spa town with remarkable water properties that have been found particularly helpful for people with skin problems or burn victims. There are numerous centres offering special treatments both curative and therapeutic. As the town thus attracts many visitors, there are outstanding eisure facilities - Golf, Tennis, Racecourse, Casino, Swimming Pool, river Fishing, Canoeing, Hotels and Restaurants etc.


Travel Details


During the summer there is a town train that circulates throughout the day from the town centre which is about 1 mile away. There is also a bus service from the town to VicQ and Angles sur Anglin that stops at the bottom of the rte. de Cremille - about 200 yards away.

Gallery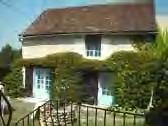 Location
The marker is only an estimate of the location based on zip/post code and street address.