Property Details


Nestled in a paradise of tropical gardens, mountains, and a rushing river, Casa Verde is exquisite in detail both inside and out!Casa Verde is located in the Southern Pacific Region of Costa Rica where the climate has been rated one of the best in the world! As the automatic gate to Casa Verde opens, revealing for the first time the magnificent grounds with exquisite flowers and fauna everywhere, you'll immediately be taken in by the uniqueness of Casa Verde. The entire 10 acre Estate is totally private and includes a 6000 sq. ft main villa, a large Olympic style swimming pool complete with a water fall and in-water sitting area, all surrounded by 4500 sq. ft. of Mexican Tile, a custom built oversized Jacuzzi made out of stone and perched on a huge bolder overlooking the flowing river below, a large wet bar, a full gym and a separate unattached apt. As you walk past the tropical waterfall and enter through the large double hand-carved Cristobal wood doors, you'll notice the creative style design obtained by using a combination of natural stone, exotic woods, and glass. The main villa with 24' cathedral ceilings has 2 large master bedroom suites with designer baths and sunken tubs, and 2 additional bedrooms each with their own bathrooms as well. There's a gorgeous formal dinning room and adjoining tea room, with fantastic views of the spectacular gardens through large seamless windows, an entertainment room, complete with large screen Direct TV, DVD, sound system, a fully equipped extra large kitchen, as well as a formal living room with balconies overlooking the rushing river below, and outside pool area. There's also a massage room with a custom built bamboo massage table where you can escape and relax to the awesome sound of the rushing river while receiving an incredible massage from an excellent local masseur on call.


Area Details


Casa Verde is located just a few min. from San Isidro del General, and a short ride to Dominical, one of the most popular surfing beaches in Costa Rica. The entire compound is completly surounded by a private 10- acre forest, with a rushing river flowing through the Estate, and full of magnificent colored birds, flowers, and natural wildlife. The climate has been rated one of the best in the world, with low humidity, with a beautiful breeze, and temps in the mid 70's to low 80's all year long.


Travel Details


Direct non stop bus service from San Jose.

Gallery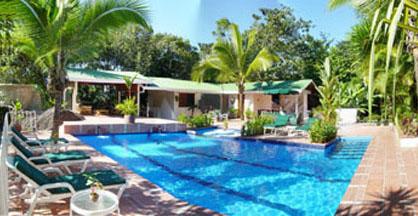 Location


Click on the map below for a larger map of the area


San Isidro del General,Perez Zeledon,8000,Costa Rica

Pricing details



The following rates are per Week
From
Upto
&nbsp
Charging Rate
&nbsp
US Dollars
British Pounds
Euros
31 May 2006
31 Aug 2006
2500
1908
2233
31 Aug 2006
30 Oct 2006
2000
1527
1786
31 Oct 2006
30 Nov 2006
2500
1908
2233
30 Nov 2006
02 Dec 2006
3000
2290
2679



Price Includes:-

Casa Verde is available weekly or monthly and includes a full-time staff of 2; a housekeeper/cook that can prepare your meals and do your laundry, as well as a groundskeeper that will keep the pool and all of the grounds looking perfect all of the time, as well as making reservations for your activities and or anything else you might require. Together they are guranteed to insure you have the most memorable stay at Casa Verde.



Other Information:-

Remember that all prices include the full-time staff as well as unlimited free high speed Internet service. Casa Verde is also available with additional staff including bartenders, waiters, etc. Special prices are also available for monthly rentals.
Availability Details

<-- For Full Detailed Calendar with Larger Text click the image
Last Updated on 2006-Jan-05
August, 2020
Su
Mo
Tu
We
Th
Fr
Sa
1
2
3
4
5
6
7
8
9
10
11
12
13
14
15
16
17
18
19
20
21
22
23
24
25
26
27
28
29
30
31

September, 2020
Su
Mo
Tu
We
Th
Fr
Sa
1
2
3
4
5
6
7
8
9
10
11
12
13
14
15
16
17
18
19
20
21
22
23
24
25
26
27
28
29
30

October, 2020
Su
Mo
Tu
We
Th
Fr
Sa
1
2
3
4
5
6
7
8
9
10
11
12
13
14
15
16
17
18
19
20
21
22
23
24
25
26
27
28
29
30
31

November, 2020
Su
Mo
Tu
We
Th
Fr
Sa
1
2
3
4
5
6
7
8
9
10
11
12
13
14
15
16
17
18
19
20
21
22
23
24
25
26
27
28
29
30
December, 2020
Su
Mo
Tu
We
Th
Fr
Sa
1
2
3
4
5
6
7
8
9
10
11
12
13
14
15
16
17
18
19
20
21
22
23
24
25
26
27
28
29
30
31

January, 2021
Su
Mo
Tu
We
Th
Fr
Sa
1
2
3
4
5
6
7
8
9
10
11
12
13
14
15
16
17
18
19
20
21
22
23
24
25
26
27
28
29
30
31

February, 2021
Su
Mo
Tu
We
Th
Fr
Sa
1
2
3
4
5
6
7
8
9
10
11
12
13
14
15
16
17
18
19
20
21
22
23
24
25
26
27
28

March, 2021
Su
Mo
Tu
We
Th
Fr
Sa
1
2
3
4
5
6
7
8
9
10
11
12
13
14
15
16
17
18
19
20
21
22
23
24
25
26
27
28
29
30
31
Contact Details - Preferred option listed first



Note: Disclaimer
Features


Dishwasher
DVD Player
Private Swimming Pool
Satellite or Cable Television
Stereo System
Television
Washing Machine



Activities


Activity - Tennis, Golf, Pools
Culture - Museums, Historic Sites
Night Life, Theatres, Restaurants
Outdoor Activities - Walks, Lakes, Woods
Seaside - Close to beaches
Wilderness - Mountains, River Gorges



Restrictions






Owner's Links


Click Here for more information about this property
End of Links
---