Property Details


This 6 bedroom luxury villa with private pool and on-site golf course and equestrian centre is located within the desert paradise of Arabian Ranches,Dubai. Only 20 minutes from the airport and 10 minutes from the world famous Burj al Arab and Palm Island the villa is the ideal base for both exploring and relaxing in Dubai.


Area Details


Dubai is fast becoming one of the world's favorite and most exclusive tourist destinations and offers the very best in sports, entertainment, adventure and shopping. From enjoying a lazy day at one of the many 5 star beach clubs, where you will be waited on hand and foot to a round of golf at one of the 7 world-class golf courses, to enjoying the thrill of Dune Bashing in the desert you will find it all here.

Dubai is a shopper's paradise! There are numerous ultra modern shopping malls where you are sure to grab a bargain. Having low import duties and no taxation, you will find most major labels less expensive than their country of origin. If it's the more traditional type of shopping you are looking for and are itching to use your bargaining skills then a trip to the Souk is a must. Whatever you are looking for from spices to gold you will find at the entreating, atmospheric location.


Travel Details


Dubai boasts both a very sophisticated taxi system and within the centre of Dubai buses are freely available.

Gallery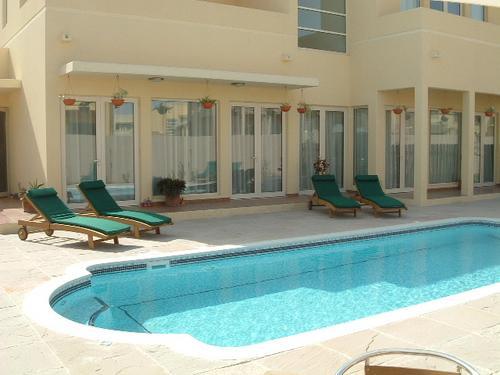 Location
The marker is only a general indicator of the property location. Confirm with owner for more details.
| | |
| --- | --- |
| Powered by google maps. Google maps of rental properties needs Javascript enabled | Overview google map. |
Click on the map below for a larger map of the area


Dubai,Dubai,Dubai,United Arab Emirates

Pricing details



The following rates are per Week
The rates are per villa
From
Upto
&nbsp
Charging Rate
&nbsp
British Pounds
US Dollars
Euros
09 Mar 2005
03 Jun 2005
2250
2745
2475
03 Jun 2005
01 Jul 2005
2000
2440
2200
01 Jul 2005
23 Sep 2005
2250
2745
2475
23 Sep 2005
30 Sep 2005
2500
3050
2750
30 Sep 2005
14 Oct 2005
2250
2745
2475
14 Oct 2005
28 Oct 2005
2500
3050
2750
28 Oct 2005
16 Dec 2005
2250
2745
2475
17 Dec 2005
06 Jan 2006
3000
3660
3300
07 Jan 2006
11 Feb 2006
2500
3050
2750
12 Feb 2006
31 Mar 2006
2250
2745
2475
31 Mar 2006
21 Apr 2006
2500
3050
2750
21 Apr 2006
02 Jun 2006
2250
2745
2475



Price Includes:-

Meet, greet and escort to the villa.
Daily cleaning of villa.
Weekly linen changes.
Pool heating/chilling.
Electricty.
Use of baby equipment.
Use of suitable toys for your children.



Price Excludes:-




Other Information:-

A shopping service for all your groceries is offered at an extra charge. More information available on request.

If you are travelling with children why not hire a live-in maid to make your break more relaxing. Contact us for details




Availability Details

<-- For Full Detailed Calendar with Larger Text click the image
Last Updated on 2005-Jul-04
August, 2019
Su
Mo
Tu
We
Th
Fr
Sa
1
2
3
4
5
6
7
8
9
10
11
12
13
14
15
16
17
18
19
20
21
22
23
24
25
26
27
28
29
30
31

September, 2019
Su
Mo
Tu
We
Th
Fr
Sa
1
2
3
4
5
6
7
8
9
10
11
12
13
14
15
16
17
18
19
20
21
22
23
24
25
26
27
28
29
30

October, 2019
Su
Mo
Tu
We
Th
Fr
Sa
1
2
3
4
5
6
7
8
9
10
11
12
13
14
15
16
17
18
19
20
21
22
23
24
25
26
27
28
29
30
31

November, 2019
Su
Mo
Tu
We
Th
Fr
Sa
1
2
3
4
5
6
7
8
9
10
11
12
13
14
15
16
17
18
19
20
21
22
23
24
25
26
27
28
29
30
December, 2019
Su
Mo
Tu
We
Th
Fr
Sa
1
2
3
4
5
6
7
8
9
10
11
12
13
14
15
16
17
18
19
20
21
22
23
24
25
26
27
28
29
30
31

January, 2020
Su
Mo
Tu
We
Th
Fr
Sa
1
2
3
4
5
6
7
8
9
10
11
12
13
14
15
16
17
18
19
20
21
22
23
24
25
26
27
28
29
30
31

February, 2020
Su
Mo
Tu
We
Th
Fr
Sa
1
2
3
4
5
6
7
8
9
10
11
12
13
14
15
16
17
18
19
20
21
22
23
24
25
26
27
28
29

March, 2020
Su
Mo
Tu
We
Th
Fr
Sa
1
2
3
4
5
6
7
8
9
10
11
12
13
14
15
16
17
18
19
20
21
22
23
24
25
26
27
28
29
30
31
Contact Details - Preferred option listed first



Note: Disclaimer
Via their own Web Site
For Rental Enquiries - Email the owner.. Click here. (NB. You need to have popups enabled to use this)
Tel No. Lorna Mair at 00 971 50 7908056 in United Arab Emirates - Please Quote Reference:Villa Vacations -10853
Languages spoken: English
Between 10 and 21 in United Arab Emirates time
Fax No. 00971 2 4433895 in United Arab Emirates
Features


Air Conditioning
Dishwasher
DVD Player
Private Swimming Pool
Satellite or Cable Television
Stereo System
Television
Washing Machine



Activities


Activity - Tennis, Golf, Pools
Culture - Museums, Historic Sites
Night Life, Theatres, Restaurants
Outdoor Activities - Walks, Lakes, Woods
Seaside - Close to beaches
Wilderness - Mountains, River Gorges



Restrictions


No Pets
No Smokers



Owner's Links


Click Here for more information about this property
End of Links
---