Property Details


"NARCISSUS HOUSE" Private,large,spacious "A" Class Accommodation with Beach & Sea access right outside the door!! It is an original Skiathos dwelling dating back to the 1800's. It has been sympathetically renovated to retain it's old world charm yet be a comfortable home. It is unique in it's position being just seconds from the sea & even having it's OWN PRIVATE BEACH & a large stone jetty for mooring a boat.
The house is not overlooked and very PRIVATE, it nestles at the foot of an acre of olive grove,which is next to the sea.It is well equipped,comfortable,maintained to a high standard & is perfect for couples,families & friends who wish to be secluded but within easy reach of all amenities.The surrounding area is hillside & greenery & is ideal for walking.
Romantic hideaway perfect for Honeymoons!! Highly recommended over the last 20 years by previous guests. NB:For those who also enjoy rod fishing this can be done off the jetty or the sea shore with some good results so I am told!!


Area Details


The Pounta peninsular is facing Skiathos Town & is a lush area of olive groves,pine forests & open countryside having spectacular views across to Skiathos Town on one side & to Skopelos from the other side of the peninsular.However Skiathos & all of it's amenities are just a 5 minute drive away!
"Narcissus House" is situated nearly at the very end of the peninsular on a 5 acre plot of family land & is in a most envied position just across the bay from Skiathos Town.It is facing west & therefore has sunshine from sunrise to sunset! A very romantic setting especially whilst watching the spectacular sunsets along with the twinkling lights in Skiathos Town which is simply stunning in the evenings!!! Just relax with your iced drink!!


Travel Details


There is no public transport to this area so car rental is advised.A boat can also be rented from a local reliable & knowledgeable agent.

Gallery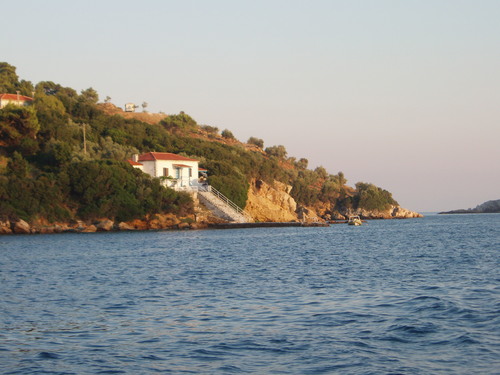 Location
The marker is an accurate indicator of the property location.
| | |
| --- | --- |
| Powered by google maps. Google maps of rental properties needs Javascript enabled | Overview google map. |
Click on the map below for a larger map of the area


Skiathos,Skiathos,37002,Greece

Pricing details



The following rates are per Day
The rates are per Whole House/Villa
From
Upto
&nbsp
Charging Rate
&nbsp
Euros
US Dollars
British Pounds
05 May 2016
26 May 2016
120
134
103
26 May 2016
30 Jun 2016
155
174
132
30 Jun 2016
28 Jul 2016
190
213
162
28 Jul 2016
01 Sep 2016
225
252
192
01 Sep 2016
29 Sep 2016
155
174
132
29 Sep 2016
30 Oct 2016
120
134
103



Price Includes:-

DAILY RATES ARE FOR WHOLE HOUSE RENTAL NOT PER PERSON RATE
All bed linen,bathroom towels which include a bath & hand towel for each person plus Guest hand towel for the bathroom,Beach Towels for each person [NOTE: For use at the house only],a kitchen hand towel & tea towels.
Electricity inc. air conditioning. Water charges.
Weekly servicing of house,bed linen & towels change on two or more week rentals. NO linen/towels service for one week rentals,if requested & extra charge of 20 euros per person is to be paid locally. Also included is an initial supply of basic necessities..



Price Excludes:-

Any other costs incurred by renter. EG; Flight costs/Personal Holiday Insurance to cover yourselves for cancellations,illness etc etc/ ANY BANK CHARGES incurred for transfer of money for rental deposits & balance/Car,Boat hire/Extra servicing,linen & towel requests,cost to be arranged separately see above/Hire of baby cot/high chairs/pushchairs can be done locally at very reasonable rates.





Other Information:-

The rates are based on 4 people sharing if there were 6 then there is an extra charge of £20/25e per additional person. Our rates are fair & there are NO HIDDEN CHARGES. No extras added on like for excessive use of utilities.....Any breakages are usually too minimal to ask to be re-imbursed, however if a large item was broken like a TV then that would have to be either replaced or re-imbursed.
Genuine local knowledge given to all of our Guests freely! ANY LATE DEALS ARE OFFERED DUE TO CANCELLATIONS & ARE PRICED PER WEEK.THEY ARE GENUINE OFFERS & ANYONE WHO HAS BOOKED ALREADY WILL HOPEFULLY APPRECIATE THIS AND THEIR BOOKING RATE CANNOT BE ALTERED TO REFLECT ANY OFFERS BEING MADE AFTERWARDS.

Availability Details

<-- For Full Detailed Calendar with Larger Text click the image
Last Updated on 2016-Jul-30
August, 2020
Su
Mo
Tu
We
Th
Fr
Sa
1
2
3
4
5
6
7
8
9
10
11
12
13
14
15
16
17
18
19
20
21
22
23
24
25
26
27
28
29
30
31

September, 2020
Su
Mo
Tu
We
Th
Fr
Sa
1
2
3
4
5
6
7
8
9
10
11
12
13
14
15
16
17
18
19
20
21
22
23
24
25
26
27
28
29
30

October, 2020
Su
Mo
Tu
We
Th
Fr
Sa
1
2
3
4
5
6
7
8
9
10
11
12
13
14
15
16
17
18
19
20
21
22
23
24
25
26
27
28
29
30
31

November, 2020
Su
Mo
Tu
We
Th
Fr
Sa
1
2
3
4
5
6
7
8
9
10
11
12
13
14
15
16
17
18
19
20
21
22
23
24
25
26
27
28
29
30
December, 2020
Su
Mo
Tu
We
Th
Fr
Sa
1
2
3
4
5
6
7
8
9
10
11
12
13
14
15
16
17
18
19
20
21
22
23
24
25
26
27
28
29
30
31

January, 2021
Su
Mo
Tu
We
Th
Fr
Sa
1
2
3
4
5
6
7
8
9
10
11
12
13
14
15
16
17
18
19
20
21
22
23
24
25
26
27
28
29
30
31

February, 2021
Su
Mo
Tu
We
Th
Fr
Sa
1
2
3
4
5
6
7
8
9
10
11
12
13
14
15
16
17
18
19
20
21
22
23
24
25
26
27
28

March, 2021
Su
Mo
Tu
We
Th
Fr
Sa
1
2
3
4
5
6
7
8
9
10
11
12
13
14
15
16
17
18
19
20
21
22
23
24
25
26
27
28
29
30
31
Contact Details - Preferred option listed first



Note: Disclaimer
For Rental Enquiries - Email the owner.. Click here. (NB. You need to have popups enabled to use this)
Tel No. Gill Antonitsa at +30-24270-22197 in Greece - Please Quote Reference:Villa Vacations -10871
Languages spoken: English/Greek
Between 8 and 21 in Greece time
Alternate Tel No. Gill Antonitsa at 0030-6946-225940
By Post to: Gill Antonitsa, P.O.Box 125,, Pounta,, Skiathos,, Skiathos, 37002,Greece
Features


Air Conditioning
Boat Available



Activities


Activity - Tennis, Golf, Pools
Culture - Museums, Historic Sites
Night Life, Theatres, Restaurants
Outdoor Activities - Walks, Lakes, Woods
Seaside - Close to beaches
Wilderness - Mountains, River Gorges



Restrictions






Owner's Links



End of Links
---