Property Details


Beach House rental for real Italian vacations on the beach in Apulia, along the Adriatic coast, 8 miles from Ostuni. The place is called Pantanagianni or better knowed as "Horse Shoe Beach"
The Villa was built in 2003 - Situated at about 250 meters (280 yards) from the beaches.
Located in corner position between Oslo st. and Vienna Avenue
Which is Pantanagianni main street to the beaches.


Area Details


PANTANAGIANNI - PUGLIA
Pantanagianni is still an unknown location, breathing the fresh sea air here gives you a sense of wellness
if you look at the map you will notice our place has a central position in APULIA REGION.
From here you can easily reach any tourist and cultural attraction of the region within 5 - 70 minutes
There is all villas and private houses, it's really a quiet place, only in hot summer it gets populated
during daylight the beaches are covered with people catching the sun and kids playing
There is only one camping facility that stays open almost all year around, with a free entrance minimarket
The spoiled ones will find anything in Santa Sabina, another location just north along the coast
or just south in Specchiolla, both places less then 2 miles distant, just far enough to keep the noise of these bigger locations away
But when it's time to relax ...then you need to get back to Pantanagianni, where you can rest ...also.
Only a few restaurants and pizzerias at walking distance, or by bicycle.
If you want a fresh drink, food or barbeque grill goodies, at any hours, you'll find them on the beach where you can reach an open sky Pub with umbrella shades, and a typical Beach Bar with a play ground for kids, and not only...
The beaches are the most beautiful of the area, and their best expression is during the off season and during non busy hours, in these moments this is the best place you'll find peace, serenity and regenerate body and soul
...simply walk along the beaches or ride a bicycle through the streets and you'll feel it..

Gallery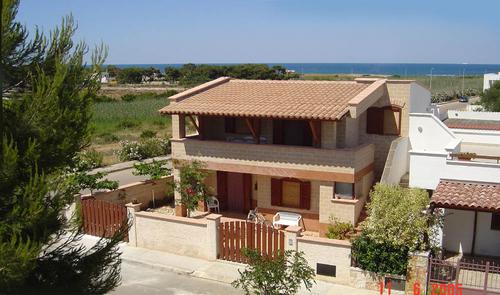 Location
The marker is an accurate indicator of the property location.
| | |
| --- | --- |
| Powered by google maps. Google maps of rental properties needs Javascript enabled | Overview google map. |
Click on the map below for a larger map of the area


Pantanagianni,Puglia,72019,Italy

Pricing details



The following rates are per Week
The rates are per Family/Group of 8/9
From
Upto
&nbsp
Charging Rate
&nbsp
Euros
US Dollars
British Pounds
10 Apr 2013
28 May 2013
1500
1679
1282
28 May 2013
25 Jun 2013
1900
2127
1624
25 Jun 2013
30 Jul 2013
2200
2463
1880
30 Jul 2013
28 Aug 2013
2800
3135
2393
28 Aug 2013
01 Oct 2013
1800
2015
1538
01 Oct 2013
30 Oct 2013
1500
1679
1282
30 Oct 2013
18 Dec 2013
900
1008
769
18 Dec 2013
08 Jan 2014
1200
1344
1026
08 Jan 2014
26 Mar 2014
900
1008
769



Price Includes:-

The price includes electric power, gas, water consumptions.
WiFi Internet connection
All taxes included






Price Excludes:-

Heating or Air Conditioning will be charged €10 per day extra (each house).
Final cleaning will be charged €50 extra (each house).
Or €10 per person in case of big groups.



Other Information:-

•Prices are per week, approximated for 8/9 adults plus 4 kids max. in the entire Villa (2 houses)
Each house can sleep 2 up to 6/7 people Max.
Very comfortable to accommodate 4/5 people, plus 1 or 2 extra kid.
Price will be half when only 1 house is rented 2 to 7 people max.
In any case a final price will be arranged depending on the season period, length of stay and number of people.
Please enquire for Last Offers and special periods.
Reservations are confirmed with a payment of 30% at booking time.
Balance is to be paid 1 month before arrival date
Refundable deposit of € 500 for each house will be paid at arrival
Our preferred payment currency is Euro
But refundable deposit can be made in your currency
PLEASE ENQUIRE for Last Offers and special periods.

PLEASE CALL FOR A VACANCY CONFIRMATION BEFORE YOU SEND ANY MONEY
We speak English call us at 0039 3204306121 Or send us an E-mail

Rental period is usually from Saturday to Saturday but Mid-Week bookings are accepted when possible.

Availability Details

<-- For Full Detailed Calendar with Larger Text click the image
Last Updated on 2013-Apr-19
September, 2020
Su
Mo
Tu
We
Th
Fr
Sa
1
2
3
4
5
6
7
8
9
10
11
12
13
14
15
16
17
18
19
20
21
22
23
24
25
26
27
28
29
30

October, 2020
Su
Mo
Tu
We
Th
Fr
Sa
1
2
3
4
5
6
7
8
9
10
11
12
13
14
15
16
17
18
19
20
21
22
23
24
25
26
27
28
29
30
31

November, 2020
Su
Mo
Tu
We
Th
Fr
Sa
1
2
3
4
5
6
7
8
9
10
11
12
13
14
15
16
17
18
19
20
21
22
23
24
25
26
27
28
29
30

December, 2020
Su
Mo
Tu
We
Th
Fr
Sa
1
2
3
4
5
6
7
8
9
10
11
12
13
14
15
16
17
18
19
20
21
22
23
24
25
26
27
28
29
30
31
January, 2021
Su
Mo
Tu
We
Th
Fr
Sa
1
2
3
4
5
6
7
8
9
10
11
12
13
14
15
16
17
18
19
20
21
22
23
24
25
26
27
28
29
30
31

February, 2021
Su
Mo
Tu
We
Th
Fr
Sa
1
2
3
4
5
6
7
8
9
10
11
12
13
14
15
16
17
18
19
20
21
22
23
24
25
26
27
28

March, 2021
Su
Mo
Tu
We
Th
Fr
Sa
1
2
3
4
5
6
7
8
9
10
11
12
13
14
15
16
17
18
19
20
21
22
23
24
25
26
27
28
29
30
31

April, 2021
Su
Mo
Tu
We
Th
Fr
Sa
1
2
3
4
5
6
7
8
9
10
11
12
13
14
15
16
17
18
19
20
21
22
23
24
25
26
27
28
29
30
Contact Details - Preferred option listed first



Note: Disclaimer
For Rental Enquiries - Email the owner.. Click here. (NB. You need to have popups enabled to use this)
Tel No. Rita & Rino DS at 0039 3204306121 in Italy - Please Quote Reference:Villa Vacations -10956
Languages spoken: English - Italian
Between 8 and 21 in Italy time
Via their own Web Site
Features


Air Conditioning
DVD Player
Stereo System
Television
Video Cassette Recorder
Washing Machine



Activities


Activity - Tennis, Golf, Pools
Culture - Museums, Historic Sites
Night Life, Theatres, Restaurants
Outdoor Activities - Walks, Lakes, Woods
Seaside - Close to beaches



Restrictions


No Pets
No Smokers



Owner's Links


Click Here for more information about this property
View a full map of Apulia Region
End of Links
---