Property Details


Beach House rental for real Italian vacations on the beach in Apulia, along the Adriatic coast, 8 miles from Ostuni. The place is called Pantanagianni or better knowed as "Horse Shoe Beach"
The Villa was built in 2003 - Situated at about 250 meters (280 yards) from the beaches.
Located in corner position between Oslo st. and Vienna Avenue
Which is Pantanagianni main street to the beaches.


Area Details


PANTANAGIANNI - PUGLIA
Pantanagianni is still an unknown location, breathing the fresh sea air here gives you a sense of wellness
if you look at the map you will notice our place has a central position in APULIA REGION.
From here you can easily reach any tourist and cultural attraction of the region within 5 - 70 minutes
There is all villas and private houses, it's really a quiet place, only in hot summer it gets populated
during daylight the beaches are covered with people catching the sun and kids playing
There is only one camping facility that stays open almost all year around, with a free entrance minimarket
The spoiled ones will find anything in Santa Sabina, another location just north along the coast
or just south in Specchiolla, both places less then 2 miles distant, just far enough to keep the noise of these bigger locations away
But when it's time to relax ...then you need to get back to Pantanagianni, where you can rest ...also.
Only a few restaurants and pizzerias at walking distance, or by bicycle.
If you want a fresh drink, food or barbeque grill goodies, at any hours, you'll find them on the beach where you can reach an open sky Pub with umbrella shades, and a typical Beach Bar with a play ground for kids, and not only...
The beaches are the most beautiful of the area, and their best expression is during the off season and during non busy hours, in these moments this is the best place you'll find peace, serenity and regenerate body and soul
...simply walk along the beaches or ride a bicycle through the streets and you'll feel it..

Gallery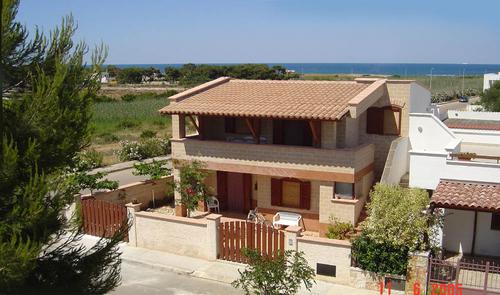 Location
The marker is an accurate indicator of the property location.