Property Details


Felicianas Resort is a private compound situated far from the islandīs touristic centres near the village of Bondalem on the north coast of Bali.
Experience a different quality of life – the property is built in the style of an old southern state plantation home and is situated right at the beach front amidst a tropical garden with palmtrees, a fruit and vegetable garden – it is simply like living in paradise!

The main building boasts two luxurious appartements. Both feature a WC/bathroom with hot water, a double queen/king sized bed with mosquito net, ample wardrobe and storage space, dressing table and one or two separate sofas which can also serve as sleeping accomodation for children.
Both appartements have a private terrace with sunchairs which, in combination with their proximity to the beach, makes for a perfect space for contemplation, reading, resting, conversation or simply enjoying the breathtaking seaview.

Meals can be taken in the large dining room as well as on the terrace.
Beverages such as water, tea and (balinese) coffee are available on a complimentary basis.
The kitchen offers a variety of foods including vegetarian, rice, fish, egg and or poultry dishes complemented by salads, vegetables and fresh fruit – prepared balinese style or adjusted to suit western tastes.
Indulge yourself – our small devoted team looks forward to pampering you and will endeavour to accommodate any special requests as far as possible.

Due to its quiet location, its healthy food and surroundings just like in paradise Felicianas Resort is well suited for people recovering from times of work pressure, sickness or some similarly trying situation. Here you can find relaxation for mind, body and soul. Additionally it is easy to organize massages and other wellness-treatments for our guests.


Area Details


Bondalem is a quiet village on the north coast of Bali, approximately 5 km west of Tejakula and 25 km east of the provincial capital Singaraja.
Directly here in the village you can join in on temple ceremonies where foreign guests are well-liked or just watch the Balinese way of life.
A century ago Singaraja used to be the capital of Bali, nowadays itīs a relatively quiet shopping town for the Balinese people with few tourists. There is quite a big market where food, clothes and temple equipment are sold.
About one hour from Bondalem by car you will find the tourist area of Lovina Beach. Though small compared to the islandīs tourist centres in the south it still has its share of shops, restaurants, discos and bars.


Travel Details


A car is useful for day tours all over the island. Our staff can assist in renting a car for one day or for a longer period of time.
Another possibility is to rent a motorbike to explore some places closer to Bondalem (though thatīs not completely danger free if you are not used to the Balinese style of driving as well as the road conditions or left side traffic).
You can catch a bemo - thatīs the public bus - at the main road about 800 m by foot from our villa to get to Singaraja and some other places. They are cheap, stop often and are also hot, slow and loud. So itīs definitely a special experience.

Gallery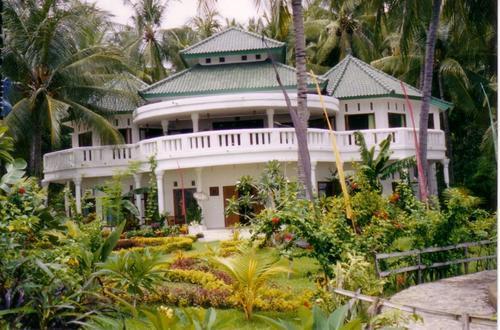 Location
The marker is only a general indicator of the property location. Confirm with owner for more details.