Property Details


An outstanding apartment adjoining Antonio Gaudi's showpiece building "La Pedrera" and ideally located only 50 metres from the city's most elegant commercial boulevard, "Passeig de Gracia".


Area Details


Casa Capella are to be found in the modernist Heart of L'Eixample – the famous "Expansion" of Barcelona in the 19th Century under the direction of the Master Architect Idelfons Cerdá. Cerdá originally planned the blocks for residential and commercial property with street level entrance, three floors and a large central garden in each block – at the time a pioneering design in urban planning.


Travel Details


3 minutes from the Metro / Bus line, easy to catch a taxi and a short walk to the centre.
Gallery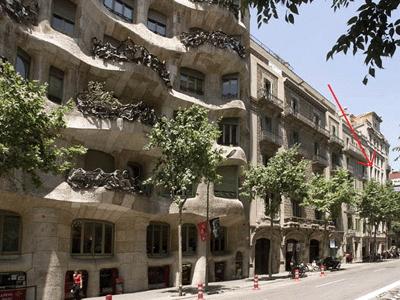 Location
The marker is a close indicator to the property location.
| | |
| --- | --- |
| Powered by google maps. Google maps of rental properties needs Javascript enabled | Overview google map. |
Click on the map below for a larger map of the area


Barcelona,Catalunya,08008,Spain

Pricing details



The following rates are per Day
From
Upto
&nbsp
Charging Rate
&nbsp
Euros
US Dollars
British Pounds
31 Dec 2005
31 Dec 2006
250
280
214



Other Information:-

€250 per night for one person or two people (1/2), €320 per night for three or four (3/4) people,
Minimum seven day (7) reservation.
Fewer or more than seven (7) days please consult price offer.
Availability Details

<-- For Full Detailed Calendar with Larger Text click the image
Last Updated on 2005-Oct-27
January, 2021
Su
Mo
Tu
We
Th
Fr
Sa
1
2
3
4
5
6
7
8
9
10
11
12
13
14
15
16
17
18
19
20
21
22
23
24
25
26
27
28
29
30
31

February, 2021
Su
Mo
Tu
We
Th
Fr
Sa
1
2
3
4
5
6
7
8
9
10
11
12
13
14
15
16
17
18
19
20
21
22
23
24
25
26
27
28

March, 2021
Su
Mo
Tu
We
Th
Fr
Sa
1
2
3
4
5
6
7
8
9
10
11
12
13
14
15
16
17
18
19
20
21
22
23
24
25
26
27
28
29
30
31

April, 2021
Su
Mo
Tu
We
Th
Fr
Sa
1
2
3
4
5
6
7
8
9
10
11
12
13
14
15
16
17
18
19
20
21
22
23
24
25
26
27
28
29
30
May, 2021
Su
Mo
Tu
We
Th
Fr
Sa
1
2
3
4
5
6
7
8
9
10
11
12
13
14
15
16
17
18
19
20
21
22
23
24
25
26
27
28
29
30
31

June, 2021
Su
Mo
Tu
We
Th
Fr
Sa
1
2
3
4
5
6
7
8
9
10
11
12
13
14
15
16
17
18
19
20
21
22
23
24
25
26
27
28
29
30

July, 2021
Su
Mo
Tu
We
Th
Fr
Sa
1
2
3
4
5
6
7
8
9
10
11
12
13
14
15
16
17
18
19
20
21
22
23
24
25
26
27
28
29
30
31

August, 2021
Su
Mo
Tu
We
Th
Fr
Sa
1
2
3
4
5
6
7
8
9
10
11
12
13
14
15
16
17
18
19
20
21
22
23
24
25
26
27
28
29
30
31
Contact Details - Preferred option listed first



Note: Disclaimer
Features


Air Conditioning
Dishwasher
DVD Player
Elevator
Satellite or Cable Television
Stereo System
Television
Washing Machine



Activities


Culture - Museums, Historic Sites
Night Life, Theatres, Restaurants
Seaside - Close to beaches



Restrictions


No Children
No Pets
No Smokers



Owner's Links


Click Here for more information about this property
End of Links
---