Property Details


4 stars classification comfort, original destination on the genuine French Riviera, Le Domaine de Respelido**** offers stays accomodation in the quietness of the countryside, 15 min from Nice airport and the beaches. We will welcome you to our site of 4 very comfortable provencal villas. Luxuriously equipped with an exceptional landscaped laguna pool, the magnificent greenery of a palm and bamboo grove, pool-house with a jacuzzi within an exotic garden, sauna.


Area Details


Each villa has its own private landscaped garden with palm, olive trees, nerium oleander and many mediterranean flowers. Every effort has been made to preserve Provencal tradition, including wrought iron furniture, terracotta floor tiles and decoration in Provencal colours.
Gallery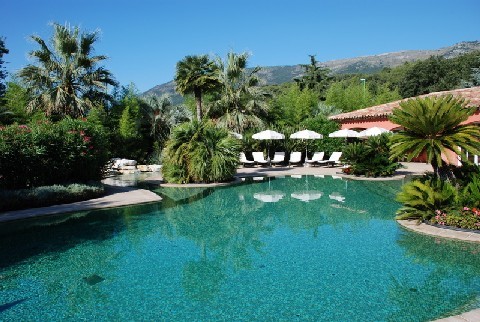 Location
The marker is an accurate indicator of the property location.
| | |
| --- | --- |
| Powered by google maps. Google maps of rental properties needs Javascript enabled | Overview google map. |
Click on the map below for a larger map of the area


Carros,Provence-Cote d`Azur,06510,France

Pricing details



The following rates are per Week
The rates are per per villa
From
Upto
&nbsp
Charging Rate
&nbsp
Euros
US Dollars
British Pounds
25 Feb 2012
04 May 2012
540
605
462
04 May 2012
06 Jul 2012
730
817
624
06 Jul 2012
24 Aug 2012
1050
1176
897
24 Aug 2012
28 Sep 2012
730
817
624
28 Sep 2012
21 Dec 2012
540
605
462
21 Dec 2012
04 Jan 2013
600
672
513



Price Includes:-

Stay since 4.00 pm on the arrival to 10.00 am for departure, water, electricity, heating, telephone (not including outgoing phone calls), house linen and towels, access to the pool-house (jacuzzi, sauna), use of the laundry (washing machine, tumble dryer, ironing facilities), cot and high chair, private car park, high speed wire and wi-fi internet access, shaded bowls playground.



Price Excludes:-

Visitor's tax (0.65 EUR/adult/day), cleaning end of stay, travel insurance on request.



Other Information:-

Booking conditions : 30 % deposit, balance due 30 days before arrival.
On the arrival, 300 euros safety deposit.
Availability Details

<-- For Full Detailed Calendar with Larger Text click the image
Last Updated on 2006-Mar-07
May, 2020
Su
Mo
Tu
We
Th
Fr
Sa
1
2
3
4
5
6
7
8
9
10
11
12
13
14
15
16
17
18
19
20
21
22
23
24
25
26
27
28
29
30
31

June, 2020
Su
Mo
Tu
We
Th
Fr
Sa
1
2
3
4
5
6
7
8
9
10
11
12
13
14
15
16
17
18
19
20
21
22
23
24
25
26
27
28
29
30

July, 2020
Su
Mo
Tu
We
Th
Fr
Sa
1
2
3
4
5
6
7
8
9
10
11
12
13
14
15
16
17
18
19
20
21
22
23
24
25
26
27
28
29
30
31

August, 2020
Su
Mo
Tu
We
Th
Fr
Sa
1
2
3
4
5
6
7
8
9
10
11
12
13
14
15
16
17
18
19
20
21
22
23
24
25
26
27
28
29
30
31
September, 2020
Su
Mo
Tu
We
Th
Fr
Sa
1
2
3
4
5
6
7
8
9
10
11
12
13
14
15
16
17
18
19
20
21
22
23
24
25
26
27
28
29
30

October, 2020
Su
Mo
Tu
We
Th
Fr
Sa
1
2
3
4
5
6
7
8
9
10
11
12
13
14
15
16
17
18
19
20
21
22
23
24
25
26
27
28
29
30
31

November, 2020
Su
Mo
Tu
We
Th
Fr
Sa
1
2
3
4
5
6
7
8
9
10
11
12
13
14
15
16
17
18
19
20
21
22
23
24
25
26
27
28
29
30

December, 2020
Su
Mo
Tu
We
Th
Fr
Sa
1
2
3
4
5
6
7
8
9
10
11
12
13
14
15
16
17
18
19
20
21
22
23
24
25
26
27
28
29
30
31
Contact Details - Preferred option listed first



Note: Disclaimer
For Rental Enquiries - Email the owner.. Click here. (NB. You need to have popups enabled to use this)
Via their own Web Site
Features


Communal Swimming Pool
Dishwasher
DVD Player
Satellite or Cable Television
Sauna
Television
Washing Machine



Activities


Culture - Museums, Historic Sites
Outdoor Activities - Walks, Lakes, Woods
Wilderness - Mountains, River Gorges
Winter Sports



Restrictions


No Pets
No Smokers



Owner's Links


Click Here for more information about this property
End of Links
---