Property Details


Charming Spanish house for 10 persons with beautiful views over the bay of Rosas. Only 5 minutes walking from lovely coast for swimming and diving.


Area Details


Very quiet but in the neighborhood of shops, bars etc


Travel Details


From the airport of Girona it is less than 1 hour driving by car.
Gallery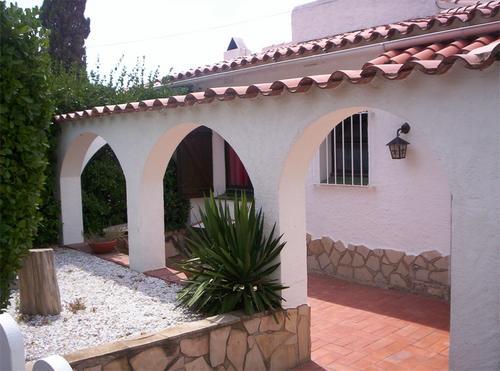 Location
The marker is a close indicator to the property location.
| | |
| --- | --- |
| Powered by google maps. Google maps of rental properties needs Javascript enabled | Overview google map. |
Click on the map below for a larger map of the area


La Escala,Catalunya,17130,Spain

Pricing details



The following rates are per Week
The rates are per villa
From
Upto
&nbsp
Charging Rate
&nbsp
Euros
US Dollars
British Pounds
30 Sep 2007
20 Dec 2007
600
672
513
20 Dec 2007
04 Jan 2008
1200
1344
1026
04 Jan 2008
14 Mar 2008
600
672
513
14 Mar 2008
04 Apr 2008
980
1097
838
04 Apr 2008
31 May 2008
600
672
513
27 Jun 2008
30 Jun 2008
1500
1679
1282
30 Jun 2008
29 Aug 2008
980
1097
838
29 Aug 2008
26 Sep 2008
980
1097
838
26 Sep 2008
19 Dec 2008
600
672
513
19 Dec 2008
03 Jan 2009
1200
1344
1026



Price Includes:-

Water, electricity, gaz, heating and cleaning



Price Excludes:-

Linnen etc.



Other Information:-

A garantee is asked for at arrival 500 euros
Availability Details

<-- For Full Detailed Calendar with Larger Text click the image
Last Updated on 2007-Oct-29
January, 2021
Su
Mo
Tu
We
Th
Fr
Sa
1
2
3
4
5
6
7
8
9
10
11
12
13
14
15
16
17
18
19
20
21
22
23
24
25
26
27
28
29
30
31

February, 2021
Su
Mo
Tu
We
Th
Fr
Sa
1
2
3
4
5
6
7
8
9
10
11
12
13
14
15
16
17
18
19
20
21
22
23
24
25
26
27
28

March, 2021
Su
Mo
Tu
We
Th
Fr
Sa
1
2
3
4
5
6
7
8
9
10
11
12
13
14
15
16
17
18
19
20
21
22
23
24
25
26
27
28
29
30
31

April, 2021
Su
Mo
Tu
We
Th
Fr
Sa
1
2
3
4
5
6
7
8
9
10
11
12
13
14
15
16
17
18
19
20
21
22
23
24
25
26
27
28
29
30
May, 2021
Su
Mo
Tu
We
Th
Fr
Sa
1
2
3
4
5
6
7
8
9
10
11
12
13
14
15
16
17
18
19
20
21
22
23
24
25
26
27
28
29
30
31

June, 2021
Su
Mo
Tu
We
Th
Fr
Sa
1
2
3
4
5
6
7
8
9
10
11
12
13
14
15
16
17
18
19
20
21
22
23
24
25
26
27
28
29
30

July, 2021
Su
Mo
Tu
We
Th
Fr
Sa
1
2
3
4
5
6
7
8
9
10
11
12
13
14
15
16
17
18
19
20
21
22
23
24
25
26
27
28
29
30
31

August, 2021
Su
Mo
Tu
We
Th
Fr
Sa
1
2
3
4
5
6
7
8
9
10
11
12
13
14
15
16
17
18
19
20
21
22
23
24
25
26
27
28
29
30
31
Contact Details - Preferred option listed first



Note: Disclaimer
For Rental Enquiries - Email the owner.. Click here. (NB. You need to have popups enabled to use this)
By Post to: mss G.G. Wissink, Binnen Kadijk 332, Amsterdam, Netherlands, 1018 AZ,Netherlands
Features


Television
Washing Machine



Activities


Culture - Museums, Historic Sites
Outdoor Activities - Walks, Lakes, Woods
Seaside - Close to beaches



Restrictions


No Pets



Owner's Links


Click Here for more information about this property
End of Links
---