Property Details


Welcome to Villa Balaia in Quinta da Balaia, Albufeira, Portugal.
Luxury three bed roomed private villa is just 1,5 Km from beach & Albufeira staying in the seclusion of quiet private villa complex accommodation 1 double room complete with en-suite, 2 twin rooms & 2 further bathrooms. Private swimming pool & seating area in pool.
Gallery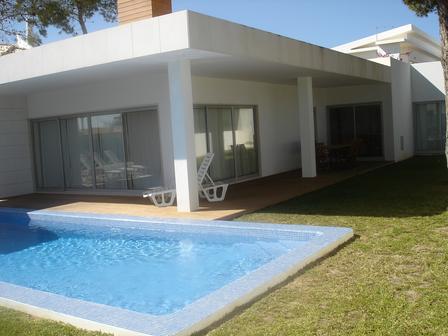 Location
The marker is a close indicator to the property location.
| | |
| --- | --- |
| Powered by google maps. Google maps of rental properties needs Javascript enabled | Overview google map. |
Click on the map below for a larger map of the area


Albufeira,Algarve,8200-594,Portugal

Pricing details



The following rates are per Week
The rates are per Villa / week
From
Upto
&nbsp
Charging Rate
&nbsp
Euros
US Dollars
British Pounds
31 Mar 2006
31 May 2006
980
1097
838
31 May 2006
30 Jun 2006
1330
1489
1137
30 Jun 2006
31 Jul 2006
1610
1803
1376
31 Jul 2006
31 Aug 2006
1960
2195
1675
31 Aug 2006
15 Sep 2006
1610
1803
1376
15 Sep 2006
30 Sep 2006
1330
1489
1137
30 Sep 2006
31 Oct 2006
980
1097
838
31 Oct 2006
02 Nov 2006
770
862
658
Availability Details

<-- For Full Detailed Calendar with Larger Text click the image
Last Updated on 2006-Feb-05
May, 2021
Su
Mo
Tu
We
Th
Fr
Sa
1
2
3
4
5
6
7
8
9
10
11
12
13
14
15
16
17
18
19
20
21
22
23
24
25
26
27
28
29
30
31

June, 2021
Su
Mo
Tu
We
Th
Fr
Sa
1
2
3
4
5
6
7
8
9
10
11
12
13
14
15
16
17
18
19
20
21
22
23
24
25
26
27
28
29
30

July, 2021
Su
Mo
Tu
We
Th
Fr
Sa
1
2
3
4
5
6
7
8
9
10
11
12
13
14
15
16
17
18
19
20
21
22
23
24
25
26
27
28
29
30
31

August, 2021
Su
Mo
Tu
We
Th
Fr
Sa
1
2
3
4
5
6
7
8
9
10
11
12
13
14
15
16
17
18
19
20
21
22
23
24
25
26
27
28
29
30
31
September, 2021
Su
Mo
Tu
We
Th
Fr
Sa
1
2
3
4
5
6
7
8
9
10
11
12
13
14
15
16
17
18
19
20
21
22
23
24
25
26
27
28
29
30

October, 2021
Su
Mo
Tu
We
Th
Fr
Sa
1
2
3
4
5
6
7
8
9
10
11
12
13
14
15
16
17
18
19
20
21
22
23
24
25
26
27
28
29
30
31

November, 2021
Su
Mo
Tu
We
Th
Fr
Sa
1
2
3
4
5
6
7
8
9
10
11
12
13
14
15
16
17
18
19
20
21
22
23
24
25
26
27
28
29
30

December, 2021
Su
Mo
Tu
We
Th
Fr
Sa
1
2
3
4
5
6
7
8
9
10
11
12
13
14
15
16
17
18
19
20
21
22
23
24
25
26
27
28
29
30
31
Contact Details - Preferred option listed first



Note: Disclaimer
For Rental Enquiries - Email the owner.. Click here. (NB. You need to have popups enabled to use this)
Via their own Web Site
Features


Air Conditioning
Communal Swimming Pool
Private Swimming Pool
Satellite or Cable Television
Television



Activities


Activity - Tennis, Golf, Pools
Night Life, Theatres, Restaurants
Seaside - Close to beaches



Restrictions






Owner's Links


Click Here for more information about this property
End of Links
---