Property Details


Relaxation, discretion, serenity, silence, authenticity,
security, intimacy and nature make "La Villa" a unique experience in Southeast Asia.
Located in the heart of Phuket Island,"La Villa" offers you, within a tropical garden bordering a private lake of 8 hectares,
an exceptional site where you will be able to rest in all intimacy.
La Villa can accomodate from 8 to 20 people in 9 room with ensuite bathrooms.
"La Villa" offers you a broad range of activities within the field,giving you the possibility of varying your pleasures:

-Swimming pool with hydrotherapy
-Traditional Thai massages
-Sauna
-Spa
-Water sports on the lake:
wake board, water-ski, mono-ski, ber foot,
banana boat, fishing, canoeing, golf practice (on the lake)
-Bar
-Pool table


Travel Details


Van and driver at your disposal at La Villa.
Gallery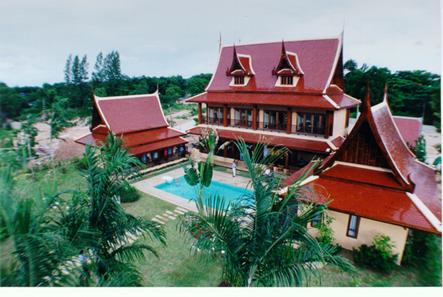 Location
The marker is only an estimate of the location based on town/region. Ask owner for more details
| | |
| --- | --- |
| Powered by google maps. Google maps of rental properties needs Javascript enabled | Overview google map. |
Click on the map below for a larger map of the area


Phuket,Phuket,83000,Thailand

Pricing details



The following rates are per Day
The rates are per entire villa, 1 to 3 double room occupan
From
Upto
&nbsp
Charging Rate
&nbsp
US Dollars
British Pounds
Euros
30 Sep 2005
30 Sep 2006
500
382
447



Price Includes:-

Entire villa reserved,
Airport transfert,
Breakfast,
Van and driver at your disposal,
Access to Sauna and Jacuzzi,



Other Information:-

This price is based on 1 to 3 rooms occupancy. for every extra rooms, add 100$ per room.
Availability Details

<-- For Full Detailed Calendar with Larger Text click the image
Last Updated on 2005-Oct-03
August, 2020
Su
Mo
Tu
We
Th
Fr
Sa
1
2
3
4
5
6
7
8
9
10
11
12
13
14
15
16
17
18
19
20
21
22
23
24
25
26
27
28
29
30
31

September, 2020
Su
Mo
Tu
We
Th
Fr
Sa
1
2
3
4
5
6
7
8
9
10
11
12
13
14
15
16
17
18
19
20
21
22
23
24
25
26
27
28
29
30

October, 2020
Su
Mo
Tu
We
Th
Fr
Sa
1
2
3
4
5
6
7
8
9
10
11
12
13
14
15
16
17
18
19
20
21
22
23
24
25
26
27
28
29
30
31

November, 2020
Su
Mo
Tu
We
Th
Fr
Sa
1
2
3
4
5
6
7
8
9
10
11
12
13
14
15
16
17
18
19
20
21
22
23
24
25
26
27
28
29
30
December, 2020
Su
Mo
Tu
We
Th
Fr
Sa
1
2
3
4
5
6
7
8
9
10
11
12
13
14
15
16
17
18
19
20
21
22
23
24
25
26
27
28
29
30
31

January, 2021
Su
Mo
Tu
We
Th
Fr
Sa
1
2
3
4
5
6
7
8
9
10
11
12
13
14
15
16
17
18
19
20
21
22
23
24
25
26
27
28
29
30
31

February, 2021
Su
Mo
Tu
We
Th
Fr
Sa
1
2
3
4
5
6
7
8
9
10
11
12
13
14
15
16
17
18
19
20
21
22
23
24
25
26
27
28

March, 2021
Su
Mo
Tu
We
Th
Fr
Sa
1
2
3
4
5
6
7
8
9
10
11
12
13
14
15
16
17
18
19
20
21
22
23
24
25
26
27
28
29
30
31
Contact Details - Preferred option listed first



Note: Disclaimer
For Rental Enquiries - Email the owner.. Click here. (NB. You need to have popups enabled to use this)
Fax No. ++66 76264034 in Thailand
Via their own Web Site
Features


Air Conditioning
Boat Available
DVD Player
Private Swimming Pool
Satellite or Cable Television
Sauna
Stereo System
Television



Activities






Restrictions






Owner's Links


Click Here for more information about this property
End of Links
---