Property Details


The two authentic stone houses are enbedded in a large garden (9000 m2 ) being maintained in a way that leaves its wild mediterranean character. There you find a dozen both sunny or shady quiet terraces, a wine pergola and a covered balcony.
Protected by the hill and by high reed plants you will enjoy the swimming-pool (9x4 m2 ) – a terrace of natural stone beneath the pool offers a wide view on the wonderful garden.

The property has been restored with loving care and taste and it is comfortably furnished with predominantly antique furniture. Two buildings with in total app. 200 m2 comprise a saloon (30 m2) with fire-place, library, CD player, a dining-room (30 m2), a fully-equipped kitchen with dish-washer, 6 individually stylished bedrooms each with own bathroom (shower, toilet).


Area Details


Goudargues (4 km distance), called "little Venice of the Gard", offers different kind of shops, supermarket, medical service, tourist information office, tennis courts, canoe rental service…and many lovely cafés situated under plane trees and alongside the fresh clear water of the small channels. For your leisure activities you may choose amongst swimming (also in river Cèze!), hiking, biking, boule, canoeing, tennis, horse riding,…
Other attractions are: The Canyon of the Ardèche (20 km), pittoresque villages like Montclus, Lussan, La Roque, Cornillon (5-10 km), medieval Uzès (23 km), Pont du Gard (30 km), Avignon, Nimes (45 km).


Travel Details


Highway A7 from Lyon, direction of Marseille until the exit of Bollène. Continue in direction of Pont St. Esprit, Bagnols s. Cèze. Immediately after entering Bagnols, turn right (direction Barjac) and follow the road until you reach Goudargues. From Goudargues, continue in the direction of Uzès. After 2 km, turn right (up the hill) to Haut Toupian, after another 2 km you will arrive at Mas la Source.

Gallery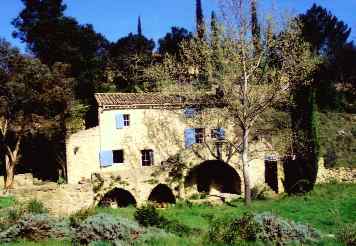 Location
The marker is a close indicator to the property location.
| | |
| --- | --- |
| Powered by google maps. Google maps of rental properties needs Javascript enabled | Overview google map. |
Click on the map below for a larger map of the area


Goudargues,Languedoc Roussillon,30630,France

Pricing details



The following rates are per Week
From
Upto
&nbsp
Charging Rate
&nbsp
Euros
US Dollars
British Pounds
31 Mar 2006
30 Jun 2006
1600
1791
1368
30 Jun 2006
01 Sep 2006
1950
2183
1667
31 Oct 2006
31 Oct 2006
900
1008
769
31 Oct 2006
31 Mar 2007
900
1008
769
31 Mar 2007
30 Jun 2007
1600
1791
1368
30 Jun 2007
31 Aug 2007
2200
2463
1880
31 Aug 2007
01 Nov 2007
1600
1791
1368



Price Excludes:-

Cleaning 80.- euros



Other Information:-

Linen and towels can be rented for 10 Euro per "package" (linen, small and large towel).
Availability Details

<-- For Full Detailed Calendar with Larger Text click the image
Last Updated on 2006-Oct-16
May, 2021
Su
Mo
Tu
We
Th
Fr
Sa
1
2
3
4
5
6
7
8
9
10
11
12
13
14
15
16
17
18
19
20
21
22
23
24
25
26
27
28
29
30
31

June, 2021
Su
Mo
Tu
We
Th
Fr
Sa
1
2
3
4
5
6
7
8
9
10
11
12
13
14
15
16
17
18
19
20
21
22
23
24
25
26
27
28
29
30

July, 2021
Su
Mo
Tu
We
Th
Fr
Sa
1
2
3
4
5
6
7
8
9
10
11
12
13
14
15
16
17
18
19
20
21
22
23
24
25
26
27
28
29
30
31

August, 2021
Su
Mo
Tu
We
Th
Fr
Sa
1
2
3
4
5
6
7
8
9
10
11
12
13
14
15
16
17
18
19
20
21
22
23
24
25
26
27
28
29
30
31
September, 2021
Su
Mo
Tu
We
Th
Fr
Sa
1
2
3
4
5
6
7
8
9
10
11
12
13
14
15
16
17
18
19
20
21
22
23
24
25
26
27
28
29
30

October, 2021
Su
Mo
Tu
We
Th
Fr
Sa
1
2
3
4
5
6
7
8
9
10
11
12
13
14
15
16
17
18
19
20
21
22
23
24
25
26
27
28
29
30
31

November, 2021
Su
Mo
Tu
We
Th
Fr
Sa
1
2
3
4
5
6
7
8
9
10
11
12
13
14
15
16
17
18
19
20
21
22
23
24
25
26
27
28
29
30

December, 2021
Su
Mo
Tu
We
Th
Fr
Sa
1
2
3
4
5
6
7
8
9
10
11
12
13
14
15
16
17
18
19
20
21
22
23
24
25
26
27
28
29
30
31
Contact Details - Preferred option listed first



Note: Disclaimer
For Rental Enquiries - Email the owner.. Click here. (NB. You need to have popups enabled to use this)
Tel No. Kammermann at 00492214305392 in Germany - Please Quote Reference:Villa Vacations -11804
Languages spoken: deutsch english francais
Via their own Web Site
Features


Dishwasher
Private Swimming Pool
Stereo System
Video Cassette Recorder
Washing Machine



Activities


Culture - Museums, Historic Sites
Outdoor Activities - Walks, Lakes, Woods
Wilderness - Mountains, River Gorges



Restrictions






Owner's Links


Click Here for more information about this property
End of Links
---