Property Details


Come to Greece and have a perfect holiday in the sun. See Athens and all it offers while you enjoy your vacation in our cottage by the sea. Have fun in the summer sun. Just walk out our front gate and jump into the crystal, azure, waters of the Aegean Sea; no need to drive, take taxis, or ride the bus. Unwind in the winter. Find pleasure in the solitude of nature with walks along the beautiful pathways in our park bordering the sea. Enjoy life and relax any time of the year; after all, thatís what vacations are all about. For the same price you will pay for a two bedroom Athensí apartment, you can stay in our air conditioned beach cottage on the sea located in the Athens bedroom community of St Theodore. Both alternatives will give you Athens but WE include the sea. Here is what our 95 sq meter (1000+ sq ft), air conditioned cottage that we renovated and modernized in 2004 has to offer:

Sleeping (sleeps up to six people)

Front bedroom with double bed, closet, and two large windows

shaded by beautiful pine trees

Back bedroom with oversize bed, closet, and one large window
having an orange tree for shade

Large sun room with up two single beds

Large, Western-Style, Great room with living, dining, and kitchen areas graced by a beautiful stone fireplace to cheer our winter visitors

new dining table for six in the dining areao new couch and lounge chair with tables and lamps in the living area, modern kitchen with ceramic stove, convection oven, dishwasher, refrigerator, large double sink, coffee maker, pots, pans, dishes etc.

memories of yesteryear with terrazzo floors throughout

bathroom with large shower and ceramic tile walls

clothes washing machine

covered front veranda

linen, towels, hygienic items

covered off street parking

last but not least; fresh lemons, tangerines, and other citrus fruits in season from our gardenís trees

Services

Internet access through our land line and dial up. Just bring your laptop!

Cell phone? Do you need an extra cell phone for your own use in Greece? You only need to ask!

Cleaning services? We provide them once a week. If you need more, just ask!

Linens, towels, beach towels, bath soap, clothes detergent, dishwasher detergent, shampoo, paper towels, cleaners and more.


Area Details


The village itself offers anything and everything one needs for a comfortable stay. There are multiple banks, pharmacies, grocery stores and other retail places, that meet the customer needs. The beachfront is packed with restaurants, taverns and ice cream places a bit of everything for the family to enjoy. The park of Agii Theodorii sports one of the very few forested parks next to the beach. The park has nice walkways for long walks or bicycle rides, and a play ground as well as a couple of little taverns by the water.

The cottage is strategically located for guests who want to not only enjoy the beautiful beach and park, but explore the country side. Access to ancient Corinth and Saint Paul's church, Mycenea, Epidaurus, Delphi, Olimpia, Sparta and many other places is within an easy single day trip.


Travel Details


Public Transportation: The ultra modern high speed train stops several times a day and gets you to downtown Athens in less than 30 minutes. The national road with its 4/6-lane divide highway brings the traveler to the metro station within 15 minutes. The ultra modern metro system connects most areas of Athens. The bus stops across from the cottage 3 times a day. The buses (thanks to the Olympics) are brand new, air-conditioned (no smoking) and relatively inexpensive. Within 1 hour one is in the downtown of Athens.

Gallery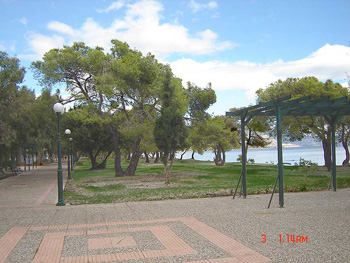 Location
The marker is an accurate indicator of the property location.