Property Details


Ellotis complex consists of six autonomous villas that are built in a traditional style and are filted out with complete facilities.Each of one is eguipped with a private pool,hydro massage,air condition, a fully eguipped kitchen and anything else that could make your stay plesant.

Also 500 meters from traditional tavernas,cafes and mini markets, daily transportation from city of chania to vamos. Only 8 km from beach of georgioupolis, 5 km from beach kefala and 6 km from beaches of kalives and almyrida.


Area Details


The country of Apokoronas is renowned for its picturesque villages,its warm people and its numerous sights.
One of the most important archaeological monuments is the Aptera castle,only 15 minutes away from Ellotis villas.From here you can enjoy the panoramic view of Souda bay,as wellas the rich landscape of the greenclad Kiliaris Valley streching to the east.


Travel Details


Just 25 minutes from the city of chania and rethymnon located at a nodal point providing acces to all sights it constitutes the ideal selection for your stay in crete.Finally only 25 km from Suda bay.

Gallery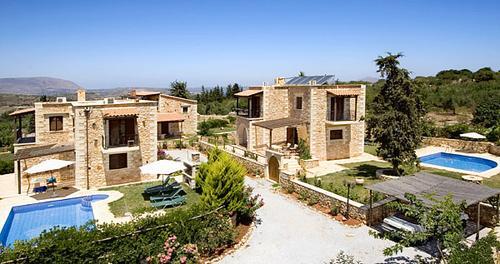 Location


Vamos Apokorona,Greece Crete,73008,Greece

Pricing details


Contact Owner for Prices

Availability Details




<-- For Full Detailed Calendar with Larger Text click the image
Last Updated on 2005-Oct-16
May, 2023
Su
Mo
Tu
We
Th
Fr
Sa
1
2
3
4
5
6
7
8
9
10
11
12
13
14
15
16
17
18
19
20
21
22
23
24
25
26
27
28
29
30
31

June, 2023
Su
Mo
Tu
We
Th
Fr
Sa
1
2
3
4
5
6
7
8
9
10
11
12
13
14
15
16
17
18
19
20
21
22
23
24
25
26
27
28
29
30

July, 2023
Su
Mo
Tu
We
Th
Fr
Sa
1
2
3
4
5
6
7
8
9
10
11
12
13
14
15
16
17
18
19
20
21
22
23
24
25
26
27
28
29
30
31

August, 2023
Su
Mo
Tu
We
Th
Fr
Sa
1
2
3
4
5
6
7
8
9
10
11
12
13
14
15
16
17
18
19
20
21
22
23
24
25
26
27
28
29
30
31
September, 2023
Su
Mo
Tu
We
Th
Fr
Sa
1
2
3
4
5
6
7
8
9
10
11
12
13
14
15
16
17
18
19
20
21
22
23
24
25
26
27
28
29
30

October, 2023
Su
Mo
Tu
We
Th
Fr
Sa
1
2
3
4
5
6
7
8
9
10
11
12
13
14
15
16
17
18
19
20
21
22
23
24
25
26
27
28
29
30
31

November, 2023
Su
Mo
Tu
We
Th
Fr
Sa
1
2
3
4
5
6
7
8
9
10
11
12
13
14
15
16
17
18
19
20
21
22
23
24
25
26
27
28
29
30

December, 2023
Su
Mo
Tu
We
Th
Fr
Sa
1
2
3
4
5
6
7
8
9
10
11
12
13
14
15
16
17
18
19
20
21
22
23
24
25
26
27
28
29
30
31
Contact Details - Preferred option listed first



Note: Disclaimer
For Rental Enquiries - Email the owner.. Click here. (NB. You need to have popups enabled to use this)
Via their own Web Site
Features


Air Conditioning
Dishwasher
Private Swimming Pool
Sauna
Television



Activities


Culture - Museums, Historic Sites
Night Life, Theatres, Restaurants
Outdoor Activities - Walks, Lakes, Woods
Seaside - Close to beaches
Wilderness - Mountains, River Gorges



Restrictions






Owner's Links


Click Here for more information about this property
End of Links
---