Property Details


Located between Las Ramblas and Plaza Real, this beautiful duplex in a modernist building is fully furnished and equipped. On the ground floor there is a kitchen, a bathroom, and a spacious living room furnished with two sofa-beds and a dining table for 6 people. On the upper floor there are 2 bedrooms and another bathroom.


Area Details


There are many good restaurants and bars in the area, shops and boutiques, banks, etc. Barceloneta beach is within 15 minutes walk. It is a perfect base for sight-seeing and night-life. Most tourist attractions and major city sites are within a walking distance, or at worst - 10 minutes by public transport.


Travel Details


Metro and bus stations are near by, and it's easy to find a taxi. Train station "Plaza Catalunya" is within 10 minutes walk.
Gallery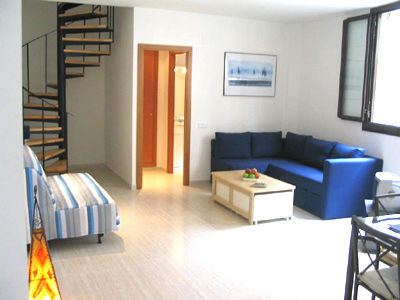 Location
The marker is an accurate indicator of the property location.
| | |
| --- | --- |
| Powered by google maps. Google maps of rental properties needs Javascript enabled | Overview google map. |
Click on the map below for a larger map of the area

Barcelona,Catalunya,08002,Spain

Pricing details



The following rates are per Day
The rates are per 2 people
From
Upto
&nbsp
Charging Rate
&nbsp
Euros
US Dollars
British Pounds
31 Oct 2005
14 Dec 2005
120
134
103
14 Dec 2005
02 Jan 2006
140
157
120
02 Jan 2006
10 Feb 2006
120
134
103
10 Feb 2006
17 Feb 2006
140
157
120
17 Feb 2006
31 Mar 2006
120
134
103
31 Mar 2006
31 Oct 2006
140
157
120



Price Includes:-

Bed linens, towels, etc.



Price Excludes:-

Cleaning fee



Other Information:-

LOW SEASON
€120 daily, €800 weekly
HIGH SEASON
€140 daily, €930 weekly

Prices given for 2 people. Additional €10 daily is charged per extra person.

€50 one-time cleaning fee
€300 refundable safety deposit

Reservation: 30% of the rental fee (as downpayment, not an extra charge)

Remaining balance to be paid in cash upon arrival, or by bank transfer in advance.

Availability Details

<-- For Full Detailed Calendar with Larger Text click the image
Last Updated on 2008-Oct-01
January, 2021
Su
Mo
Tu
We
Th
Fr
Sa
1
2
3
4
5
6
7
8
9
10
11
12
13
14
15
16
17
18
19
20
21
22
23
24
25
26
27
28
29
30
31

February, 2021
Su
Mo
Tu
We
Th
Fr
Sa
1
2
3
4
5
6
7
8
9
10
11
12
13
14
15
16
17
18
19
20
21
22
23
24
25
26
27
28

March, 2021
Su
Mo
Tu
We
Th
Fr
Sa
1
2
3
4
5
6
7
8
9
10
11
12
13
14
15
16
17
18
19
20
21
22
23
24
25
26
27
28
29
30
31

April, 2021
Su
Mo
Tu
We
Th
Fr
Sa
1
2
3
4
5
6
7
8
9
10
11
12
13
14
15
16
17
18
19
20
21
22
23
24
25
26
27
28
29
30
May, 2021
Su
Mo
Tu
We
Th
Fr
Sa
1
2
3
4
5
6
7
8
9
10
11
12
13
14
15
16
17
18
19
20
21
22
23
24
25
26
27
28
29
30
31

June, 2021
Su
Mo
Tu
We
Th
Fr
Sa
1
2
3
4
5
6
7
8
9
10
11
12
13
14
15
16
17
18
19
20
21
22
23
24
25
26
27
28
29
30

July, 2021
Su
Mo
Tu
We
Th
Fr
Sa
1
2
3
4
5
6
7
8
9
10
11
12
13
14
15
16
17
18
19
20
21
22
23
24
25
26
27
28
29
30
31

August, 2021
Su
Mo
Tu
We
Th
Fr
Sa
1
2
3
4
5
6
7
8
9
10
11
12
13
14
15
16
17
18
19
20
21
22
23
24
25
26
27
28
29
30
31
Contact Details - Preferred option listed first



Note: Disclaimer
For Rental Enquiries - Email the owner.. Click here. (NB. You need to have popups enabled to use this)
Tel No. Dubie at ++ 34-627647996 in Spain - Please Quote Reference:Villa Vacations -11906
Languages spoken: English, Spanish, some Russian