Property Details


5 bedroom large villa, 2 storey, large garden, driveway. 5 minuntes walk from popular Mon Choisy beach.
Large kitchen and living room, 2 bathrooms, large balconies both upstairs and downstairs. 15 minute drive from shopping complex.


Area Details


Quiet residential area. Convienient store located nearby as well as resturants, takeaways and clothing shops and tourist shops.


Travel Details


Cheap and efficient bus service, very popular with tourists.
Gallery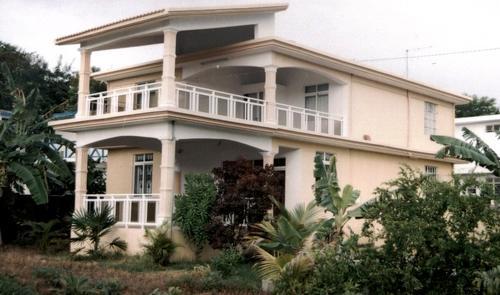 Location
The marker is a close indicator to the property location.
| | |
| --- | --- |
| Powered by google maps. Google maps of rental properties needs Javascript enabled | Overview google map. |
Click on the map below for a larger map of the area


Pointe aux Cannonier,Pamplemousses District,n/a,Mauritius

Pricing details



The following rates are per Week
From
Upto
&nbsp
Charging Rate
&nbsp
British Pounds
US Dollars
Euros
31 Dec 2005
02 Jan 2007
400
524
468



Price Includes:-

Rental of entire villa, including ameanities.



Price Excludes:-

Airport transportation.



Other Information:-

Airport travel can be arranged. Sufficient notification must be given for arrangments to be made. This will incur an extra cost which can be added to the rental fee.
Availability Details

<-- For Full Detailed Calendar with Larger Text click the image
Last Updated on 2006-Jan-02
July, 2020
Su
Mo
Tu
We
Th
Fr
Sa
1
2
3
4
5
6
7
8
9
10
11
12
13
14
15
16
17
18
19
20
21
22
23
24
25
26
27
28
29
30
31

August, 2020
Su
Mo
Tu
We
Th
Fr
Sa
1
2
3
4
5
6
7
8
9
10
11
12
13
14
15
16
17
18
19
20
21
22
23
24
25
26
27
28
29
30
31

September, 2020
Su
Mo
Tu
We
Th
Fr
Sa
1
2
3
4
5
6
7
8
9
10
11
12
13
14
15
16
17
18
19
20
21
22
23
24
25
26
27
28
29
30

October, 2020
Su
Mo
Tu
We
Th
Fr
Sa
1
2
3
4
5
6
7
8
9
10
11
12
13
14
15
16
17
18
19
20
21
22
23
24
25
26
27
28
29
30
31
November, 2020
Su
Mo
Tu
We
Th
Fr
Sa
1
2
3
4
5
6
7
8
9
10
11
12
13
14
15
16
17
18
19
20
21
22
23
24
25
26
27
28
29
30

December, 2020
Su
Mo
Tu
We
Th
Fr
Sa
1
2
3
4
5
6
7
8
9
10
11
12
13
14
15
16
17
18
19
20
21
22
23
24
25
26
27
28
29
30
31

January, 2021
Su
Mo
Tu
We
Th
Fr
Sa
1
2
3
4
5
6
7
8
9
10
11
12
13
14
15
16
17
18
19
20
21
22
23
24
25
26
27
28
29
30
31

February, 2021
Su
Mo
Tu
We
Th
Fr
Sa
1
2
3
4
5
6
7
8
9
10
11
12
13
14
15
16
17
18
19
20
21
22
23
24
25
26
27
28
Contact Details - Preferred option listed first



Note: Disclaimer
For Rental Enquiries - Email the owner.. Click here. (NB. You need to have popups enabled to use this)
Tel No. Chundradut Dauhoo at 01792 555057 in United Kingdom - Please Quote Reference:Villa Vacations -12023
Languages spoken: English/French/Hindi
Between 5 and 22 in United Kingdom time
Features


DVD Player
Television
Video Cassette Recorder
Washing Machine



Activities


Culture - Museums, Historic Sites
Night Life, Theatres, Restaurants
Outdoor Activities - Walks, Lakes, Woods
Seaside - Close to beaches



Restrictions


No Pets
No Smokers



Owner's Links



End of Links
---