Property Details


This place is packed with charm ! Thoughtfully restored, light and airy, but a lot of artifacts and interesting pieces, the theme, arty, rustic but comfortable.It has lots of features, all the original old oak beams, a prune oven, area for BBQ's all perfectly situated around a courtyard and set in over 5 acres of woodland.
As you drive into the courtyard and swing the car around the stables, you at once feel the enveloping authentic atmosphere.
Taste the magic and the colours of french country live......... as it should be.
We offer you a 2 bedroom stone cottage,tastefully furnished, tiled livingroom,woodstove,complete equipped kitchen, tv satellite, with courtyard, private garden, BBQ, sunbeds and parasols. On the 2,5 ha terrain is also a small 2 pers. cottage. You will share the pool with these guests.
The owner lives on the domaine.


Area Details


The property has good walks all around and is just 5 min. drive to the Montcuq swimming-lake, with sandy beaches under shady trees. A further 5 min. drive is the lively village of Montcuq.
The sunday market is one of the top 100 markets in France for ambiance, which attracts many tourists and french alike.
Montcuq is a lively and populair village with many cafes, fetes and musical evenings. The Bastille day spectacle, is seen on television throughout France............
The area is a delight and quite a special part of sw France, with beautiful restored bastides, hilltop villages, small farms, white lime houses against azure blue skies. Lush green fields interspersed withsunflowers, lavender, linseed and crops like maize, millet, wheat, garlic, melons, apples and prunes.
Cahors, the medievil capital of the Lot is 25 min drive. Visit the Residance museum, art galleries, the old town, night markets, antique fairs, good restaurants and excellent wines.
The area has a wealth of activities, good horsebackriding, walking, cycling, fishing, ballooning, swimming, tennis, and a 9 holes golfcourt (16 km.)


Travel Details


A car would be necessary.

Gallery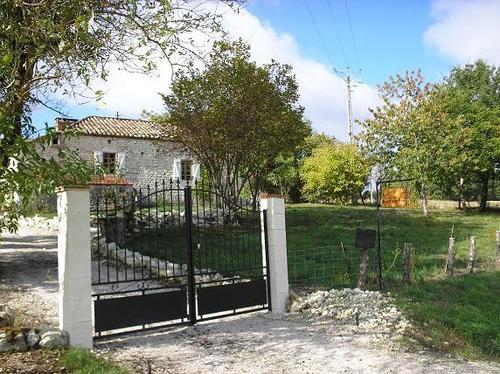 Location
The marker is a close indicator to the property location.
| | |
| --- | --- |
| Powered by google maps. Google maps of rental properties needs Javascript enabled | Overview google map. |
Click on the map below for a larger map of the area


Sainte Croix/ Montcuq,Midi Pyrenees,46800,France

Pricing details



The following rates are per Week
From
Upto
&nbsp
Charging Rate
&nbsp
Euros
US Dollars
British Pounds
05 Jan 2007
06 Apr 2007
400
448
342
06 Apr 2007
15 Jun 2007
525
588
449
15 Jun 2007
14 Sep 2007
650
728
556
14 Sep 2007
26 Oct 2007
525
588
449
26 Oct 2007
14 Dec 2007
400
448
342
14 Dec 2007
05 Jan 2008
525
588
449



Price Includes:-

Gas, water, electricity
Kitchen-towels



Price Excludes:-

Cleaning cost 35 euro



Linen(7,50 euro each bed)
Towels/ beachpooltowels



Other Information:-

Wood for stove 60 euro/ m3
Availability Details

<-- For Full Detailed Calendar with Larger Text click the image
Last Updated on 2007-Apr-12
May, 2021
Su
Mo
Tu
We
Th
Fr
Sa
1
2
3
4
5
6
7
8
9
10
11
12
13
14
15
16
17
18
19
20
21
22
23
24
25
26
27
28
29
30
31

June, 2021
Su
Mo
Tu
We
Th
Fr
Sa
1
2
3
4
5
6
7
8
9
10
11
12
13
14
15
16
17
18
19
20
21
22
23
24
25
26
27
28
29
30

July, 2021
Su
Mo
Tu
We
Th
Fr
Sa
1
2
3
4
5
6
7
8
9
10
11
12
13
14
15
16
17
18
19
20
21
22
23
24
25
26
27
28
29
30
31

August, 2021
Su
Mo
Tu
We
Th
Fr
Sa
1
2
3
4
5
6
7
8
9
10
11
12
13
14
15
16
17
18
19
20
21
22
23
24
25
26
27
28
29
30
31
September, 2021
Su
Mo
Tu
We
Th
Fr
Sa
1
2
3
4
5
6
7
8
9
10
11
12
13
14
15
16
17
18
19
20
21
22
23
24
25
26
27
28
29
30

October, 2021
Su
Mo
Tu
We
Th
Fr
Sa
1
2
3
4
5
6
7
8
9
10
11
12
13
14
15
16
17
18
19
20
21
22
23
24
25
26
27
28
29
30
31

November, 2021
Su
Mo
Tu
We
Th
Fr
Sa
1
2
3
4
5
6
7
8
9
10
11
12
13
14
15
16
17
18
19
20
21
22
23
24
25
26
27
28
29
30

December, 2021
Su
Mo
Tu
We
Th
Fr
Sa
1
2
3
4
5
6
7
8
9
10
11
12
13
14
15
16
17
18
19
20
21
22
23
24
25
26
27
28
29
30
31
Contact Details - Preferred option listed first



Note: Disclaimer
For Rental Enquiries - Email the owner.. Click here. (NB. You need to have popups enabled to use this)
Tel No. Kitty Jansen at 0033565229721 in France - Please Quote Reference:Villa Vacations -12135
Languages spoken: English, Dutch, French, German
Between 18 and 22 in France time
Features


Air Conditioning
Communal Swimming Pool
Dishwasher
Satellite or Cable Television
Television
Washing Machine



Activities


Activity - Tennis, Golf, Pools
Culture - Museums, Historic Sites
Outdoor Activities - Walks, Lakes, Woods



Restrictions


No Smokers



Owner's Links



End of Links
---