Property Details


'Casa Toscana' is a magnificent and enchanting Tuscan villa set on large grounds in one of the most picturesque and famous regions of Italy - near the splendid medieval Tuscan city of Siena. With the cosy villa providing a beautiful setting, it allows you to enjoy a relaxing holiday with family or friends - up to 10 people.
The impressive garden complete with swimming pool is perfect for taking time out and lounging about while sipping on a bottle of local wine while children play.

'Casa Toscana' is only a few minutes from Siena, 1 hour from Florence and 3 hours from Rome. Within 5 minutes you can reach the tiny Tuscan village of "San Rocco a Pilli", where there are restaurants, banks, supermarkets and all other services you may require.


INSIDE THE VILLA
´Casa Toscana´ (200 qm/ 2.100 square yards) is elegantly furnished in a tasteful mixture of contemporary and classic Tuscan style.
On the ground level of the villa is the kitchen, dining room, living room and two bedrooms with private bathrooms. Another two bedrooms with private bathrooms are located on the second floor. Two bedrooms are triples (with a double- and a single bed inside) and two are doubles. All four bedrooms are large and elegant with comfortable beds and wardrobes.

Access to the villa is via the front door, while both bedrooms on the ground floor have external doors providing access to the patio. One of the bedrooms upstairs has a large terrace and balcony overlooking the entire grounds of ´Casa Toscana´.

The kitchen is well equipped and you will find everything required for you to cook your favourite dishes. There is also an oven, dishwasher, microwave and American coffee machine.

The well furnished dining room is a pleasure to eat in and is integrated into one of the two living rooms. Comfortable couches dominate one end of the living room, where a glass of wine in front of the fireplace is a must.

The second living room has TV satellite and DVD, stereo and internet access and a comfortable (sleeping-) couch.
A small room with washing machine is also available for use.


THE GARDEN

The grounds of the villa (200 qm / 21.500 square yards) are made for maximum relaxation in the company of birds and squirrels:



In the upper part of the garden you will find tables and seats making romantic outdoor dinners possible under the Tuscan sky during summer. A barbecue is also available for use.

The lower part of the garden contains the in-ground swimming pool, which is situated next to a large expanse of green lawn complete with ancient Tuscan well. Comfortable banana lounges are provided alongside the pool, which is a perfect place to soak up the sun while children play. This part of the garden contains many flowers, fruit trees and a little pine wood.

SERVICES
From the very moment you arrive we are always ready to offer you a wide range of special services in order to make you feel at home and make your holiday as relaxing and entertaining as possible. We can organise...
... pickup from the airport/train station in Siena or Florence,
... a trustworthy baby-sitter,
... car/motorbike rental,
... excursions with horse or bicycle, or visits to cellars and oil-presses,
... trips to the hidden jewels of Siena,
... tickets for uniquely Tuscan events such as the 'Palio di Siena', theatre, concerts, festivals, etc.
... courses in cooking or learning the beautiful Italian language.

On request the chef of Casa Toscana can come to the villa to cook a delicious, traditional Tuscan meal of your choice or to lead you in a cooking course.


Area Details


Tuscany is a charmed land, equally blessed by the genius of man and nature, and often by the combined efforts of both. Think of the vineyards: rows of baby green vines that manage somehow to march in arrow-straight formation up the gently rolling hillsides, bounded by single files of darker green cypress trees, snaking sandy roads leading to rust-colored farmhouses and moss-coated castles, symmetrically rounded hilltops surmounted by towns so homogeneous as to seem one single building. Every inch of land has been sculpted, first by the elements and then by generations of inhabitants whose goals were always twofold: make the land produce as much as possible, make the land as beautiful as possible. Tuscany enchants us today because it holds together as a region, from the tiniest hamlet to Florence the Magnificent. For the living proof, take a short walk one day along the sides of the Belvedere in Florence: you will leave behind the traffic and suddenly find yourself strolling down quiet lanes bounded by tall stone walls, cypress trees and creamy-colored villas. You could be anywhere in Tuscany, and we dare you not to fantasize about living here.

Our visit to Tuscany will help you navigate through its many world-famed attractions, but it will also introduce you to some of its lesser-known jewels. Italy's most skilled cowboys, for instance. Or a host of colorful outdoor food markets. Spectacular natural parks. A mystery church, an ancient Etruscan mineral spa, a dozen Last Suppers in Florence...... and a thousand narrow farm roads waiting patiently for you to make the wrong turn and find your own secret treasure, basking happily in the Tuscan sun.

Gallery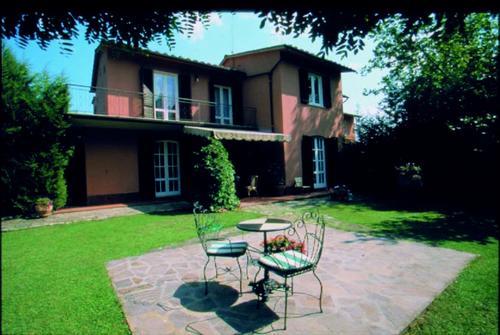 Location
The marker is an accurate indicator of the property location.