Property Details


Vacation rental in Sardinia,holiday two bedded apartment,just few steps from Castelsardo Harbour, an ancient town in the North East of Sardinia with a medieval caste on a spectacular cliff stright on an azur-blus sea, This welcoming property of about 60sqm is within short driving distance from the most beautiful centre of Sardinia coastline. the white sandy beaches of La Pelosa (800 m) is 40 min, Alghero 45 min Santa Teresa 45 min.
The accommodation is ideal for 4 people. The sleeping area includes 2 double bedrooms, one with a double bed and the other with twin beds. The lounge is furnished with a sofa, a dining table and a fully equipped open plan kitchen. The lounge opens up onto a errace furnished with resin table and chairs. Bathroom with shower.
This holiday apartment with indipendent entrance and parking space is set on the first floor of a terraced residence. We have many properties in Northen Sardinia contact us and visit our website www.ichnosimmobiliare.com
Few steps from astonishing crystal clear sardinia waters


Area Details


Castelsardo was founded in the XII century by the Genovese family of Doria. It is situated on the summit of a rocky promontory in a strategic position dominating the harbour. The castle and fortifications were built in this time period. Beginning in the second half of the XV century, Castelsardo belonged to the Aragonians. Today, it's considered an important commercial centre for characteristic craftsmanship and is most famous for its baskets made of woven vegetal fibres.
Castelsardo's economy is traditionally based on agricultural and fishing, especially lobsters that are later prepared according to the local fishermen's antique recipes.
Castelsardo is also famous for its production of woven baskets, one of the Sardinian handicrafts most appreciated all over the world. These techniques of weaving have also been implemented in the fishing industry and are used to make the lobster traps made of various types of reeds and olive branches.

Walking down the characteristic alleys behind the small church of Purgatorio, you can see the cathedral of St. Anthony Abbot (XVII Century) from whose small churchyard it's possible to admire the sea's marvellous panorama.
The pretty church of St. Mary is situated just below the medieval Doria Castle built in the medieval period and later modified.

Gallery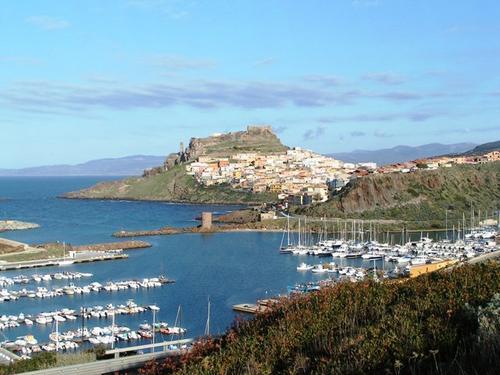 Location
The marker is only an estimate of the location based on town/region. Ask owner for more details