Property Details


If you are looking for a peaceful retreat from the world or an adventure packed location we can offer both in the same idylic location. Rivendell is a beautiful 4 bedroomed home set discreetly in a gentle valley. Wake up and watch the black swans on the sparkling lake,drink in the wide views across to the virgin bush and enjoy eating outside on the deck.


Area Details


Truely magical virgin bushland with a gentle river flowing along a boundery of Rivendell. Breathtaking views and sparkling night skies. Drive down a dirt road to the small village of Kaeo where you can buy essentials.Travel 15 minutes in either direction and you will find yourself on a clean, sandy beach probably alone.Drive towards the picturesque marina and enjoy a drink, a meal or charter a boat to go big game fishing. Sailing,golf,horse riding, treking, swimming ,hunting(season dependant) all of these are available, even trapeez flying!


Travel Details


There are coaches from Auckland daily which stop in the village(3 hrs 50 mins drive).There are 5 flights a day from Auckland to Kerikeri.(30 minutes drive)
There is no local transport.However a taxi can be booked from Kerikeri.

Gallery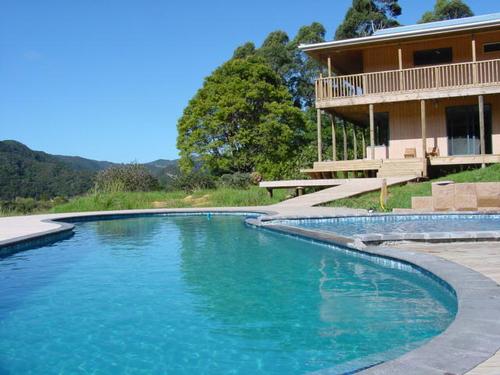 Location
The marker is an accurate indicator of the property location.
| | |
| --- | --- |
| Powered by google maps. Google maps of rental properties needs Javascript enabled | Overview google map. |
Click on the map below for a larger map of the area


Kaeo, Kerikeri, Bay of Islands,Northland,0448,New Zealand

Pricing details



The following rates are per Day
The rates are per per day for 4 persons
From
Upto
&nbsp
Charging Rate
&nbsp
British Pounds
US Dollars
Euros
19 Oct 2008
30 Apr 2009
148
194
173
30 Apr 2009
18 Oct 2009
73
96
85
18 Oct 2009
01 May 2010
148
194
173
01 May 2010
19 Oct 2010
75
98
88
19 Oct 2010
21 Oct 2010
150
197
176



Price Includes:-

Exclusive pool use. All linen and house towels. Cleaening prior to your arrival and on departure.Water, gas and electricity.Logs, hot water bottles and extra duvets when required.
Whatever fruit and nuts are in season.Feel free to pick and enjoy.
Access to all bush walks on the property. Paula, our property manager is available to help you resolve any difficulties or provide you with valuable local information.



Price Excludes:-

Spa available at nominal charge £10 to cover extra power costs.



Other Information:-

Great Spring Discounts.
Stay for 14 days enjoy 10% discount. Stay for 21 days and receive a whopping 15% DISCOUNT.yIPPEE....
Availability Details

<-- For Full Detailed Calendar with Larger Text click the image
Last Updated on 2008-Feb-06
August, 2020
Su
Mo
Tu
We
Th
Fr
Sa
1
2
3
4
5
6
7
8
9
10
11
12
13
14
15
16
17
18
19
20
21
22
23
24
25
26
27
28
29
30
31

September, 2020
Su
Mo
Tu
We
Th
Fr
Sa
1
2
3
4
5
6
7
8
9
10
11
12
13
14
15
16
17
18
19
20
21
22
23
24
25
26
27
28
29
30

October, 2020
Su
Mo
Tu
We
Th
Fr
Sa
1
2
3
4
5
6
7
8
9
10
11
12
13
14
15
16
17
18
19
20
21
22
23
24
25
26
27
28
29
30
31

November, 2020
Su
Mo
Tu
We
Th
Fr
Sa
1
2
3
4
5
6
7
8
9
10
11
12
13
14
15
16
17
18
19
20
21
22
23
24
25
26
27
28
29
30
December, 2020
Su
Mo
Tu
We
Th
Fr
Sa
1
2
3
4
5
6
7
8
9
10
11
12
13
14
15
16
17
18
19
20
21
22
23
24
25
26
27
28
29
30
31

January, 2021
Su
Mo
Tu
We
Th
Fr
Sa
1
2
3
4
5
6
7
8
9
10
11
12
13
14
15
16
17
18
19
20
21
22
23
24
25
26
27
28
29
30
31

February, 2021
Su
Mo
Tu
We
Th
Fr
Sa
1
2
3
4
5
6
7
8
9
10
11
12
13
14
15
16
17
18
19
20
21
22
23
24
25
26
27
28

March, 2021
Su
Mo
Tu
We
Th
Fr
Sa
1
2
3
4
5
6
7
8
9
10
11
12
13
14
15
16
17
18
19
20
21
22
23
24
25
26
27
28
29
30
31
Contact Details - Preferred option listed first



Note: Disclaimer
For Rental Enquiries - Email the owner.. Click here. (NB. You need to have popups enabled to use this)
Tel No. jan campbell at 0044 7905595015 in New Zealand - Please Quote Reference:Villa Vacations -12453
Languages spoken: english,french,spanish,german
Alternate Tel No. jan campbell at 0044 1522560291
Features


Dishwasher
Private Swimming Pool
Satellite or Cable Television
Stereo System
Television
Washing Machine



Activities


Activity - Tennis, Golf, Pools
Outdoor Activities - Walks, Lakes, Woods
Seaside - Close to beaches
Wilderness - Mountains, River Gorges



Restrictions


No Smokers



Owner's Links



End of Links
---