Property Details


Big spacious land plot of palm-trees and deep tropical vegetation makes your rest good and sound. Across the street from the villa there is an ocean. Along the beach throughout the eastern coast there is two-line road A1A. It has different names in the different district which it passes. In this area it is called North Ocean Avenue. There is a row of multi-storey buildings between this villa and the avenue so it is very quiet around the villa and inside the house.
There are three bedrooms in the villa. Each of them has it own bathroom. There is also Jacuzzi and a shower in the bathroom adjacent to master-bedroom. Two rooms have big glass doors which open directly to the swimming pool. There are big king-size beds in these rooms. In the third room there are two single beds. It can be used as a childrenís room.
House is fully air-conditioned.
There is children water attraction which is inflatable slide near the swimming pool.
Cook service is included into the rental fee. You can order any dish or food you want. Three-person family food is included into the rental fee. Any additional person food is paid $50 per day. There is also chargrill for barbeque which is ideal for rest with family or friends. Therefore you will have elite rest without worrying about food preparation.

If you wish you can go to the restaurants which are of great amount around the villa offering Greek, Italian, French, American, Indian, etc., food. There are also a lot of restaurants with ocean view in A1A. Great amount of elite restaurants are located in Las Olas Blvd.

Chevrolet car is also included into the rent fee. If you donít like to drive by yourself we can arrange a driver for you for an additional payment. Those not having driver license or wishing to feel the wind can drive motor scooter. It is very convenient especially if you donít want to worry about parking which is the main problem of USA.

Unlimited calls to 51 world countries are also included into the rental fee. You can talk by phone as long as you want! In addition there are phone numbers from 41 countries of the world. To see the list of countries, please, refer to the end of the page. Outgoing calls made by the calling party are paid according to the rates for the local calls; incoming calls for you are free!!!

You can forward incoming calls from your villa number to yours cell phone during your absence at the villa. Therefore you can receive calls from any of these countries while you stay at villa or outside to your mobile phone.
So, communication expenses with any world country will be almost free for you!
It will be the optimum alternative for those who would like to come to sunny and sea Miami in cold winter or rainy autumn and at the same time to keep doing business and control all processes by phone not worrying about how much two-hour phone-conference will cost!
It will be free!!!
We can render this service thanks to our partner 'Traveltele.comď Company.

Rental fee includes meeting in the Miami or Fort Lauderdale airport, transfer to villa and back to the airport, housecleaning, bed-clothes change, laundry services.


Area Details


Villa is located in the Fort Lauderdale Beach district.

All over the Big Miami there are two most prestigious places where villas have direct access to the beach namely Golden Beach and Fort Lauderdale Beach. During 5-6 years famous Miami Beach was built-over with gargantuan multi-storey buildings and hotels and reminds rather Manhattan than resort. Collins Avenue (part of A1A which passes over Miami Beach from South Miami to Golden Beach village) looks like river which flows in the canyon of skyscrapers from both sides. During the day it is full of traffic jams, fumes and car noise. At present moment authorities of Florida State consider a question on permission of gambling in Fort Lauderdale. If they permit gambling the land price will skyrocket and villas will cost tens of millions instead of present 2-8 millions.

Close to villa there is USA National park. In fact, it is huge tropical forest where neat footpaths are paved between impenetrable bushes. Small animals like skunk and lots of birds are peculiar to this park. Two sides of park adjoin villas along the perimeter; central entrance of the other side opens to the Sunrise Boulevard and the last side lies along the ocean channel. There are equipped areas for barbeque in the Park. The channel is available for fishing.
Villaís guests can visit park free of charge! Moreover they can use private entrance near the villa instead of the main entrance in Sunrise Blvd.
As the park starts directly at the backyard you can feel its proximity especially by nights when you hear chirping of different birds! You see the wire fence and after it lots of green trees. This gives to the yard particular intimacy! Most of villas of the village are surrounded with neighboring houses or have access only to the street. Backyard with access to the forest is an incredible rarity as the black swan!

Gallery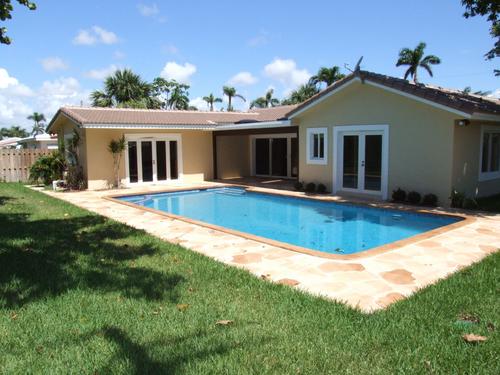 Location
The marker is only an estimate of the location based on town/region. Ask owner for more details