Property Details


At Sandycove Villas, we can offer you a three bedroom villa for larger groups of up to 5 people.
Each boutique style villa is equipped for self catering and offers you the following facilities:
Air condition, microwave, electric kettle, toaster, oven, cutlery and crockery, hot water and refrigerator.
There are 2 toilets in each villa and we can offer twice weekly maid service.


Area Details


The surrounding areas of Flic-en-Flac provide you with all the local facilities you will need to make your holiday more pleasurable. Should you wish to venture out of Sandycove Villas, you will find a variety of banks, restaurants, bar, nightclubs, cyber-cafes, and car rental offices. The nearby luxurious hotels offer you excellent 5 star cuisine and for those who prefer the thrilling atmosphere of gambling the casinos are open until the early hours of the morning.


Travel Details


The complex has ample parking for hire cars and as the villas are situated in the tourist region of Flic en Flac there are local car hire companies nearby. The beach is a 2 min walk and the local bus stop provides comprehensive links to the rest of the island. Here at Sandycove we will be happy to answer all your travel questions.

Gallery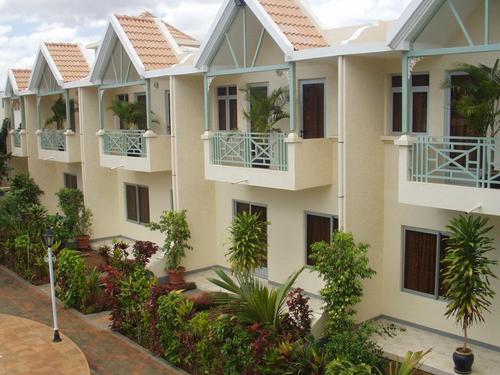 Location
The marker is an accurate indicator of the property location.
| | |
| --- | --- |
| Powered by google maps. Google maps of rental properties needs Javascript enabled | Overview google map. |
Click on the map below for a larger map of the area


Flic-en-Flac,Mauritius,none,Mauritius

Pricing details



The following rates are per Day
From
Upto
&nbsp
Charging Rate
&nbsp
British Pounds
US Dollars
Euros
31 Jan 2008
31 Mar 2008
50
66
59
31 Mar 2008
30 Apr 2008
45
59
53
30 Apr 2008
30 Sep 2008
45
59
53
30 Sep 2008
30 Nov 2008
50
66
59
30 Nov 2008
30 Nov 2008
60
79
70
30 Nov 2008
31 Jan 2009
60
79
70
31 Jan 2009
30 Apr 2009
50
66
59



Other Information:-

We are happy to accept credit card bookings, but there is a booking fee and can arrange to have cheque/transfers as well. The minimum deposit is one night's accommodation to hold the property until 8 weeks before your arrival date. We then require full payment of rental period paid 8 weeks in advance of your arrival. There is also an additional £100 breakages deposit, which will be returned to you no later than 3 weeks after your departure
Availability Details

<-- For Full Detailed Calendar with Larger Text click the image
Last Updated on 2008-Jan-19
July, 2020
Su
Mo
Tu
We
Th
Fr
Sa
1
2
3
4
5
6
7
8
9
10
11
12
13
14
15
16
17
18
19
20
21
22
23
24
25
26
27
28
29
30
31

August, 2020
Su
Mo
Tu
We
Th
Fr
Sa
1
2
3
4
5
6
7
8
9
10
11
12
13
14
15
16
17
18
19
20
21
22
23
24
25
26
27
28
29
30
31

September, 2020
Su
Mo
Tu
We
Th
Fr
Sa
1
2
3
4
5
6
7
8
9
10
11
12
13
14
15
16
17
18
19
20
21
22
23
24
25
26
27
28
29
30

October, 2020
Su
Mo
Tu
We
Th
Fr
Sa
1
2
3
4
5
6
7
8
9
10
11
12
13
14
15
16
17
18
19
20
21
22
23
24
25
26
27
28
29
30
31
November, 2020
Su
Mo
Tu
We
Th
Fr
Sa
1
2
3
4
5
6
7
8
9
10
11
12
13
14
15
16
17
18
19
20
21
22
23
24
25
26
27
28
29
30

December, 2020
Su
Mo
Tu
We
Th
Fr
Sa
1
2
3
4
5
6
7
8
9
10
11
12
13
14
15
16
17
18
19
20
21
22
23
24
25
26
27
28
29
30
31

January, 2021
Su
Mo
Tu
We
Th
Fr
Sa
1
2
3
4
5
6
7
8
9
10
11
12
13
14
15
16
17
18
19
20
21
22
23
24
25
26
27
28
29
30
31

February, 2021
Su
Mo
Tu
We
Th
Fr
Sa
1
2
3
4
5
6
7
8
9
10
11
12
13
14
15
16
17
18
19
20
21
22
23
24
25
26
27
28
Contact Details - Preferred option listed first



Note: Disclaimer
For Rental Enquiries - Email the owner.. Click here. (NB. You need to have popups enabled to use this)
Via their own Web Site