Property Details


A most atmospheric property privately set in beautiful countryside offering luxurious and tasteful accommodation for up to 14 people. There are two swimming pools - one conventional and the other natural and a 4 person outdoor hot tub.

There are three bathrooms in the main house with a further one in each of the dependences making five in all.

There is a huge kitchen in the house with a vast refectory table which will seat up to 18 people. In addition, each of the dependences has a small kitchen with simple cooking facilities.

There are ample lounges and quiet corners where one can read and relax.

Outside, there is a large covered area with a stone barbecue and another huge refectory table. Also situated here, with a view of the streams and grounds is the large hot tub which will comfortable accommodate up to 6 people.

Outside facilities also include the following:

* Landscaped grounds designed to blend in with the natural woodlands.

* Hot tub - jacuzzi

* Conventional swimming pool – treated water.

* Natural swimming pool fed by the stream

* Garden furniture, benches, tables, hammocks etc.

* Netted football / general sports pitch.

* Acres of natural woodland.


Area Details


The house is well placed to explore the local area and to allow visits to Florence, Chianti, Sienna, Cortona and even Rome can be reached from Arezzo in an hour by train.
There are many activities available in the immediate area and these include the following:
· Hill walking and rambling,
· Horse riding,
· Cycling along the peaceful roads and tracks.
· Bird Watching,
· Golf at a local course with daily membership available at reasonable rates. Guests report that the course is excellent and that the views are magnificent. Clubs are available for hire and there is also a golf driving range.
Places to visit are many and varied and include:
· The local Tuscan Hill Towns and Villages – one of the most beautiful being Poppi about 15 Minutes drive away.
· Arezzo, the provincial capital with its elegant squares, winding streets and wide range of shops.
· Siena can be reached as a day visit.
· Cortona, the beautiful town made famous by the book and film 'Under the Tuscan Sun' – about an hour by car.
· The Sanctuary of St. Francis at La Verna – a fascinating place to visit with the site being spectacularly located. This is where the siant spent much of his life and can be reached in just over 30 minutes.
· Florence is about an hour away by car and there is a very convenient bus if you do not fancy the Florentine traffic.
· Rome is also possible as a day visit. Drive to Arezzo and then take the train from there with the rail journey being about an hour.

Gallery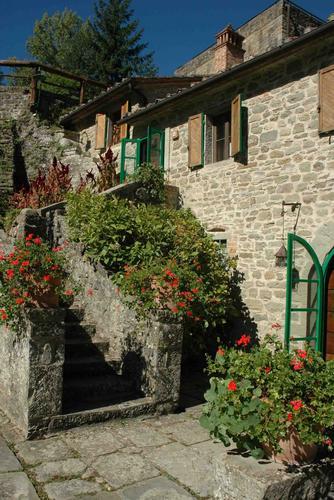 Location
The marker is an accurate indicator of the property location.