Property Details


Prive country side villa with pool,location in Crete Chania .At the exit of the village Pemonia a private road leads to the panoramic location of the Villa Kallithea.Inside a garden of 1.200 square metre surface, is the main building of the villa with a surface of 200 square metres as well as a pool with a surface of 50 square metres and panoramic view. A green valley of olive trees, the Lefka Ori massif and the blue horizon of the Aegean Sea make up a dreamy background, one you think you can almost touch just by reaching out with your hands.The main building of the villa is simple and influenced by Aegean island architecture. It emphasizes on spaciousness and manages to combine elegant decorative elements with the restrictions of traditional minimalism.
Main building
There are 3 bedrooms, 4 bathrooms, an open space for kitchen, dining room, fireplace and sitting room, and an auxiliary room, all covering the 200 square metres and two levels of the villa.
Ground floor
Kitchen: open type, fully equipped with all electrical appliances; dining area, living room with comfortable sofas, fireplace and a WC; one bedroom with en-suite bathroom; verandah with panoramic view and an outdoor dining area.

First floor
A stone staircase leads to the first floor (80 square metres) that has two bedrooms, each with its own en-suite bathroom, an auxiliary room (laundry, ironing and linen press); the main corridor leads to the patio (50 square metres) that has an outdoor sitting area. The villa can house comfortably up to 6 people (for more people, prior arrangement is necessary).
All of this is offered in a green clad environment, swamped with flowers, aromatic herbs and trees, an ideal place of calm and relaxation for grown-ups and endless games and playing for children.Next to the villa is the vegetable garden, from which you may wish to try some of the seasonís organic vegetables.

We would be remiss not to make sure you have the chance to taste some traditional home-made recipes with pure local products from the genuine Cretan diet.

Choose from the villa menu your choice of food. Any food you choose will be cooked exclusively for you and will be served to you at the house on the time you pick.

The spatial arrangement of the villa is sure to ensure your privacy allowing for solitary holidays. Away from indiscrete eyes in a setting of absolute quiet and relaxation, just a few metres from the beach but also from cosmopolitan centres.

villa is open all year.


Area Details


The Hania area, the westernmost part of the island of Crete, is, with just cause, one of the most popular travel destinations in the Mediterranean. The combination of rugged massifs, endless sandy beaches, infinite green olive groves and clear blue waters of the Aegean Sea make up a land of diversity and unparalleled natural beauty.
Pemonia is a village in the broader area of Apokoronas in Hania, a well-known and famous area for its natural beauty and the diversity of the genuine Cretan countryside, offering its visitor ample possibilities for any form of ecotourism or alternative tourism in the rugged, unspoiled Cretan countryside, in the mountains or on the beaches.
This small but picturesque mountainous village remains unspoiled through the ages, far away from any form of tourist exploitation.
The village is 26 km away from the city of Hania, in the middle of the road between Hania and Rethymno, and a mere 1,5 km from the basic road axis of Crete of Hania-Heraklion at the foot of Lefka Ori.
The warmth of the mountainous scenery and the mild Cretan winters make Pemonia an ideal destination for winter getaways; at the same time, its proximity to the picturesque beaches of Kalyves and Almyrida (only 9 km away) and the endless beaches of Georgioupolis (8 km away) provides an alternative solution for wonderful summer vacations.In the village you can find only basic supplies but if you go as far as Kalyves (9 km) and Vrysses (4km) you will find big supermarkets where you can buy anything you like.

In the nearby villages at less than 2 km away, there are many traditional taverns serving genuine traditional Cretan dishes made with excellent local products. Local people, who can appreciate what Cretan cuisine has to offer, often choose the taverns in Agioi Pantes (just 1.5 km away), Tzitzifes (1.5 km away) and Melidoni (2 km away) for their excellent food. Of course, a little farther away you will find many more seaside taverns and restaurants in Kalyves, Georgioupolis, Almyrida and Armeni.

Gallery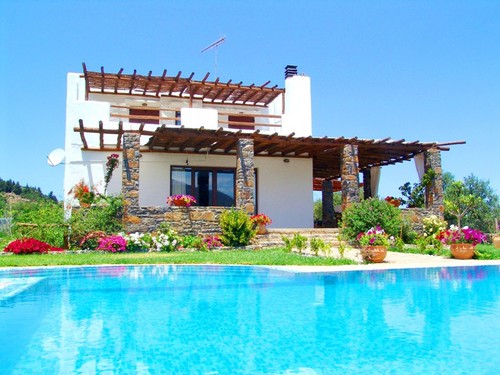 Location
The marker is only a general indicator of the property location. Confirm with owner for more details.