Property Details


This year reward yourself and your loved ones...

...With the most amazing...Luxurious...

Relaxing and... Affordable vacation ever!!!

the perfect romantic vacation package!!!

..The perfect family vacation package!!!

call to book now!!!

647-340-3706

just imagine!!!
4 sunfilled days & 3 balmy nights for 2 in exotic grand bahamas island!!!
your package includes:

-a fun filled cruise from ft. Lauderdale, florida to beautiful grand bahama island. Breakfast & lunch served.(ship leaves daily , allowing travel any day, any week!)
-evening dinner cruise back to ft. Lauderdale.
-3 nights of luxurious resort accommodations on grand bahama island in one bedroom condo at the 5* island seas resort for two people (an rci crown gold awarded resort). You may add up to two more people at an extra charge
-$10 per adult per day in casino match play, and discounts for island activities.

Extra nights are only $119/unit/per night (not per person).

You have one year to take the trip. No blackout dates, no timeshare presentations

all the above and ...More

from only $638 per couple!!!
you only pay $138 now as a deposit
and the rest at the time of booking

price based on double occupancy, is not pp, but for 2 persons for the whole package
port fees and taxes, ship security fee, and bahamas departure tax are included in the price.
Bahamian tax for persons of 12 years old and up is not included & is payable at the time of check in.

Upon arrival in freeport, resort accommodations are provided for 4 days and 3 nights in one bedroom condo at the 5* island seas resort. These luxury condos feature air conditioning, cable tv and tile floors through out. Each room also comes equipped with a full kitchen including a refrigerator, range and microwave. The view from each balcony is equally beautiful. Whether itís a view of the beautiful white sand beaches with picturesque turquoise and emerald water, our scenic courtyard decorated with lush native foliage or the fabulous marina, you wonít be disappointed.

Island seas resort amenities

at the island seas resort, our goal is to make sure every guest is comfortable and well taken care of. To help with this, the island seas resort and room amenities include:

hair dryer
clothes iron
alarm clock
microwave
internet access
gym
free washer and dryer access
dvd player and movie rental
concierge desk
cable television
room safe
ironing board
bedroom and common room televisions
full kitchen
cooking utensils
playground
shuffle board
horseshoes
volley ball

the friendly staff at the island seas is always willing to go the extra mile to ensure our guests have the wonderful vacation they deserve.

When can you take this vacation? relax..You don't have to push yourselves to make time and take it on a specific date.... You have 12 months to decide when it is convenient for you and your family to go. Our reservation department will work around your schedule.


You can add 2 more people in the same room and pay only...The following:

other add-ons available include additional nights and extra people:

2 to 5 years = $29 (includes port taxes)

6 to 11 years = $99 (includes port taxes and departure tax)

12 years and over = $159 (includes port taxes)

extra nights = $119 (unit/night)

welcome aboard!!!
we feature discovery cruise lines for the bahamas. The ship offers full amenities, including casinos, shows, pool, cocktail lounges, movies, disco, childrenís activities, and more.

Departure is every morning from ft. Lauderdale. The trip is approximately 5.5 hours each way. Breakfast and lunch are served on the outbound trip, and dinner is served on the return trip. The food is all you can eat, and is excellent!
even though cabins are not assigned for such a short trip, they are available at a very reasonable rate if desired. Showers and lockers are available.
The cruise requires casual dress; it is fun, not formal!

ship daily sailing schedule:

depart port everglades, ft. Lauderdale 7:45 am
arrive freeport, grand bahamas island 1:00 pm
depart freeport, grand bahamas island 4:45 pm
arrive port everglades, ft. Lauderdale 10:00 pm

discovery sun is known for award winning cuisine. Member of the confrerie de la chaine d rotisseurs gourmet society. Includes breakfast, lunch and dinner buffets.


Area Details


Grand Bahama Island Activities

Welcome to Grand Bahama Island! There is something for everyone who is seeking a multi-vacation experience. There are plenty of water activities such as boating, fishing, diving and other water sports -- most with charter services available. For the land lover, thereís golf, tennis, shopping and sightseeing tours. Or for something different, why not take a horseback ride along the beach? Then for exciting nightlife, head down to Freeport for casinos, nightclubs and bars that will entertain you all night long.

Grand Bahama Shopping...
Grand Bahama Islandís duty-free status makes shopping a big attraction to many visitors. Whether you want to dig around for that special item, or seek out brand name merchandise, Grand Bahama Island is the place for bargain hunting. For many shoppers, the Port Lucaya Marketplace has become the number one attraction.

Grand Bahama Nightlife...
The nightlife on Grand Bahama Island is an exciting part of your island experience. Casinos, Las Vegas-style shows and nightclubs will keep you entertained well into the evening hours. And remember to bring your dancing shoes -- because live music fills the night air on Grand Bahama Island. You can always find local music, known as Goombay, at a lively club along with disco and jazz. Also, check out Port Lucayaís open-air Count Basie Square for live bands, fire-eaters and local entertainers.

Grand Bahama Dining...
Grand Bahama Island presents visitors with the chance to enjoy true Bahamian cuisine and a unique dining experience in the process. Roast conch was developed by Grand Bahamian chef Joe Billy and can now be found throughout The Islands Of The Bahamas. Also, crawfish is another island delicacy that is found at most local restaurants. If itís local flavour you desire, donít miss out on a Wednesday night "Fish Fry" at Smithís Point. This popular event is a great chance to enjoy native fish and meet some of the local residents.

Grand Bahama Tours and Attractions...

The Dolphin Experience
The Dolphin Experience offers the only dolphin related activities in Freeport. From simple educational encounters to being an assistant trainer or diving with the dolphins. The instructors will have you in waist-deep water where you come face to face with the Bottlenose Dolphins.

Sunn Odyssey Divers
Located right around the corner from the Island Seas, Sunn Odyssey Divers has over 25 years of experience in the diving industry. Whether you've never strapped on an air tank before or are a seasoned professional, Sunn Odyssey is the most recommended diving company on the island.

Captain B's Charter Service
Daily deep sea fishing, charters for bottom fishing, shark fishing, snorkeling trips, exploring, visiting private cays, picnics and trips you design.

Captain Phil & Mels Bonefishing Guide Service
Offers bonefishing trips off McClean's Town and nearby Cay's, some of the most beautiful and best bonefishing grounds in the world! We Also Offer Trips to Abaco, Shark Fishing, Bottom Fishing, Snorkeling, Canoes, Kayaks, Sweetings Cay Beach Lodge, Nature Tours To Nearby Cays and Blue Holes.

East End Adventures
Offers all-inclusive, nature safaris to Grand Bahama's outback. Let us take you off Freeport to Explore the real Bahamas! This snorkeling safari takes you 55 miles east to the diverse, untouched marine locations of Grand Bahama Island. Transfers, native lunch, 4 X 4 jeep ride, snorkeling, beach combing and more!

H. Forbes Charter Services LTD.
Professionals in the hospitality service for over 30 years we organize and offer tours of parks, caves, ecotours and adventures. We also can provide you with exciting night life. Complete services available including meet and greet, orientation and more!

Kayak Nature Tours
We are Freeport's most experienced kayak Eco-tour operator. Our tour of the Gold Rock Creek includes a guided nature walk through the Lucayan National Park and Caves, bird watching, snorkeling and swimming on a beautiful beach.

Lil B Fishing Reef
Fishing 7 days a week, personalized combo tour with variety of activities, romantic tour, small groups of 2-4, personalized service from captain, reasonable rates.

Paradise Watersports
Located on site at the Island Seas Resort, Paradise Watersports offers our guests numerous activities like glass-bottom boat rides and parasailing. Visit our front desk for additional information and schedules.

Pat & Diane Snorkeling
Located right on the Lucayan Beach at both The Grand Bahama Beach Resort and the Lucayan Village Reef Resort, offers snorkeling, Scuba Diving, cruises, beach parties and more.

The Perfume Factory Tour
Visit the manufacturing factory and mix your own fragrance. Elegant reproduction of mansion houses the operation.

Pine Tree Stables
Enjoy an Eco Adventure on horse back. Guided trails to beach, horses suitable for all levels including experienced riders, bush rides or endless beach rides.

Smiling Pat's Adventures, Gilligan's Island Tour
Offers snorkeling, private islands, treasure hunt, eco-system, shells, sunbathe; continental breakfast and full native lunch included!

Smiling Pat's Adventures, Native Hunting Tour
offers snorkeling, remote areas, fishing, East end, treasure hunt, ecosystem, shells, sunbathe; Bahama Mama's free, Bahamian breakfast, visit the home of hospitality.

Water World
Exciting New Entertainment for The Entire Family Two 18-Hole Upscale Miniature Golf Courses Professionally Designed and Installed by "Harris Miniature Golf Course Inc." Also enjoy Water World's newly completed 28 lane bowling alley.

The Westin Grand Bahama
We have arranged special pricing with the Golf Director at The Westin Resort for both their Lucayan and Reef golf courses. Both courses are beautiful year round and offer challenging play for all skill levels.

COMMONLY ASKED QUESTIONS AND ANSWERS

May I call you with questions as I plan my vacation?

Of course, and you will have a coordinator assigned to you when you set a travel date; your coordinator is there to answer all questions regarding your trip.

May I take a pet with me?

No, because you are going out of the country, no pets are allowed.

May I take extra people with me?

Yes. From ages 2 to 5 years the price is $29; from 6 Ė 11 the price is $99; from 12 through adult the price is $159. These prices include port charges and departure tax, and there is a maximum of four people in a room. Extra couples in their own room may also be added.

Do I need a valid passport?

All U.S. citizens need proof of citizenship. You may use a certified birth certificate or a valid passport, along with an official government identification (such as a driverís license). If you have ANY questions, call your local Customs and Immigrations office.

Is there easy access to beaches and the casino?

Yes. During the day there is a public bus system that runs all over (this is $1 per person each way); the busses run from 6 a.m. to 8 p.m.. The Island Palm also has a free shuttle running to the beach throughout the day. Please note: there is a union concession at the port, and you are required to take a cab from the ship to your hotel; this is approximately $4 per person each way.

How can you sell this package at this price?

We are able to offer this low price because we are able to negotiate low ship and hotel rates due to our large volume; this allows us to offer us much better rates than retail travel agencies can provide. Also, by working with large groups and corporations (such as yours), we are able to keep our marketing costs low; we pass these savings on to you.

Is this tied to any timeshare program?

No. This is just what we represent, a vacation that you can use when you want to at a price that you can afford.

Are there any hidden charges?

No. Some other companies try to charge bogus or inflated taxes, but we do not. All charges are disclosed, and you do not pay the balance until you set your travel date. There is one tax not included in this package: the Bahamian Resort Tax is paid at check in at every hotel; this covers all hotel taxes, energy surcharges, and gratuities for the housekeeping staff, and is approximately $15 per adult/per night. As of December 2004, the cruise line will collect a $10 per person Homeland Security Fee.

What currency do I need?

The US dollar and Bahamian dollar are at par (equal value), and US currency is used everywhere. There are ATM machines, and credit cards and Travelers Cheques are widely accepted.

Should I book tours and activities on the ship before I get to the Island?

No. There is an activities desk at each hotel, and they can book any activity desired, as well as provide up to date and specialized information regarding activities. PLEASE NOTE: the rates on activities sold by the ship may be higher, and there is no way to make any changes or cancellations if you book on the ship.

May I use a hair dryer and other appliances?

Yes. Electricity is the same cycle and voltage as in the U.S.. Check with your cellular provider to make sure that your phone will work. Also, phone cards are readily available.

Do I need any special vaccinations?

No. Plus, you donít have to worry about the water; the Bahamas has an abundant fresh water supply, and the water tastes great!

What is ďDuty FreeĒ shopping?

A duty is a tax on goods imported to this country. You may bring back up to $400 in goods (per person, subject to change) when you return to the U.S.. There are some tremendous bargains available!

Overall, even though the Bahamas is a foreign country, it is very enjoyable and convenient for Americans; English is the official language, currency is of equal value, and you can drink the water! Have a wonderful trip!

Terms and Conditions

Your vacation package includes:

- Round trip cruise package for two adults from Ft. Lauderdale to Freeport, Grand Bahama Island.

- Hotel accommodations for two in Freeport, Grand Bahama for three nights.

- Port taxes and service for the ship.

Your cruise includes three meals on the ship, and all ship activities.

* RESERVATIONS MADE ON VERY SHORT NOTICE (UNDER 30 DAYS) WILL INCUR A $25 EXPEDITING FEE.

* This cruise is for two adults, twenty one (21) years of age or older, entitling them to a round trip cruise from Port Everglades, Ft. Lauderdale, FL (3 nights and 4 days), including lodging at the Island Palm Resort on Grand Bahama Island. Cruise and hotel accommodations are available year round on a space available basis. Due to certain seasonal demands, we reserve the right to substitute accommodations of equal or greater value when necessary.

*All reservations must be in writing, and should be made at least 45 days in advance of requested travel dates. Transportation to and from Florida, meals, gratuities, activities, transfers, miscellaneous expenses, and any taxes not covered by this offer are the responsibility of the user. Bahamian Hotel taxes (approximately $15 per person each night) are to be paid directly by the traveler to the hotel at check in.

* Group travel (3 or more couples) is available with the permission. Special group travel is available upon request. This offer is not valid for full time college students.

*Any changes in confirmed travel dates must be in writing, and you will pay $25 for each change. Any changes with less than seven days prior to departure may incur extra fees.

*Any cancellation in confirmed travel dates must be in writing, and must be received at least twenty-one (21) days prior to the confirmed departure date. If the notice is received 21 or more days prior to departure, you will pay a $129 per couple fee for cancellation. If cancellation is under twenty one days prior to departure, there is no refund, but you may reschedule (fees may apply). There is no refund for anyone who is a no show at the ship

* For entry into the Bahamas and reentry to the United States, U.S. citizens must carry proof of citizenship (passport, or a birth certificate together with a driverís license). Foreign passengers must have a valid passport and multiple entry visa (plus any other documentation that may be required). It is the travelerís responsibility to check with the respective governmental agencies or consulates to determine documentary requirements for entry to the Bahamas and reentry to the United States. There will be no refund for any traveler denied passage due to improper or incomplete proof of citizenship

* The Bahamas is an independent nation; all visitors are subject to the laws and regulations of that country. We act as an agent for hotels, cruise lines, airlines, car rental firms, attractions, and any other services supplied as part of this vacation offer. We will not assume any responsibility and will not be liable for any loss, cancellation, costs, delay, irregularities, accident, injury, damage to persons or property arising from or in connection with any of these services. We are not responsible for delays, cancellations, or interruptions due to nature, strikes, or acts of God.


Travel Details


During the day there is a public bus system that runs all over (this is $1 per person each way); the busses run from 6 a.m. to 8 p.m. Please note: there is a union concession at the port, and you are required to take a cab from the ship to your hotel; this is approximately $4 per person each way.

Gallery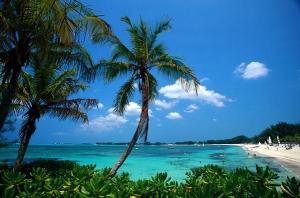 Location
The marker is a close indicator to the property location.