Property Details


Pantanagianni is one of the most beautifull place of Apulia, situated in the southern Adriatic coast, in the northern area of Salento. Its uncontaminated and limpid water represents a wonderfull view of ancient time.

This is the ideal place to get back into top form and to regenerate, where you can stay in contact with nature and you can relax in this oasis of peace far from stress and the noise of the city.

Pantanagianni is a real paradise for everyone who loves all the aquatic sports as underwater fishing and photography: it's depth is plenty of flora and fauna!!

Also the area, in low season, gives to you the possibility to enjoy freely the enchanting sunny beaches the land offers.


Area Details


Hi, I'm Aldo from Bari, I'm 22 and I attend the 3rd years of School of Dentistry in my city. These is my family, my parents and my grandfather, he is 82 years old, but he looks like a young buy full of life!

I love my work, unluckily since I've began this School I'm so busy and I spend all my time at university or at my house in the centre of town among caos, cars, a lot of people, smog etc... and It is the same for my parents, they are two doctors and they spend all the day working in hospital.

Becouse of this we can't enjoy our wonderful childhood house in front of the sea...

...what a great pity! My "house in front of the sea" is a little sweet and comfortable villa situated not far from my city, in a little beautiful village called Pantanagianni. Its major is my cool grandpa!! Really, he isn't, but he was born here and he grown up here, he has always lived here, everybody in Pantanagianni, adults and kids know him and call him "Grandpa"! You could seem him and his bicycle walking unfailingly around the streets of the village, in winter and in summer, under the rain and under the sun....My grandpa is the great boss of the village and he will be happy to help you everytime you need, whatever you need!!

My villa is very close to two awosome beaches, you can chose to laying in the sun on golden sand or on a beautiful sea cliff. The village is far 1 mile from a very beautiful little town, Ostuni, that we call "the White Town" beacuse of its vintage house. At Pantanagianni the sea is wonderful, it is the same colour of the sky, it is so clear and crystalline, it is perferct for swimming, fishing, scuba diving, boat tripping, water games....it is....irresistible!!

So, can you help me to do not leaving alone my holiday house standing lonely in front of the Adriatic Sea all the year?

Rent my Holiday house in Pantanagianni, in the heart of Apulia!

Otherwise we can have an home exchange!Trust me, It will be easy and fun!

Gallery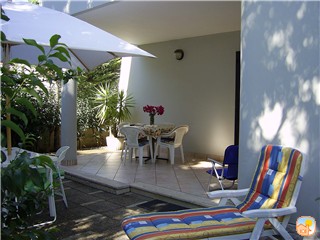 Location
The marker is an accurate indicator of the property location.