Property Details


Nice view from the balconies of the sunny apartament down Calle Hospital and towards the Rambla del Raval, the heart of the town.


Area Details


Calle Riera Baixa is a typical Barcelona street famous for second hand and vintage shops. There are many small shops close at hand for all daily necessities as well as lots of bars and restaurants.
The world famous Boqueria market is also very near with itís stunning arrays of fruit, vegetables, seafood and meat products.
It is two minutes walk from the Ramblas and close to the main library of Catalunya and the Fine Arts School which is housed in a medieval complex of buildings with a nice bar in the central patio where you can enjoy a coffee or whatever looking at the orange trees.
In the same area is the Museum of Modern Art of Barcelona (MACBA), the Maritime Museum the port and beaches as well as all the attractions of the cool, vibrant and stylish city of Barcelona.
Gallery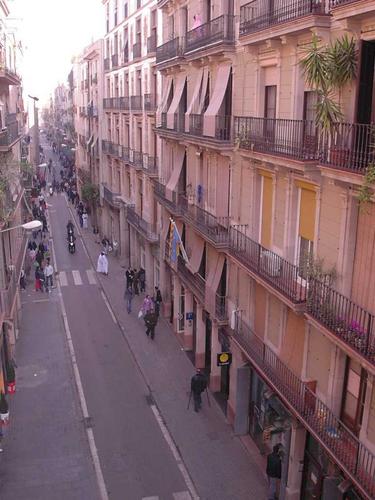 Location
The marker is a close indicator to the property location.
| | |
| --- | --- |
| Powered by google maps. Google maps of rental properties needs Javascript enabled | Overview google map. |
Click on the map below for a larger map of the area


Barcelona,Catalunya,08001,Spain

Pricing details


Contact Owner for Prices

Availability Details




<-- For Full Detailed Calendar with Larger Text click the image
Last Updated on 2008-Mar-29
January, 2021
Su
Mo
Tu
We
Th
Fr
Sa
1
2
3
4
5
6
7
8
9
10
11
12
13
14
15
16
17
18
19
20
21
22
23
24
25
26
27
28
29
30
31

February, 2021
Su
Mo
Tu
We
Th
Fr
Sa
1
2
3
4
5
6
7
8
9
10
11
12
13
14
15
16
17
18
19
20
21
22
23
24
25
26
27
28

March, 2021
Su
Mo
Tu
We
Th
Fr
Sa
1
2
3
4
5
6
7
8
9
10
11
12
13
14
15
16
17
18
19
20
21
22
23
24
25
26
27
28
29
30
31

April, 2021
Su
Mo
Tu
We
Th
Fr
Sa
1
2
3
4
5
6
7
8
9
10
11
12
13
14
15
16
17
18
19
20
21
22
23
24
25
26
27
28
29
30
May, 2021
Su
Mo
Tu
We
Th
Fr
Sa
1
2
3
4
5
6
7
8
9
10
11
12
13
14
15
16
17
18
19
20
21
22
23
24
25
26
27
28
29
30
31

June, 2021
Su
Mo
Tu
We
Th
Fr
Sa
1
2
3
4
5
6
7
8
9
10
11
12
13
14
15
16
17
18
19
20
21
22
23
24
25
26
27
28
29
30

July, 2021
Su
Mo
Tu
We
Th
Fr
Sa
1
2
3
4
5
6
7
8
9
10
11
12
13
14
15
16
17
18
19
20
21
22
23
24
25
26
27
28
29
30
31

August, 2021
Su
Mo
Tu
We
Th
Fr
Sa
1
2
3
4
5
6
7
8
9
10
11
12
13
14
15
16
17
18
19
20
21
22
23
24
25
26
27
28
29
30
31
Contact Details - Preferred option listed first



Note: Disclaimer
For Rental Enquiries - Email the owner.. Click here. (NB. You need to have popups enabled to use this)
Tel No. silvia zanetti at 0034 659863625 in Spain - Please Quote Reference:Villa Vacations -12856
Languages spoken: english italian french
Alternate Tel No. silvia zanetti at 933174130
Features


Air Conditioning
Television



Activities


Culture - Museums, Historic Sites
Night Life, Theatres, Restaurants
Outdoor Activities - Walks, Lakes, Woods
Seaside - Close to beaches



Restrictions






Owner's Links



End of Links
---