Property Details


Beautiful self contained beach house situated on the white sandy beaches of Thalpe. Walking distance to restaurants and bars and a quick tuc tuc to Unawatuna, Galle and 5-star hotel dining and spas. The house is fully contained with air conditioning, dishwasher, 6-burner gas stove sleeping 6. There are two lovely bathrooms - one in, and the other outside giving a view of the beach at all times. A caretaker is always on site, providing breakfast daily, and responding to any requests of guests including additional catering, groceries, sight seeing, laundry and transportation. A beautiful house, architectually designed and positioned to make the most of the beautiful beach and palm tree views. Sit back, enjoy a cool drink and decide what fresh seafood you are having for dinner.


Area Details


The southern beaches of Sri Lanka are famous for their surf and fabulous fishing spots. The house is only moments away from Unawatuna, and ten minutes from Galle by tuc tuc where you can book scuba, surf and or fishing trips. Travelling inland, you can visit a number of very important and lovely temples passing rice paddy fields and tea/cinnamon plantations along the way.

A turtle conservation farm is a short walk away, or you can drive to a number of elephant orphanges further north.

Sri Lanka is also renowned for its precious and semi-precious stones with jewellers available to make pieces on request. Take photos along so you are well prepared if this interests you.

Spa and health facilities are available in a number of the 5*star hotels locally including the Fortress Hotel at Kogalla or the AmanGala in Galle.


Travel Details


International flights daily to Colombo airport where you can be met by a pre-arranged driver, take the scenic train south, or fly with Sri Lankan airline's sea taxi to Koggola lake. We are happy to provide advise depending on your schedule and interest.

Gallery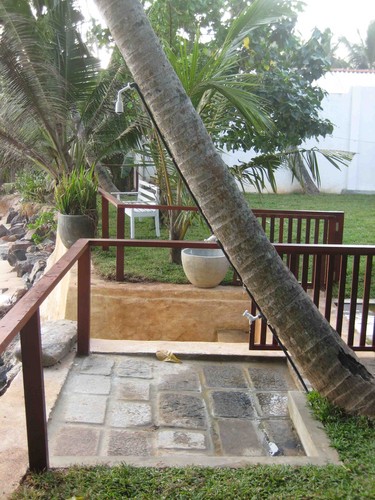 Location
The marker is only a general indicator of the property location. Confirm with owner for more details.
| | |
| --- | --- |
| Powered by google maps. Google maps of rental properties needs Javascript enabled | Overview google map. |
Click on the map below for a larger map of the area


Thalpe,Galle,0000,Sri Lanka

Pricing details



The following rates are per Week
The rates are per Villa
From
Upto
&nbsp
Charging Rate
&nbsp
US Dollars
British Pounds
Euros
31 Aug 2008
30 Nov 2008
1500.00
1145
1340
30 Nov 2008
14 Dec 2008
1800.00
1374
1608
14 Dec 2008
30 Jan 2009
2000.00
1527
1786
31 Jan 2009
30 Apr 2009
1800.00
1374
1608
30 Apr 2009
30 Nov 2009
1500.00
1145
1340
30 Nov 2009
14 Dec 2009
1800.00
1374
1608
14 Dec 2009
30 Jan 2010
2000.00
1527
1786



Price Includes:-

Lovely tropical breakfast served daily, cleaning and all linen plus the services of a house mananger.



Price Excludes:-

Food other than breakfast, beverages, transfers to Colombo and some local travel.



Other Information:-

There are two bedrooms (1 King + 1 Queen) plus a living room with two single bunks which could sleep two others, but more suited to children.
Availability Details

<-- For Full Detailed Calendar with Larger Text click the image
Last Updated on 2008-Sep-13
August, 2020
Su
Mo
Tu
We
Th
Fr
Sa
1
2
3
4
5
6
7
8
9
10
11
12
13
14
15
16
17
18
19
20
21
22
23
24
25
26
27
28
29
30
31

September, 2020
Su
Mo
Tu
We
Th
Fr
Sa
1
2
3
4
5
6
7
8
9
10
11
12
13
14
15
16
17
18
19
20
21
22
23
24
25
26
27
28
29
30

October, 2020
Su
Mo
Tu
We
Th
Fr
Sa
1
2
3
4
5
6
7
8
9
10
11
12
13
14
15
16
17
18
19
20
21
22
23
24
25
26
27
28
29
30
31

November, 2020
Su
Mo
Tu
We
Th
Fr
Sa
1
2
3
4
5
6
7
8
9
10
11
12
13
14
15
16
17
18
19
20
21
22
23
24
25
26
27
28
29
30
December, 2020
Su
Mo
Tu
We
Th
Fr
Sa
1
2
3
4
5
6
7
8
9
10
11
12
13
14
15
16
17
18
19
20
21
22
23
24
25
26
27
28
29
30
31

January, 2021
Su
Mo
Tu
We
Th
Fr
Sa
1
2
3
4
5
6
7
8
9
10
11
12
13
14
15
16
17
18
19
20
21
22
23
24
25
26
27
28
29
30
31

February, 2021
Su
Mo
Tu
We
Th
Fr
Sa
1
2
3
4
5
6
7
8
9
10
11
12
13
14
15
16
17
18
19
20
21
22
23
24
25
26
27
28

March, 2021
Su
Mo
Tu
We
Th
Fr
Sa
1
2
3
4
5
6
7
8
9
10
11
12
13
14
15
16
17
18
19
20
21
22
23
24
25
26
27
28
29
30
31
Contact Details - Preferred option listed first



Note: Disclaimer
For Rental Enquiries - Email the owner.. Click here. (NB. You need to have popups enabled to use this)
Tel No. Michelle Dooley at 61439721193 in Australia - Please Quote Reference:Villa Vacations -12910
Languages spoken: English
Features


Air Conditioning
Dishwasher
DVD Player
Stereo System
Television
Video Cassette Recorder
Washing Machine



Activities


Culture - Museums, Historic Sites
Night Life, Theatres, Restaurants
Outdoor Activities - Walks, Lakes, Woods
Seaside - Close to beaches



Restrictions






Owner's Links


Click Here for more information about this property
End of Links
---