Property Details


This restored farmhouse has a wonderful ambience and character. The gardens are well laid out and there are courtyards to the front and rear and a covered area for relaxing in the shade. You enter the house to a large spacious hallway. The lounge is large and very comfortable and generally proves cool on hot summer days.
There is a television with DVD player and Playstation console for entertainment Wireless broadband is also provided should you want to bring notebook for internet access.
There is a large and well equipped kitchen with a dining table and chairs.
To the rear of the house is a another dining /sitting area which opens to the outside.
On the first floor there are two large family size bedrooms to the front each with a king size and single bed. There are two further bedrooms to the rear which are also spacious having a king size and a single bed.

The swimming pool which is 10 by 5 metres is heated to a steady 28 degrees allowing swimming from May to September.

There are also bicycles, a basketball net and plenty of children's toys and games.


Area Details


Montmaurin is a hilltop village which lies in the heart of Gascony.

The village is most famous for the Roman villa situated here which is the best example of its type in France. The river Save with its gorges is a short walk.

The historic site and chateau at St. Bertrand de Comminges is a must visit and is about a 30 minute drive.

Other towns include the spa resorts of Bagnerre de Bigorre and Bagnerre de Luchon nestled in the foothills of the Pyrenees. Other resorts include St Lary de soulan where both summer and winter sports can be enjoyed.

You are in the heart of the Pyrenees and at the Spanish border in an hours drive.

Also worth a visit are Tarbes( 40 miles) and Lourdes(45 miles) as well as the the cosmopolitan city Toulouse at just over an hours drive.


Travel Details


There is a very limited local bus service. A car is advisable.

The nearest airports are Toulouse and Pau at just over an hour.

TGV stops are at Tarbes and Toulouse.

Gallery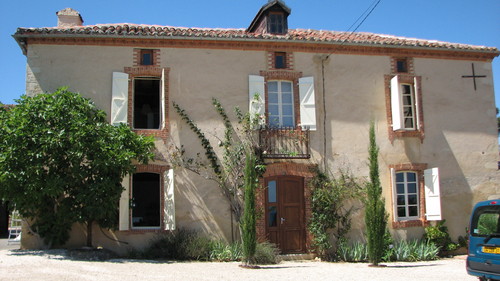 Location
The marker is a close indicator to the property location.
| | |
| --- | --- |
| Powered by google maps. Google maps of rental properties needs Javascript enabled | Overview google map. |
Click on the map below for a larger map of the area


Montmaurin,Midi Pyrenees,zzzzz,France

Pricing details



The following rates are per Week
From
Upto
&nbsp
Charging Rate
&nbsp
Euros
US Dollars
British Pounds
25 Jun 2009
30 Aug 2009
1800
2015
1538
Availability Details

<-- For Full Detailed Calendar with Larger Text click the image
Last Updated on 2009-Feb-01
May, 2021
Su
Mo
Tu
We
Th
Fr
Sa
1
2
3
4
5
6
7
8
9
10
11
12
13
14
15
16
17
18
19
20
21
22
23
24
25
26
27
28
29
30
31

June, 2021
Su
Mo
Tu
We
Th
Fr
Sa
1
2
3
4
5
6
7
8
9
10
11
12
13
14
15
16
17
18
19
20
21
22
23
24
25
26
27
28
29
30

July, 2021
Su
Mo
Tu
We
Th
Fr
Sa
1
2
3
4
5
6
7
8
9
10
11
12
13
14
15
16
17
18
19
20
21
22
23
24
25
26
27
28
29
30
31

August, 2021
Su
Mo
Tu
We
Th
Fr
Sa
1
2
3
4
5
6
7
8
9
10
11
12
13
14
15
16
17
18
19
20
21
22
23
24
25
26
27
28
29
30
31
September, 2021
Su
Mo
Tu
We
Th
Fr
Sa
1
2
3
4
5
6
7
8
9
10
11
12
13
14
15
16
17
18
19
20
21
22
23
24
25
26
27
28
29
30

October, 2021
Su
Mo
Tu
We
Th
Fr
Sa
1
2
3
4
5
6
7
8
9
10
11
12
13
14
15
16
17
18
19
20
21
22
23
24
25
26
27
28
29
30
31

November, 2021
Su
Mo
Tu
We
Th
Fr
Sa
1
2
3
4
5
6
7
8
9
10
11
12
13
14
15
16
17
18
19
20
21
22
23
24
25
26
27
28
29
30

December, 2021
Su
Mo
Tu
We
Th
Fr
Sa
1
2
3
4
5
6
7
8
9
10
11
12
13
14
15
16
17
18
19
20
21
22
23
24
25
26
27
28
29
30
31
Contact Details - Preferred option listed first



Note: Disclaimer
For Rental Enquiries - Email the owner.. Click here. (NB. You need to have popups enabled to use this)
Tel No. G. Brown at 01273 324276 in United Kingdom - Please Quote Reference:Villa Vacations -12914
Languages spoken: English
Between 9 and 20 in United Kingdom time
Alternate Tel No. G. Brown at 01273 324277
Other Properties


Click here to see other properties owned/managed by this advertisor
Features


Dishwasher
DVD Player
Private Swimming Pool
Satellite or Cable Television
Television
Washing Machine



Activities


Activity - Tennis, Golf, Pools
Culture - Museums, Historic Sites
Outdoor Activities - Walks, Lakes, Woods



Restrictions


No Pets
No Smokers



Owner's Links



End of Links
---