Property Details


The house comprises of 3 floors. the ground floor with bedroom, bathroom, utility room, kitchen and lounge leading to terrace directly on the lagoon side.
First floor host 2 bedrooms with shared bathroom and a terrace overlooking the lagoon.
The top floor is a roof terrace to view the spectacular views of El Gouna.
All rooms have air conditioning and the house is very well equipped for all you need.


Area Details


The facilities in El Gouna are surmountous with not only hotels offering facilities to outside guests but kite and wake boarding, Snorkelling, diving, fishing and boat trips.
A Championship golf course, Crazy Golf and Tennis courts.
Desert safaris and Quad biking, horse and camel riding
A top quality Gym and pool bar on the New Marina,Go Karts and Paintball....not to mention the beaches, bars, resturants and Casino.
There is also a Cheeky Monkeys activity area and Flipside a young teens club.
Lagoons, beaches, entertainment and daily sunshine all year round.


Travel Details


Buses, Tok Toks, Shuttle boat, Taxi`s and local buses to Hurghada and Cairo.

Gallery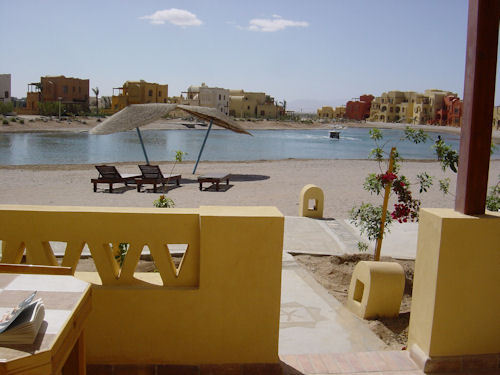 Location
The marker is a close indicator to the property location.
| | |
| --- | --- |
| Powered by google maps. Google maps of rental properties needs Javascript enabled | Overview google map. |
Click on the map below for a larger map of the area


El Gouna,The Red Sea Coast,84513,Egypt

Pricing details



The following rates are per Week
The rates are per for property
From
Upto
&nbsp
Charging Rate
&nbsp
British Pounds
US Dollars
Euros
31 Mar 2012
01 Jan 2013
425
557
497



Price Includes:-

Linen and towels. Electricity and water consumption.



Price Excludes:-

Taxi fares to and from airport but can be arranged on request at additional cost.
Welcome and breakfast packs charged upon request.



Other Information:-

£50 damage deposit held until rental period expires.
Availability Details

<-- For Full Detailed Calendar with Larger Text click the image
Last Updated on 2012-Dec-04
February, 2020
Su
Mo
Tu
We
Th
Fr
Sa
1
2
3
4
5
6
7
8
9
10
11
12
13
14
15
16
17
18
19
20
21
22
23
24
25
26
27
28
29

March, 2020
Su
Mo
Tu
We
Th
Fr
Sa
1
2
3
4
5
6
7
8
9
10
11
12
13
14
15
16
17
18
19
20
21
22
23
24
25
26
27
28
29
30
31

April, 2020
Su
Mo
Tu
We
Th
Fr
Sa
1
2
3
4
5
6
7
8
9
10
11
12
13
14
15
16
17
18
19
20
21
22
23
24
25
26
27
28
29
30

May, 2020
Su
Mo
Tu
We
Th
Fr
Sa
1
2
3
4
5
6
7
8
9
10
11
12
13
14
15
16
17
18
19
20
21
22
23
24
25
26
27
28
29
30
31
June, 2020
Su
Mo
Tu
We
Th
Fr
Sa
1
2
3
4
5
6
7
8
9
10
11
12
13
14
15
16
17
18
19
20
21
22
23
24
25
26
27
28
29
30

July, 2020
Su
Mo
Tu
We
Th
Fr
Sa
1
2
3
4
5
6
7
8
9
10
11
12
13
14
15
16
17
18
19
20
21
22
23
24
25
26
27
28
29
30
31

August, 2020
Su
Mo
Tu
We
Th
Fr
Sa
1
2
3
4
5
6
7
8
9
10
11
12
13
14
15
16
17
18
19
20
21
22
23
24
25
26
27
28
29
30
31

September, 2020
Su
Mo
Tu
We
Th
Fr
Sa
1
2
3
4
5
6
7
8
9
10
11
12
13
14
15
16
17
18
19
20
21
22
23
24
25
26
27
28
29
30
Contact Details - Preferred option listed first



Note: Disclaimer
For Rental Enquiries - Email the owner.. Click here. (NB. You need to have popups enabled to use this)
Tel No. Jim Barlow and Ali Garnsworthy at [002]0189612872 in Egypt - Please Quote Reference:Villa Vacations -13309
Languages spoken: English
Alternate Tel No. Jim Barlow and Ali Garnsworthy at UK++44(0)7981765529
Features


Air Conditioning
Satellite or Cable Television
Stereo System
Television
Washing Machine



Activities


Activity - Tennis, Golf, Pools
Culture - Museums, Historic Sites
Night Life, Theatres, Restaurants
Outdoor Activities - Walks, Lakes, Woods
Seaside - Close to beaches
Wilderness - Mountains, River Gorges



Restrictions


No Pets
No Smokers



Owner's Links



End of Links
---