Property Details


The traditional built sardinian ovile (roundhouse) is only one large room with well equipped kitchenette, fireside, large pantry, large tradional iron double bed (furnished with futon or matrass on request). outside two terraces (east, south) (also rooftop can be used on your own risk), a separate bathroom (with shower, toilet, etc., washing-machine) and a large garden with agavas, olive-trees, acacia, opuntia etc. part of the valley of rio osalla which is a complete wilderness of plants, macchia and marvelous scents with birds of prey on the watch all the time belongs also to the property. in the whole valley area are only very few houses - so it's very remote and a tremendous experience of pure nature, though there is no intensive farming, only goats, sheep and horses (running free). next store - supermarket: 5 km. olbia is about 100 km north. in walking distance there are not less than 5 beaches, 3 of them only accessible on foot.
the house can be swapped/rented all year long. normally the fireside is enough. if not, theres a series of additional heating devices (gas, oven, kerosene) so you can also rent in winter.
for maps and details look at http://www.sardinien-haus-am-meer.de (only german but you will find your way through the very many pics intuitively)
if the place has no vacancy there is houses of friends maybe available - just look on the same site.


Area Details


It is a sometimes wide, sometime narrow valley in wild nature with tremendous looks to mountains, beaches and the mediterranean all over. something for people who want to discover nature by walking, hiking, free climbing, diving, snorkeling, sailing. (small marina in the next bay in walking distance, two bigger ones in 5-10 km distance). in the area many interesting prehistoric sites, caves, and even a thermal spring. 10 km away in the next valley theres also a highlife beach-town. in the neighbourhood are many remote bays/beaches on the coast which can only be reached hiking or by boat.
everything, very many details about the area and very many good pictures are on this website.
http://www.sardinien-haus-am-meer.de/umgebung.html


Travel Details


Buses from olbia, but only to dorgali. from dorgali to the house no public transport. transfer from olbia or alghero (another airport) can be provided on payment. transfer from dorgali will be provided without any cost by a friend (on request). but you should have your own car to take full advantage of the area.

Gallery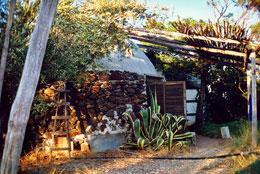 Location
The marker is only an estimate of the location based on town/region. Ask owner for more details