Property Details


Spacious 3 bedroom villa with large pool and terraces and views over Kalamar bay. The villa has several terrace areas and also a large roof terrace. The main door leads into a large sitting room and dining area, and has a separate kitchen. The first floor has one double bedroom, with extra bed, and also a small balcony, and a twin bedroom - both rooms have en-suite bathrooms. On the top floor is another double bedroom with en-suite, and access to the roof terrace. The villa is maintained to a high standard and is well furnished. There is outside furniture and also a barbecue. The pool and terraces are cleaned daily. The villa is cleaned for your arrival and a welcome pack is included in the price. For stays of over one week, there is a weekly clean, although extra cleans can be organized at cost should you wish.


Area Details


Kalkan has grown from a tiny village to one of Turkey's favourite holiday destinations. It still retains its charm with its narrow paved streets that lead down to its pretty harbour and beach. There are numerous excellent restaurants (roof terrace, harbour and street restaurants) in Kalkan, as well as many small boutiques to wander through during the day or evening. Kalkan is a perfect place to be based to visit many historical sites (Tlos, Xanthos, Letoon) or places of natural beauty (Patara beach, Saklikent gorge).


Travel Details


There are the dolmus (small local minibuses) that go regularly to Kas, Patara, Saklikent and Fethiye. Kalkan's new large bus station has air-conditioned coaches that go to Fethiye, Izmir, Istanbul and Ankara. Taxis are also plentiful in Kalkan. Car hire can be organized on request.

Gallery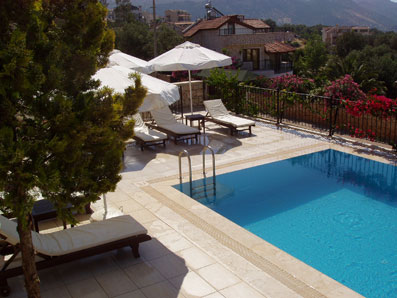 Location
The marker is an accurate indicator of the property location.
| | |
| --- | --- |
| Powered by google maps. Google maps of rental properties needs Javascript enabled | Overview google map. |
Click on the map below for a larger map of the area


Kalkan,Antalya,07960,Turkey

Pricing details



The following rates are per Week
The rates are per Villa
From
Upto
&nbsp
Charging Rate
&nbsp
British Pounds
US Dollars
Euros
01 Jan 2008
30 Apr 2008
450
585
522
30 Apr 2008
31 May 2008
650
845
754
31 May 2008
30 Jun 2008
750
975
870
30 Jun 2008
31 Aug 2008
850
1105
986
31 Aug 2008
30 Sep 2008
800
1040
928
30 Sep 2008
31 Oct 2008
750
975
870
01 Nov 2008
30 Apr 2009
500
650
580



Price Includes:-

Weekly clean, welcome pack, pool cleaned daily. British/Turkish manager available for any assistance.



Price Excludes:-

Transfers from/to the airport



Other Information:-

Pool is not normally available between November and May 1. However, this could be flexible depending on needs.
Availability Details

<-- For Full Detailed Calendar with Larger Text click the image
Last Updated on 2009-May-29
April, 2019
Su
Mo
Tu
We
Th
Fr
Sa
1
2
3
4
5
6
7
8
9
10
11
12
13
14
15
16
17
18
19
20
21
22
23
24
25
26
27
28
29
30

May, 2019
Su
Mo
Tu
We
Th
Fr
Sa
1
2
3
4
5
6
7
8
9
10
11
12
13
14
15
16
17
18
19
20
21
22
23
24
25
26
27
28
29
30
31

June, 2019
Su
Mo
Tu
We
Th
Fr
Sa
1
2
3
4
5
6
7
8
9
10
11
12
13
14
15
16
17
18
19
20
21
22
23
24
25
26
27
28
29
30

July, 2019
Su
Mo
Tu
We
Th
Fr
Sa
1
2
3
4
5
6
7
8
9
10
11
12
13
14
15
16
17
18
19
20
21
22
23
24
25
26
27
28
29
30
31
August, 2019
Su
Mo
Tu
We
Th
Fr
Sa
1
2
3
4
5
6
7
8
9
10
11
12
13
14
15
16
17
18
19
20
21
22
23
24
25
26
27
28
29
30
31

September, 2019
Su
Mo
Tu
We
Th
Fr
Sa
1
2
3
4
5
6
7
8
9
10
11
12
13
14
15
16
17
18
19
20
21
22
23
24
25
26
27
28
29
30

October, 2019
Su
Mo
Tu
We
Th
Fr
Sa
1
2
3
4
5
6
7
8
9
10
11
12
13
14
15
16
17
18
19
20
21
22
23
24
25
26
27
28
29
30
31

November, 2019
Su
Mo
Tu
We
Th
Fr
Sa
1
2
3
4
5
6
7
8
9
10
11
12
13
14
15
16
17
18
19
20
21
22
23
24
25
26
27
28
29
30
Contact Details - Preferred option listed first



Note: Disclaimer
For Rental Enquiries - Email the owner.. Click here. (NB. You need to have popups enabled to use this)
Tel No. Karyn Yildirim at +905327843505 in Turkey - Please Quote Reference:Villa Vacations -12847
Languages spoken: French and German by email
Between 8 and 21 in Turkey time
Features


Air Conditioning
Dishwasher
DVD Player
Private Swimming Pool
Stereo System
Television
Washing Machine



Activities


Culture - Museums, Historic Sites
Night Life, Theatres, Restaurants
Outdoor Activities - Walks, Lakes, Woods
Seaside - Close to beaches
Wilderness - Mountains, River Gorges



Restrictions






Owner's Links



End of Links
---