Property Details


This delightfully renovated 18th Century apartment with it's 4 metre high ceilings accomodates up to 4 guests in an incomparable location just steps away from charming Plaza del Pi and the Ramblas in the heart of Barcelona's central Gothic Quarter.
This first floor apartment with high ceilings and separate bedroom, living room and dining room is just the place to enjoy the enchantment of the delightful maze of narrow streets in a traffic-free zone where you may treat yourself to some of the city's finest and most diverse shops and restaurants.
The accommodation:
The spacious double bedroom features a comfortable latex queen-size bed, a balcony with French windows overlooking the street, and a group of reproductions of the work of Viennese artist Gustav Klimt.
The living room with its high beamed ceiling allows guests to enjoy their moments of repose. Complementing the elegant setting, reproductions of works by a living artist depict outstanding examples of local modernist architecture. An Italian convertible sofa bed with latex futon mattress allows for additional sleeping space, and a CD player, DVD and satellite television are provided for information and relaxation.
The dining-room seats 4 in a space marked by elegant décor. Above the double doors to the living room, an enormous visible timber beam has been conserved for its original 18th Century character, while a wide glass panel above this lets through additional light from the glass doors onto the living room balcony.
The bathroom has a shower while the kitchen is equipped with fridge, vitro-ceramic hob, electric oven, dishwasher, and a complete range of utensils.
The apartment has 4-metre high beam ceilings in the three main rooms as well as two balconies on the street with typical French doors and modern double-glazed windows. Heating and air-conditioning, hair-dryer, washing machine, iron and ironing board are provided.


Area Details


This graciously renovated 18th Century luxury apartment situated in the heart of Barcelona's renowned medieval Gothic Quarter, between the delightful Plaza del Pi, and its legendary pine, and the Ramblas, Barcelona's emblematic promenade stretching from Plaza Cataluña to the sea, with its endless charm and activity of local strollers and street flower vendors.
Just one minute's walk from this quiet pedestrian street of Calle Roca is the Boqueria, Barcelona's colourful fresh food market, El Gran Teatro del Liceu, Barcelonas opera house, and the charming Plaza del Pi which is host to the Basilica of Santa Maria del Pi, the week-end display and sale of paintings by local artists and the open air artesanal food produce market. At a two minute distance from Calle Roca is the Cathedral of Barcelona and the seat of the local and regional Houses of Parliament in Plaza Sant Jaume. If you are still looking for more just one street parallel to Calle Roca is the famous Calle Petrixol offering a selection of activities ranging from visiting art galleries, to viewing locally handcrafted jewellery, to eating fine chocolates or to treating yourself to a good coffee and traditional cake at one of the 2 authentic Granjas of the street.
Plaza del Pi offers a privileged view into the city's heart. The inroads of tourism have hardly fazed this most cosmopolitan of centres, where artists, writers, musicians, shoppers, diners, café loungers and deep-rooted local residents still happily mingle with tourists in a serendipitous cosmopolitan whirl. This area comprises the charming and fascinating Calle Petritxol, quiet Calle Roca, commercial Carrer del Pi and the Ramblas.
We suggest you enjoy a coffee in the historic Bar del Pi while perusing the many original artworks within or while sitting outside in the sunny terrace taking in the beauty of the square.

Tucked away in Calle Roca at discreet distance from all
the excitement, the apartment offers quiet refuge in optimum comfort.


Travel Details


Central to all public transport, namely the metro green line liceu stop, the metropolitan bus service, and all country train services leaving from plaza cataluña.

Gallery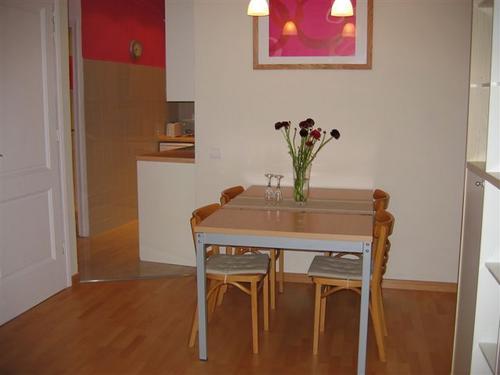 Location
The marker is only a general indicator of the property location. Confirm with owner for more details.
| | |
| --- | --- |
| Powered by google maps. Google maps of rental properties needs Javascript enabled | Overview google map. |
Click on the map below for a larger map of the area


Barcelona,Catalunya, Spain,08002,Spain

Pricing details



The following rates are per Day
From
Upto
&nbsp
Charging Rate
&nbsp
Euros
US Dollars
British Pounds
31 Dec 2002
31 Dec 2003
100
112
85
Availability Details

<-- For Full Detailed Calendar with Larger Text click the image
Last Updated on 2006-Jun-08
January, 2021
Su
Mo
Tu
We
Th
Fr
Sa
1
2
3
4
5
6
7
8
9
10
11
12
13
14
15
16
17
18
19
20
21
22
23
24
25
26
27
28
29
30
31

February, 2021
Su
Mo
Tu
We
Th
Fr
Sa
1
2
3
4
5
6
7
8
9
10
11
12
13
14
15
16
17
18
19
20
21
22
23
24
25
26
27
28

March, 2021
Su
Mo
Tu
We
Th
Fr
Sa
1
2
3
4
5
6
7
8
9
10
11
12
13
14
15
16
17
18
19
20
21
22
23
24
25
26
27
28
29
30
31

April, 2021
Su
Mo
Tu
We
Th
Fr
Sa
1
2
3
4
5
6
7
8
9
10
11
12
13
14
15
16
17
18
19
20
21
22
23
24
25
26
27
28
29
30
May, 2021
Su
Mo
Tu
We
Th
Fr
Sa
1
2
3
4
5
6
7
8
9
10
11
12
13
14
15
16
17
18
19
20
21
22
23
24
25
26
27
28
29
30
31

June, 2021
Su
Mo
Tu
We
Th
Fr
Sa
1
2
3
4
5
6
7
8
9
10
11
12
13
14
15
16
17
18
19
20
21
22
23
24
25
26
27
28
29
30

July, 2021
Su
Mo
Tu
We
Th
Fr
Sa
1
2
3
4
5
6
7
8
9
10
11
12
13
14
15
16
17
18
19
20
21
22
23
24
25
26
27
28
29
30
31

August, 2021
Su
Mo
Tu
We
Th
Fr
Sa
1
2
3
4
5
6
7
8
9
10
11
12
13
14
15
16
17
18
19
20
21
22
23
24
25
26
27
28
29
30
31
Contact Details - Preferred option listed first



Note: Disclaimer
For Rental Enquiries - Email the owner.. Click here. (NB. You need to have popups enabled to use this)
Tel No. Elizabeth Triado at (34)93-3182925 in Spain - Please Quote Reference:Villa Vacations -5433
Languages spoken: English
Fax No. (34)93-3182925 in Spain
Other Properties


Click here to see other properties owned/managed by this advertisor
Features


Air Conditioning
Dishwasher
DVD Player
Satellite or Cable Television
Stereo System
Television
Washing Machine



Activities


Culture - Museums, Historic Sites
Night Life, Theatres, Restaurants
Seaside - Close to beaches



Restrictions


No Pets



Owner's Links


Click Here for more information about this property
End of Links
---