Property Details


Exquisitely-furnished 2 BR luxury loft just 3 mins to Banff Natl Park and 40 mins to Lake Louise. Condo loft features 23-foot vaulted ceiling, breath-taking views from 8-foot walls of glass, riverstone/log fireplace and furnishings crafted from antique barnwood and log, DVD home theatre system. Gym and rooftop hot-tub with sweeping panoramic views. FOR MORE INFORMATION, PHOTOS & SLIDE SHOW, VISIT OUR WEBSITE AT www.birch-haven.com

This is not your ordinary vacation rental. Aesthetics and comfort have been given equal emphasis at the Birch Haven. Remarkably, every single piece of furnishing in the loft was personally designed by the artist-owner to evoke the natural majesty right at the loft's doorstep. Artisans from all over Canada were then commissioned to craft these unique pieces for your enjoyment and comfort.

The 2 bedroom, 2 bath luxury loft features a 23-foot vaulted ceiling and an 8 foot wall of glass flanking a cozy log and riverstone fireplace. Immerse yourself in stunning views whether you are soaking in the rooftop hot-tub, grilling on the balcony or lounging on the nailhead-studded leather sofa, enjoying our collection of DVDs and CDs.

The fully-equipped slate-floored kitchen, complete with dishwasher, microwave and designer cookware, is fit for a gourmet cook, while the custom-designed birch and twig mosaic dining table beckons the connoisseur.

The centerpiece of the open master bedroom loft is a romantic queen canopy log bed custom-crafted from skip-peeled lodgepole pine. The unusual master bath is open to the master bedroom and features a corner soaking tub.

The second bedroom on the lower level exudes a timeless old world charm. The furnishings are crafted from barnwood salvaged from a dairy barn built in the 1920s. Handpicked by the owner, these pieces of time-worn wood are accented with slate and antique hardware to create unique works of functional art.

From the towering console table in the dining room, with its 20-foot birch limbs, to the sculptural log towel rack in the bathroom, the Birch Haven is a visual and sensorial delight...

At the Birch Haven, no detail has been overlooked and no expense spared. We will even try to accommodate your bedding preferences; let us know if you prefer a firm mattress or a plush feather-bed, cushy pillows, firm orthopedic ones, or even flat ones ideal for kids.

Throughout the loft, you will find little touches that differentiate this place from any other vacation rental. Mood lighting at the flick of a switch. Umbrellas and ponchos in the closet. An antique barnwood armoire brimming with toys, board games, novels, travel guidebooks and magazines. A surround sound home entertainment system with a library of DVDs and CDs. Spices in the larder, condiments in the fridge and cookbooks in the kitchen. Even filtered drinking water, making lugging bottled water a vacation ritual of the past. All of which serve to confirm that the owners have made a very personal effort to anticipate and cater to your needs.

Not only will you want to return to its bosom after an exhilarating day out in the majestic Rockies, you'll wish to return to it year after year.

Birch Haven has already gained a reputation as one of the area's most popular lofts, and is frequently sought out by guests looking for that *extra special* accommodation experience. Here is what some of our past guests have to say...

****
Thank you for allowing us to stay at your beautiful, well-appointed mountain retreat. We appreciated the thoughtful little touches which we did not have in the other unit below (which we also rented)… like the Park Pass and other little touches. It helps in making a big birthday special.
The Kuhuels - Edmonton, Alberta

****
Wow! Your condo is fabulous. I am taking home many ideas to furnish our own condo up. We thoroughly enjoyed our stay!
Carol and Sara S. - Penticton, British Columbia

****
Thank you for having us at such a wonderful and unique place. As mentioned many times before in this Guest Book, the furniture truly makes the place and creates a true Western Canadian atmosphere. Our departure from Birch Haven marks the end of a 2-week honeymoon in the Canmore and Banff area. This was a great place to have it conclude.
Kyle and Lindsay S. - Toronto, Ontario

****
We had a great time here. This is our 3rd week of a 4 month vacation. This condo is my favorite place that we have stayed. It is so comfortable. I had the bedroom/loft upstairs. The bed was so cozy! I wish that that was my bed at home! I also love the huge window in the living room. The patio was nice too, like everything else. We have had a fantastic time here. Even my dad liked it!
Kensie, Kyler, Korey, Bill B. and Michelle K.

****
We enjoyed your beautiful condo immensely – what incredible taste and aesthetic harmony they attest to. We hope to come back many times in the future.
Sonia and Dale

****
Thank you so much for the lovely stay. It truly came to feel like home, but better. The skiing was awesome for this time of year and the people are so friendly. We love Canmore and that why we chose it for our honeymoon.
Greg and Angele S.

****
Thank you so much for letting us rent your beautiful Canadian Rocky Mountain home!

We thoroughly enjoyed our stay and especially appreciate all the amenities (covered parking!, washer/dryer, DVD player etc). Your home is beautifully appointed and perfect for a mountain setting. Clearly a lot of love and labor went into the finishings of the condo. We hope to make Banff/Canmore our annual spring break destination.
Erin, Lauren, Carol, Brian -- Dallas, Texas

****
What a fabulous holiday!!- Spectacular scenery, super accommodation and a remarkably well-equipped kitchen. On the whole we thoroughly enjoyed this 5 star accommodation. Happy New Year!
Brenda and Wendy T., Al C., Rosetta A. – Kitimat, British Columbia, and Vancouver, British Columbia

****

Wow! Our stay here has been an amazing experience! We have felt at home and yet truly pampered by the luxuries of this condo.

We were in heaven as we explored Johnston Canyon, Radium Hot Springs, Banff, Bow Valley River, Lake Louise, Moraine Lake, Emerald Lake canoeing, rafting on the Kicking Horse, spotting elk, grizzly bears (2!), mountain goats and big-horned sheep, and taking in the breathtaking mountain views! Memories :-) Thank you!
Kendra and Matt H. - Dallas, Texas

****
The above are just a few of the many rave reviews Birch Haven has received from past guests. For more reviews, photos of the loft and surrounding national parks, be sure to visit our main website at www.birch-haven.com.

We encourage you to book well in advance as Birch Haven is often fully-booked during the peak rental seasons. Do not hesitate to send us an email to let us know how we can make your Canadian Rockies vacation even more unforgettable at the incomparable Birch Haven!


Area Details


Banff is ranked as Canada's top vacation destination and a mecca for a dizzying array of outdoor activities. Every year, over 5 million people visit the area to enjoy world-class activities.

Located right outside the Banff National Park gates, Canmore is quickly becoming the base of choice for visitors who want easy access to the solitude of Banff's outdoor wonders, without the crowds prevalent in the town of Banff itself. Meanwhile, the turquoise beauty of Lake Louise is just 45 mins away. It's a drive that is breathtaking at every turn and not to be missed.
A spectacular year-round outdoor playground nestled in the towering Canadian Rockies, Canmore was host to the Nordic skiing and biathlon events of the 1988 Calgary Winter Olympics. More recently, the area hosted a bevy of world leaders at the 2002 G-8 Conference.

SUMMER:

Summer activities are seemingly endless: golfing, whitewater rafting, fishing, horseback riding, wildlife-watching, hiking, heli-hiking, ATV expeditions, caving, rock climbing, mountain-biking and more.

One thing that sets the Canadian Rockies apart from other mountain destinations is how little effort it takes to reach spectacular scenery. Truly stunning vistas that may require hours of hiking in other parks are right on the highway, accessible from the window of your car or tour bus. You can even drive up to Columbia Glacier, the largest non-polar ice-cap in the world, hop on a snocoach and walk on the face of the glacier!

Other effortless ways of enjoying the canadian Rockies include taking a sightseeing gondola in Banff and Lake Louise, dining in comfort at the summit restaurants and taking short, but spectacular interpretive hikes.

In and around Canmore and Banff National Park, hikers will find thousands of miles of maintained trails that offer astounding vistas at every turn. For a touch of style in the wilderness, you may want to try heli-hiking. A helicopter drops you off at the top of your chosen remote peak, and picks you up at the bottom, after you take a leisurely hike down!

Canmore is home to the Canmore Nordic Center, host of the World Cup bike racing events. The Nordic Center features an extensive network of cross-country ski trails which are transformed into mountain biking trails every summer. With legal off-roading, and an abundance of old mining double tracks and classic wooded singletracks for enthusiasts, it's no wonder that Bicycling magazine named the Canmore area as one of "The 50 Best Trips on Our Planet." Mountain Bike Action magazine also hailed Canmore as one of the "Best Rides North of the Border." And with 43 miles of paved trails for family-friendly rides, even kids can enjoy Canmore's spectacular scenery on two wheels.

Canmore is also a famed center for rafting and many of the outfitters are based down the road from the Birch Haven. Families will enjoy gentle float trips down the scenic Bow River while thrill-seekers will get their kicks on the white water rapids of the Kananaskis, Kootenay and Kicking Horse rivers. For even more kicks, try heli-rafting at remote river locations.

For a taste of the Wild West, hop on a wagon picnic excursion or saddle up a horse. From meandering rides along the Bow River to steep trails thousands of feet above Lake Louise, there is something for everyone.

At Lake Minnewanka, Banff National Park's largest lake, take a scenic narrated cruise aboard glass-enclosed boats through the Minnewanka Valley to Devil's Gap. You can also rent motor-boats at Lake Minnewanka and try your hand at fishing. Indeed, fly and spin fishermen from around the world descend on the lakes and streams of the Banff National Park, home to a multitude of fish species. Get outfitted at a local tackle store or hire a guide to take you to little-known insider fishing hotspots.

And then there is golf. With 6 worldclass golf courses and 135 spectacular holes nearby, Canmore is a golfer's mecca. Three courses (Stewart Creek, Silvertip and Canmore Golf & Curling Club) are within a few minutes' drive of the Birch Haven. The Banff Springs Hotel course is just 15 mins away, while two Robert Trent Jones courses (Kananaskis Mt Lorette and Mt Kidd) are a half hour away.

While the area is reknowned for its outdoor activities, there is no shortage of indoor cultural pursuits. Banff is host to dozens of galleries and numerous museums -- ranging from natural and native American history to cultural heritage exhibits. Performing arts enthusiasts will be glad to know that from May through August, the Banff Arts Festival presents internationally-reknowned guest performers in a rich summer-long celebration of music, opera, dance and drama.

WINTER:

Winter is romantic and simply magical. Ice-skate, snowshoe, snowmobile, dog-sled, ice-fish, ski and more in postcard-perfect surroundings!

Follow the tracks of wolves and learn the hunting patterns of owls in snowshoe excursions. Or take guided ice walks through Johnston and Grotto Canyons. Experience the unforgettable world of suspended waterfalls and massive blue ice pillars, frozen in time. You can even go on a guided ice-fishing expedition in the toasty warmth of heated huts!

Perfect for families and couples are sleigh rides, either on Bow River or across the frozen expanse of Lake Louise. Alternatively, let a team of huskies whisk you through breathtaking scenery on dogsleds. Adventure seekers will no doubt want to snowmobile through the backroads and wilderness areas of the Canadian Rockies. And for the ultimate in winter sightseeing, soar over the stunning landscapes of the Continental Divide in a helicopter!

And then there's worldclass skiing and snowboarding on dry champagne powder. Banff/Lake Louise was recently voted "Best Ski Resort of the World" by over 25,000 readers polled by the respected London Daily Telegraph! Other accolades include Good Ski Magazine's "#1 Ski resort in North America" and Thomas Cook's "Favorite Destination for British Skiers."

Five downhill ski areas are within easy reach of Birch Haven. Banff's Norquay, Sunshine and Nakiska are within a 20-30 minute drive. With over 30 feet of natural snow every year, Sunshine has one of the longest seasons in North America (mid November to mid May) and offers supreme skiing above the timber line. Norquay, meanwhile, boasts the "Best Fall Line Cruising," according to Ski Canada magazine. The ski resorts of Fortress and Lake Louise are 45 minutes away and feature breathtaking drives that are as highly recommended as the destination.

The Canmore Nordic Center, just 5 minutes from the Birch Haven, was designed for the Calgary Olympics and offers 40 miles of smooth cross-country and biathlon trails. Beginner skiers can explore the gentle touring trails of the national park while experts will enjoy the high-alpine glacier traverses rivaling the "haute-routes" of the European Alps. There is also the thrill of heli-skiing; the helicopter drops you off at a remote mountain and picks you up at the base after the unsurpassed high of cutting your own run down an untouched mountain!

And should you ever want to spend time indoors, there are always museums, galleries and the Banff Arts Center, where you can enjoy concerts and theatrical performances, including the touring international shows of the Playbill Series.

At the end of a full day activities indoors or out, consider a long soak in the therapeutic 104 degree waters of the Banff Hot Springs, right under the shadow of Mt. Rundle. Better yet, simply relax in the Birch Haven's rooftop hot-tub. After all, nothing beats the soothing massage of steaming aqua jets, crisp winter air and 360 degree panoramic steps away from your cozy loft!

Indeed, that is so much to do and see near the Birch Haven that planning the ideal itinerary can be somewhat over-whelming. That's why you'll find an assortment of brochures (organized by activity) and the area's best travel guidebooks (loaded with trail maps and photos) waiting for you on the bookshelves of the Birch Haven. It's just one of the many thoughtful conveniences we hope you'll appreciate. After all, we are avid travellers ourselves and keenly aware of the little personal touches that make a welcomed difference!


Travel Details


Located in downtown Canmore in the midst of all the action: steps away from supermkt, ATMs, cafes, shops and restaurants. Shuttle to Calgary Airport and ski areas available.

Gallery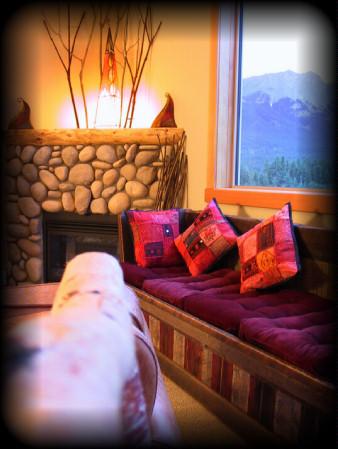 Location
The marker is an accurate indicator of the property location.