Property Details


150 sqm Villa with Fabulous Views across a valley with orange and almond plantations, 5 x 10 m Pool, 2000 sqm Garden with large lawn as well as a variety of trees, palms and flowering bushes. The villa is situated on the highest level on the slopes of the Montgo mountain, a regional landmark and occupies a privileged position bordering the natural park. It features a large open terrace, a well maintained garden with grass, flowering bushes and trees, plenty of terrace space around the pool and an assortment of pool and terrace furniture for an open air lifestyle. For added security the villa is enclosed by a wall and fence around the full perimeter, Calle de Auriga is in a quiet, exclusive residential villa area with most neigbours permanent residents.

The villa has a Living Room, Dining Room, Kitchen, Utility Room, 3 bedrooms, 2 baths, fireplace, barbecue, a large pool, a large garden, wide, open views and sleeps 5-6 adults or 4 adults and 2 children. It is located in Calle Auriga 21, 03730 Javea, Alicante Province, Spain.

All bedrooms as well as living area and dining areas are airconditioned (cold and hot), there are also electric heaters resp. a fire place for living and dining room and ceiling fans. In addition the whole ground floor has a central gas heating system. Heating material for the fire place is provided on a free of charge basis.

The property's pool and garden is maintained weekly by a professional pool expert and one of Javea's best gardeners


Area Details


Javea is a small town but famous and exclusive beach resort halfway between Alicante and Valencia where the hinterland is mountainous and the beaches prettier than anywhere

The mediveal town centre of Javea is located a short distance from the seafront, nestling under the imposing Montgˇ massif. There are two main beach areas and many more individual, secluded beaches within 5-15 min driving distance.

The harbour is located under a cliff at the end of the broad seafront plain, and offers a full range of modern tourist services, accommodation and clean, transparent water, with beaches combined with rocky coves along this special part of the Costa Blanca geography.

The town has a maze of streets running down from the fortress church of St Bartholomew, with lots of charming little shops and houses in a historic centre that reflects its ancestry on fašades adorned with local stone.

The fabulous cliffs of red Montgo Mountain are behind the house. A four-lane motorway leading to Valencia and Barcelona in the north, and Alicante, Murcia, Granada and Sevilla in the South, is 3 km away. The ferry to Ibiza and Mallorca leaves from Denia, just 10 km away. Javea has an extremely good climate year round with plenty to do outdoors. Many restaurants and places of entertainment are in short driving distance. La Sella Golf Course and the brandnew Mariott Hotel are a 5 min drive away


Travel Details


Airports are in Valencia and Alicante, a train runs from Alicante towards a location near Javea. Better is the bus run by the UBESA bus lines. There is little public transport in Javea and a car is a necessity.

Gallery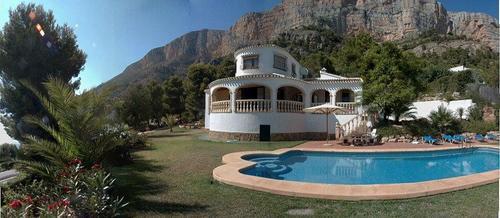 Panorama


Click on any image below to open a full panorama in a new window.


360 degree view from the Naya (covered terrace)

Location
The marker is an accurate indicator of the property location.