Property Details


Located only minutes away from splashing in the Caribbean's blue waters or enjoying a fine dinner in the plaza in the evening. This three-bedroom, two-bath home has a fully equipped kitchen for dining in or a quick snack in the afternoon. An island to facilitate conversation or relaxing anytime of day separates the furnished living area. CASA SHIRLEY has whisper quiet central air to cool you during the day and fans in every room to cool you in the evening. The master-bedroom has it's own private bath (home is pressurized) and terrace.The additional two bedrooms also have adjoining tiled terraces for sunbathing or enjoying the cross-island breezes anytime of day. Below the terrace is an ideal place for an early morning breakfast or watching the sunrise. This walled home has privacy and a locked parking area. Our house manager will meet you at the airport and show you around Casa Shirley. He will also give you any information you may need about dive trips or other activites you may wish to do. There is an abundance of taxicabs in town or you may want to rent a car. This I would do online before you visit it's cheaper that way. Casa Shirley has the quietude of your own home and is full of natural light suitable for the ARTIST in you. COME enjoy your HOLIDAY at CASA SHIRLEY WHERE IT'S 27c-29c ALL WINTER!!!
Check airfare on the link below to start your plans.
www.gototravel.worldventures.com
www.gototravel.worldventures.com
We also have other properties on the beach !!
E-MAIL FOR MORE INFO at: brbjork@hotmail.com


Area Details


Cozumel is an island located at the bottom of the Yucatan Peninsula of Mexico in the Caribbean Sea.With the Caribbean's warm Blue waters and cross-island breezes it is tropical year round.This place is a DIVERS paradise with world-class reefs. Perfect for the beginner or the expert divers.Dive-masters are everywhere on the island wanting to assist you any way they can.If Cozumel's relaxed and casual ambience doesn't win you over,the mainland is only a 45-minute ferry ride away when you are ready for some wild nightlife.If warm weather,the blue sea and cool sandy beaches are your cup of tea,you're after COZUMEL!! The neat thing is there are no bugs !!


Travel Details


Cozumel has a international airport just minutes away from the house.(We are located on the airport road)Taxicabs are everywhere on the island.So you can get around cheap anytime of day. To the Plaza by cab is about 2 dlls US. You may also come to Cozumel via the Ferry by way of Cancun.This I have done before and it's about a two hour journey first by shuttle and then a 45-minute ferry ride.You can see a lot of the countryside this way.

Gallery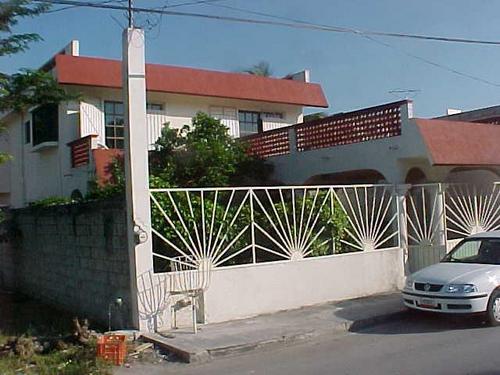 Location
The marker is only a general indicator of the property location. Confirm with owner for more details.
| | |
| --- | --- |
| Powered by google maps. Google maps of rental properties needs Javascript enabled | Overview google map. |
Click on the map below for a larger map of the area


Cozumel,Q. Roo,54757,Mexico

Pricing details



The following rates are per Week
The rates are per per villa
From
Upto
&nbsp
Charging Rate
&nbsp
Euros
US Dollars
British Pounds
17 Feb 2007
31 Mar 2007
630
705
538
31 Mar 2007
30 Jul 2007
550
616
470
31 Jul 2007
21 Nov 2007
500
560
427
21 Nov 2007
20 Dec 2007
475
532
406
20 Dec 2007
15 Jan 2008
750
840
641
15 Jan 2008
31 Mar 2008
670
750
573
31 Mar 2008
31 Jul 2008
570
638
487
31 Jul 2008
21 Nov 2008
535
599
457
21 Nov 2008
20 Dec 2008
500
560
427
20 Dec 2008
31 Dec 2008
775
868
662



Price Includes:-

This house is fully furnished with all cookwear,dishes and utensiles. All towels and maid services are provided free of charge. Our house manager will meet you at the airport and get you on your way. He will also help you get settled in the first night and make any arrangements you may need for dive trips or other activites. Plenty of bottled water is at your disposal.!!!



Other Information:-

Festival is a GREAT time to visit Cozumel. It's about the same time as Marti Gras, but not as crowded as the Big Easy!! You will have fun at CASA SHIRLEY so now is the time to reserve your HOLIDAY time.

Availability Details

<-- For Full Detailed Calendar with Larger Text click the image
Last Updated on 2007-Jan-30
August, 2020
Su
Mo
Tu
We
Th
Fr
Sa
1
2
3
4
5
6
7
8
9
10
11
12
13
14
15
16
17
18
19
20
21
22
23
24
25
26
27
28
29
30
31

September, 2020
Su
Mo
Tu
We
Th
Fr
Sa
1
2
3
4
5
6
7
8
9
10
11
12
13
14
15
16
17
18
19
20
21
22
23
24
25
26
27
28
29
30

October, 2020
Su
Mo
Tu
We
Th
Fr
Sa
1
2
3
4
5
6
7
8
9
10
11
12
13
14
15
16
17
18
19
20
21
22
23
24
25
26
27
28
29
30
31

November, 2020
Su
Mo
Tu
We
Th
Fr
Sa
1
2
3
4
5
6
7
8
9
10
11
12
13
14
15
16
17
18
19
20
21
22
23
24
25
26
27
28
29
30
December, 2020
Su
Mo
Tu
We
Th
Fr
Sa
1
2
3
4
5
6
7
8
9
10
11
12
13
14
15
16
17
18
19
20
21
22
23
24
25
26
27
28
29
30
31

January, 2021
Su
Mo
Tu
We
Th
Fr
Sa
1
2
3
4
5
6
7
8
9
10
11
12
13
14
15
16
17
18
19
20
21
22
23
24
25
26
27
28
29
30
31

February, 2021
Su
Mo
Tu
We
Th
Fr
Sa
1
2
3
4
5
6
7
8
9
10
11
12
13
14
15
16
17
18
19
20
21
22
23
24
25
26
27
28

March, 2021
Su
Mo
Tu
We
Th
Fr
Sa
1
2
3
4
5
6
7
8
9
10
11
12
13
14
15
16
17
18
19
20
21
22
23
24
25
26
27
28
29
30
31
Contact Details - Preferred option listed first



Note: Disclaimer
For Rental Enquiries - Email the owner.. Click here. (NB. You need to have popups enabled to use this)
Tel No. Bruce Bjorkstrand at 1-612-578-4273 in United States - Please Quote Reference:Villa Vacations -6618
Languages spoken: English
Between 8 and 20 in United States time
By Post to: Bruce Bjorkstrand, 21951 Co. Hwy. DD, New Auburn, WI, 54757,United States
Features


Air Conditioning
Boat Available
Satellite or Cable Television
Stereo System
Television



Activities


Activity - Tennis, Golf, Pools
Culture - Museums, Historic Sites
Night Life, Theatres, Restaurants
Outdoor Activities - Walks, Lakes, Woods
Seaside - Close to beaches



Restrictions


No Pets



Owner's Links



End of Links
---