Property Details


Beautiful villa in rural setting, 4 miles from Santiago, and close to the local village of Milladoiro, with full shopping facilities, fitness centre, etc. within easy travelling distance of magnificent unpolluted beaches, has a large mature garden with shady trees, spacious new swimming pool, barbecue, fruit trees. Garden maintenance included. Ideal for family holidays.


Area Details


Galicia, also know as the green Spain, is an unspoilt treasure waiting to be discovered. Galicia is an ideal location for lovers of nature, with coastal areas of extreme beauty, and mountains with marvellous forests and rivers. The soft weather of this Celtic region, and the excellent quality of food and wine along with the many 'fiestas' all through the year, (mainly during summer months), makes it a perfect destination for families or romantic trips, or just to enjoy peace, nature and good living.

Santiago, a famous historical city, renowned for its cathedral of St. James, end of the 'camino de Santiago', is lively and welcoming with its exquisite seafood restaurants and 'tapas' bars. As Santiago de Compostela has been named a Cultural Capital of Europe, it is a hive of cultural activities, ranging from concerts, theatre, musical events, art exhibitions, open air cinema, etc., not to mention the great atmosphere and street life, well into the night, and local festivals all around. It is recommended to hire a car and make short excursions to the fishing ports of La Coruña, Vigo, and nearby Portugal, all connected by the 'autopista del Atlántico'.

Gallery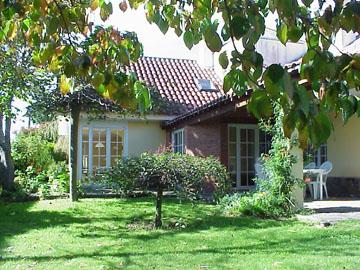 Location
The marker is an accurate indicator of the property location.