Property Details


Enjoy a private paradise while vacationing in this exotic luxury villa. Located on a mountainside within the beautiful Los Suenos Resort and overlooking Herradura Bay, you will enjoy absolute privacy while having the benefit of all resort amenities and security. This architecturally stunning house is perched on a mountainside with thatched open air living areas offering breathtaking views across the bay and to the Pacific Ocean. The villa is surrounded by lush foliage and frequented by monkeys, toucans, macaws and many other species of wild animals.

Enter the villa through wood doors to a covered open-air courtyard. You will be greeted with tropical breezes and an expansive view across the bay. Two air-conditioned, guest bedrooms, each with private baths, are on either side of the courtyard and share the same ocean view. Each room is furnished in its own unique tropical style and each room provides two double beds.

A full kitchen with all utensils and appliances overlooks the open air living area with a large bar. Steps away is the infinity pool, seeming to spill over the mountainside. From the living area a path leads along the hillside to the very private Master Suite, a detached casita with its own veranda and ocean views. The air-conditioned suite with a king size bamboo bed is adjacent to the jungle preserve, and has a bathroom with an open air shower overlooking the jungle and the bay.

All of your needs can be attended to by our local, english speaking, management company. We will be happy to provide suggestions to help you make the most of your stay in paradise.

Please note that this house does not have a phone, as we prefer it this way. However, if you should need phone service there are cellular rentals at the car rental agencies and the fees are very low.


Area Details


Within the resort community of Los Suenos Marriott Resort, including golf, tennis, pools, restaurants etc. Near the town of Jaco.

Gallery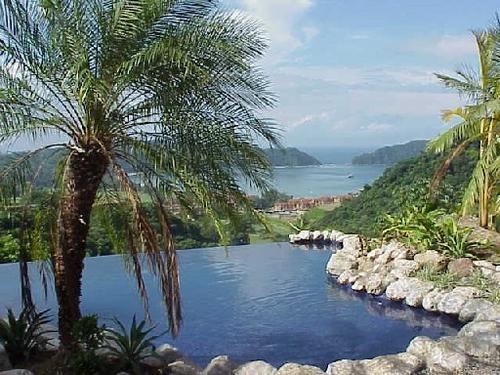 Location


Herradura,Herradura, Costa Rica,xxxxxxx,Costa Rica

Pricing details



The following rates are per Day
The rates are per villa
From
Upto
&nbsp
Charging Rate
&nbsp
US Dollars
British Pounds
Euros
31 May 2005
20 Nov 2005
900
687
804
20 Nov 2005
16 Dec 2005
975
744
871
16 Dec 2005
03 Jan 2006
1200
916
1072
03 Jan 2006
07 Apr 2006
975
744
871
07 Apr 2006
23 Apr 2006
1200
916
1072
23 Apr 2006
31 May 2006
975
744
871



Price Includes:-

All taxes and daily maid service
Availability Details

<-- For Full Detailed Calendar with Larger Text click the image
Last Updated on 2005-Sep-08
October, 2023
Su
Mo
Tu
We
Th
Fr
Sa
1
2
3
4
5
6
7
8
9
10
11
12
13
14
15
16
17
18
19
20
21
22
23
24
25
26
27
28
29
30
31

November, 2023
Su
Mo
Tu
We
Th
Fr
Sa
1
2
3
4
5
6
7
8
9
10
11
12
13
14
15
16
17
18
19
20
21
22
23
24
25
26
27
28
29
30

December, 2023
Su
Mo
Tu
We
Th
Fr
Sa
1
2
3
4
5
6
7
8
9
10
11
12
13
14
15
16
17
18
19
20
21
22
23
24
25
26
27
28
29
30
31

January, 2024
Su
Mo
Tu
We
Th
Fr
Sa
1
2
3
4
5
6
7
8
9
10
11
12
13
14
15
16
17
18
19
20
21
22
23
24
25
26
27
28
29
30
31
February, 2024
Su
Mo
Tu
We
Th
Fr
Sa
1
2
3
4
5
6
7
8
9
10
11
12
13
14
15
16
17
18
19
20
21
22
23
24
25
26
27
28
29

March, 2024
Su
Mo
Tu
We
Th
Fr
Sa
1
2
3
4
5
6
7
8
9
10
11
12
13
14
15
16
17
18
19
20
21
22
23
24
25
26
27
28
29
30
31

April, 2024
Su
Mo
Tu
We
Th
Fr
Sa
1
2
3
4
5
6
7
8
9
10
11
12
13
14
15
16
17
18
19
20
21
22
23
24
25
26
27
28
29
30

May, 2024
Su
Mo
Tu
We
Th
Fr
Sa
1
2
3
4
5
6
7
8
9
10
11
12
13
14
15
16
17
18
19
20
21
22
23
24
25
26
27
28
29
30
31
Contact Details - Preferred option listed first



Note: Disclaimer
For Rental Enquiries - Email the owner.. Click here. (NB. You need to have popups enabled to use this)
Visitors Home Exchange Request - Email the owner.. Click here. (NB. You need to have popups enabled to use this)
Fax No. 941-921-1922 in United States
Via their own Web Site
Other Properties


Click here to see other properties owned/managed by this advertisor
Features


Air Conditioning
Communal Swimming Pool
Private Swimming Pool
Satellite or Cable Television
Stereo System
Television
Washing Machine



Activities


Activity - Tennis, Golf, Pools
Culture - Museums, Historic Sites
Night Life, Theatres, Restaurants
Outdoor Activities - Walks, Lakes, Woods
Seaside - Close to beaches
Wilderness - Mountains, River Gorges



Restrictions


No Pets



Owner's Links


Click Here for more information about this property
End of Links
---