Property Details


Spectacular Nantucket-style home with nine rooms on Long Island Sound. A secluded getaway paradise in one of the most treasured locations on the New England coast. Over 250ft of oceanfront with private sandy beach, boat dock, seaside patio with waterfalls and sun decks with hot tub. Enjoy dramatic water views from all rooms.
Wake up to the sound of the surf and to glorious sunrises. Relax on the spacious patio surrounded by waterfalls and fountains and enjoy the spectacular water views from the wrap-around deck. Observe ospreys and herons searching for food. Or watch boats go by from the Jacuzzi in the gazebo. Step down to the beach or go on the dock for sunning, swimming, fishing, snorkeling, windsurfing, boating, diving... There are three sea kayaks, one canoe, one wind glider and one power-Zodiac to explore the magnificent shoreline with protected sand beaches, secluded coves, rocky headlands, pristine islets and crashing surf.
With 2500 sq ft of living space and over 200 sq ft of terrace area, the house is well proportioned for both inside and outdoor seaside living. There are three double bedrooms, two full bathrooms, a full large kitchen, a dining, family and living room, a laundry and a utility room, and a two-car garage. The entrance is through a fieldstone lighthouse tower which has an office located at the top with a computer and internet access. The house sleeps up to eight people. The open floor plan with central heating and two open fieldstone fireplaces make for cozy stays in winter. During summer, the house is naturally air-conditioned with cooling sea breezes, cathedral ceilings with fans, and parquet and tile floors throughout.
Sunshine floods the deck and patio in the morning; itís shaded the rest of the day. Plenty of hardwood and wrought iron outdoor furniture and a gas barbecue grill provide for great outdoor guest entertainment. A professionally landscaped garden and extensive outdoor lighting further add a magical aura to this waterfront setting.
Children and pets are welcome! Smoking is discouraged.


Area Details


The villa is located at the end of a scenic road in the picturesque town of Guilford, a treasure trove of traditional New England colors, tastes and treats. Situated in the geographical center of the Northeast, Guilford is just a short drive away from the big metropolitan areas of New York, Boston and Providence using either I-95 or the Shore Line Train. With its many shops, stores, antiquarians, museums, national historical landmarks and restaurants, this historical town rivals the location of the Hamptons on Long Island. Itís just as close to New York plus it has the quintessential charm of many New England shoreline villages located on Cape Cod, Martha's Vineyard or Nantucket. Located among New Englandís most magnificent scenery, itís also near the many attractions of towns such as New Haven, New London and Mysticís old seaport as well as the famous Foxwoods and Mohegan Sun casinos. Two main roads going into town are classified scenic drives and offer plenty of opportunities for bike riding. A hiking pad starting just behind the villa leads to many shoreline attractions, including the beautiful seaside park of Chaffinch Island.


Travel Details


The use of a car or bike will be necessary to go to the train station for the Shore Line Train to New York, Providence, Boston, New Haven and New London. It is located in the center of Guilford village, about 2 miles from the villa.
Rental cars are available at various locations nearby. Airports: New York LaGuardia(1.5 hr), Kennedy(2 hr), Newark(2 hr), New Haven(20 min), Hartford (1 hr), Providence (1 hr), Boston (2 hr).

Gallery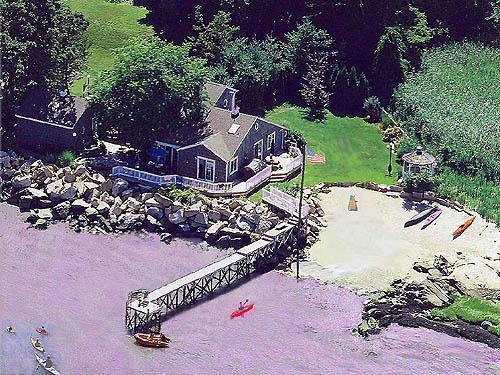 Panorama


Click on any image below to open a full panorama in a new window.


Much treasured location with private beach and boat dock

Enjoy glorious sunrises from every room.

Location
The marker is only an estimate of the location based on zip/post code and street address.