Property Details


In the heart of a quaint village, 2 km from the sea, this beautiful suite is located on the top floor of a patronal residence, ideal if you want to stay away from commercial properties. It has independent access and is exquisitly fully furnished. It has air-conditioned, wall safe, new washroom and kitchen, dishwasher, clothes-washer, two very large, furnished, covered decks (60 square meters, 560 sq. ft) with view of the mountains. The suite is available, for weekly rental, from June to October. It can be rented out as studio suite (it sleeps up to three guests) or as studio suite with an additional twin-beds bedroom (sleeps up to five guests).
Smoking, Barbequing, Griddle, Deep Frying on deck only.


Area Details


The suite is located in the heart of Casteldaccia, a quaint village on a Sicilian hill, two km/three minutes drive from the sea and 20 min. easy drive to Palermo. Palermo,1.500.000 habitants, capital of Sicily - an island in the sea of sunlight is a splendid city adorned in the course of 2500 years by Greeks, Arab Emirs, Norman Kings and Spanish Viceroys; it offers an incomparable example of beauty, history, culture and traditions to excite the mind and the eye. It is well connected to Casteldaccia by public transportation and has a wide selection of museums and entertainment.
Close-by centres are Santa Flavia, three km away, Bagheria, five km away, Porticello, a fisherman village three km away, all offering plenty of tourist attractions. Casteldaccia is known in the world for its wine 'Corvo, Duca di Salapatuta'.

Excursions: Palermo (20km), Cefalu` (50km), Madonie Natural Park (80 km), Taormina (200 km), Siracusa (250 km), Eolie Islands.


Travel Details


Bus and train to and from Palermo.

Gallery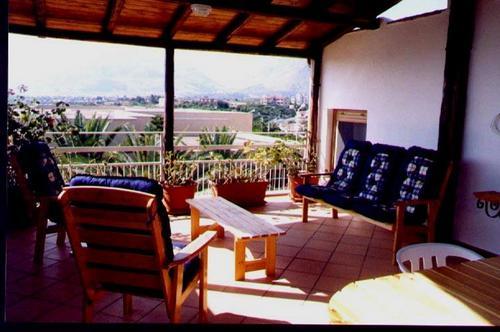 Location
The marker is an accurate indicator of the property location.
| | |
| --- | --- |
| Powered by google maps. Google maps of rental properties needs Javascript enabled | Overview google map. |
Click on the map below for a larger map of the area


Casteldaccia,Sicily,90014,Italy

Pricing details



The following rates are per Week
The rates are per Single or double occupancy.
From
Upto
&nbsp
Charging Rate
&nbsp
Euros
US Dollars
British Pounds
31 Mar 2006
31 May 2006
300
336
256
31 May 2006
30 Jun 2006
350
392
299
30 Jun 2006
31 Jul 2006
390
437
333
31 Jul 2006
31 Aug 2006
480
537
410
31 Aug 2006
30 Sep 2006
350
392
299
30 Sep 2006
31 Oct 2006
300
336
256
31 Oct 2006
31 Mar 2007
200
224
171



Price Includes:-

Suite fully furnished.
Prices are for single or double occupancy.



Other Information:-

Please check with the owner for more information and availability.
Until confirmed, rates are subject to change without notice.




Availability Details

<-- For Full Detailed Calendar with Larger Text click the image
Last Updated on 2006-Apr-29
March, 2021
Su
Mo
Tu
We
Th
Fr
Sa
1
2
3
4
5
6
7
8
9
10
11
12
13
14
15
16
17
18
19
20
21
22
23
24
25
26
27
28
29
30
31

April, 2021
Su
Mo
Tu
We
Th
Fr
Sa
1
2
3
4
5
6
7
8
9
10
11
12
13
14
15
16
17
18
19
20
21
22
23
24
25
26
27
28
29
30

May, 2021
Su
Mo
Tu
We
Th
Fr
Sa
1
2
3
4
5
6
7
8
9
10
11
12
13
14
15
16
17
18
19
20
21
22
23
24
25
26
27
28
29
30
31

June, 2021
Su
Mo
Tu
We
Th
Fr
Sa
1
2
3
4
5
6
7
8
9
10
11
12
13
14
15
16
17
18
19
20
21
22
23
24
25
26
27
28
29
30
July, 2021
Su
Mo
Tu
We
Th
Fr
Sa
1
2
3
4
5
6
7
8
9
10
11
12
13
14
15
16
17
18
19
20
21
22
23
24
25
26
27
28
29
30
31

August, 2021
Su
Mo
Tu
We
Th
Fr
Sa
1
2
3
4
5
6
7
8
9
10
11
12
13
14
15
16
17
18
19
20
21
22
23
24
25
26
27
28
29
30
31

September, 2021
Su
Mo
Tu
We
Th
Fr
Sa
1
2
3
4
5
6
7
8
9
10
11
12
13
14
15
16
17
18
19
20
21
22
23
24
25
26
27
28
29
30

October, 2021
Su
Mo
Tu
We
Th
Fr
Sa
1
2
3
4
5
6
7
8
9
10
11
12
13
14
15
16
17
18
19
20
21
22
23
24
25
26
27
28
29
30
31
Contact Details - Preferred option listed first



Note: Disclaimer
Features


Air Conditioning
Dishwasher
Television
Washing Machine



Activities


Culture - Museums, Historic Sites
Night Life, Theatres, Restaurants
Seaside - Close to beaches



Restrictions






Owner's Links



End of Links
---