Property Details


Unique location right in the city centre and also by a lovely palm lined sand beach. A newly renovated apartment with a unique Spanish atmosphere. Beautifull original tiled floors and tall double doors. The apartment has three sunlit balconies and great views of the old port and beach.
Internet is included.

Booking details and an updated calender on the private website link above (www.apartment4u.dk).

Other guests said:
"It was the best vacation we have had. The apartment was just fantastic - we will probably have to rent it again (maybe in a few years)"
Diana Skjernby

"We had a fantastic week in the apartment. It is very well functioning, cosy and charmingly furnished. We have spent many hours on the little south balcony with cool wine, tapas and the view to the lively street.
You will most certainly hear from us again one day when we just have to visit that wonderfull town again...
So in short; interesting neighborhood, fantastic location, lovely place and a beautyful vacation."
Mari-Luise Jonsson

"We had a really nice time in Barcelona and your apartment!
Fantastic to be in the centre of a big city and just be one minute away from a beautiful beach!"
Kjersti Eckblad


Area Details


The apartment is situated in the city centre in the 250 year old part of town called Barceloneta. As a small peninsula this part of town is surrounded by water at two sides. With the beautifull old fisher buildings it adds a typical maritime feeling of old pirates and seamen (forget the parked cars).


Travel Details


Busses 50 m
Metro 800 m.

Gallery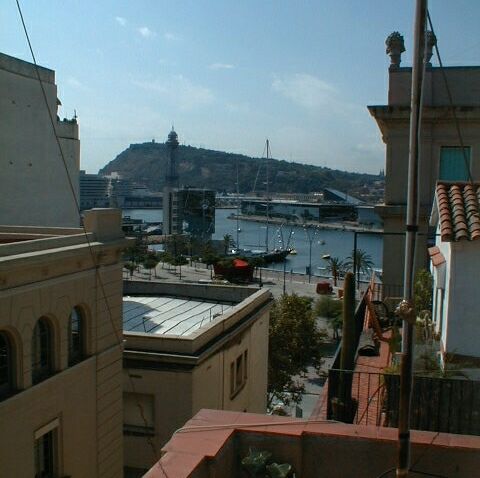 Location
The marker is an accurate indicator of the property location.
| | |
| --- | --- |
| Powered by google maps. Google maps of rental properties needs Javascript enabled | Overview google map. |
Click on the map below for a larger map of the area


Barcelona,Barcelona,08003,Spain

Pricing details



The following rates are per Day
The rates are per couple
From
Upto
&nbsp
Charging Rate
&nbsp
Euros
US Dollars
British Pounds
31 Dec 2005
31 Jan 2006
90
101
77
28 Feb 2006
07 Apr 2006
105
118
90
07 Apr 2006
16 Apr 2006
115
129
98
16 Apr 2006
31 May 2006
105
118
90
31 May 2006
30 Sep 2006
115
129
98
30 Sep 2006
31 Oct 2006
105
118
90
31 Oct 2006
23 Dec 2006
90
101
77
23 Dec 2006
31 Dec 2006
115
129
98



Price Includes:-

Bedded beds with best quality cotton sheets and towels.



Price Excludes:-

Additional guests above two. +20 Euro/day for additional guests.

Obligatory cleaning and washing, 50 Euro.



Other Information:-

Min 3 days stay. 20% discount on 1 week stays.

Full service (eg. laundry, shopping help, tour planning) is available.
Availability Details

<-- For Full Detailed Calendar with Larger Text click the image
Last Updated on 2008-Oct-01
January, 2021
Su
Mo
Tu
We
Th
Fr
Sa
1
2
3
4
5
6
7
8
9
10
11
12
13
14
15
16
17
18
19
20
21
22
23
24
25
26
27
28
29
30
31

February, 2021
Su
Mo
Tu
We
Th
Fr
Sa
1
2
3
4
5
6
7
8
9
10
11
12
13
14
15
16
17
18
19
20
21
22
23
24
25
26
27
28

March, 2021
Su
Mo
Tu
We
Th
Fr
Sa
1
2
3
4
5
6
7
8
9
10
11
12
13
14
15
16
17
18
19
20
21
22
23
24
25
26
27
28
29
30
31

April, 2021
Su
Mo
Tu
We
Th
Fr
Sa
1
2
3
4
5
6
7
8
9
10
11
12
13
14
15
16
17
18
19
20
21
22
23
24
25
26
27
28
29
30
May, 2021
Su
Mo
Tu
We
Th
Fr
Sa
1
2
3
4
5
6
7
8
9
10
11
12
13
14
15
16
17
18
19
20
21
22
23
24
25
26
27
28
29
30
31

June, 2021
Su
Mo
Tu
We
Th
Fr
Sa
1
2
3
4
5
6
7
8
9
10
11
12
13
14
15
16
17
18
19
20
21
22
23
24
25
26
27
28
29
30

July, 2021
Su
Mo
Tu
We
Th
Fr
Sa
1
2
3
4
5
6
7
8
9
10
11
12
13
14
15
16
17
18
19
20
21
22
23
24
25
26
27
28
29
30
31

August, 2021
Su
Mo
Tu
We
Th
Fr
Sa
1
2
3
4
5
6
7
8
9
10
11
12
13
14
15
16
17
18
19
20
21
22
23
24
25
26
27
28
29
30
31
Contact Details - Preferred option listed first



Note: Disclaimer
Via their own Web Site
Features


Communal Swimming Pool
DVD Player
Stereo System
Washing Machine



Activities


Activity - Tennis, Golf, Pools
Culture - Museums, Historic Sites
Night Life, Theatres, Restaurants
Outdoor Activities - Walks, Lakes, Woods
Seaside - Close to beaches



Restrictions


No Pets
No Smokers



Owner's Links


Click Here for more information about this property
End of Links
---